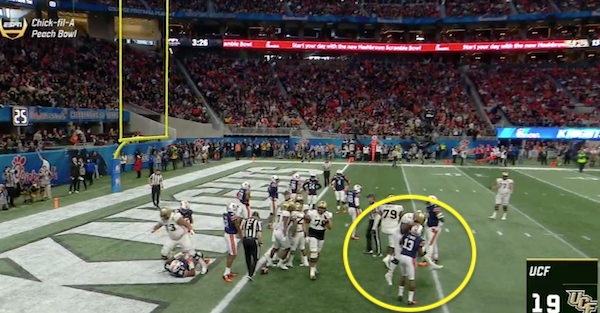 Clippit screenshot
UCF's quest to finish the season as the only undefeated team in college football goes through Auburn in the Chick fil-A Peach Bowl, and the Knights were trailing the Tigers early in the second half.
However, UCF scored a touchdown and tied the game when McKenzie Milton hit Otis Anderson for a 12-yard touchdown, and offensive lineman Jordan Johnson really wanted to celebrate with someone.
Unfortunately, none of his teammates were around as he ran to the sidelines, so he decided to celebrate with Auburn defensive back Javaris Davis instead.
Related: Michigan player had a pretty NSFW message for his Outback Bowl opponents
The Knights are looking to send head coach Scott Frost out with a win after Frost took the head coaching vacancy at his alma mater, Nebraska.
UCF has the lead in the fourth quarter, and if they can hold the lead, Johnson and his teammates will have plenty to celebrate this offseason.
(h/t SEC Country)