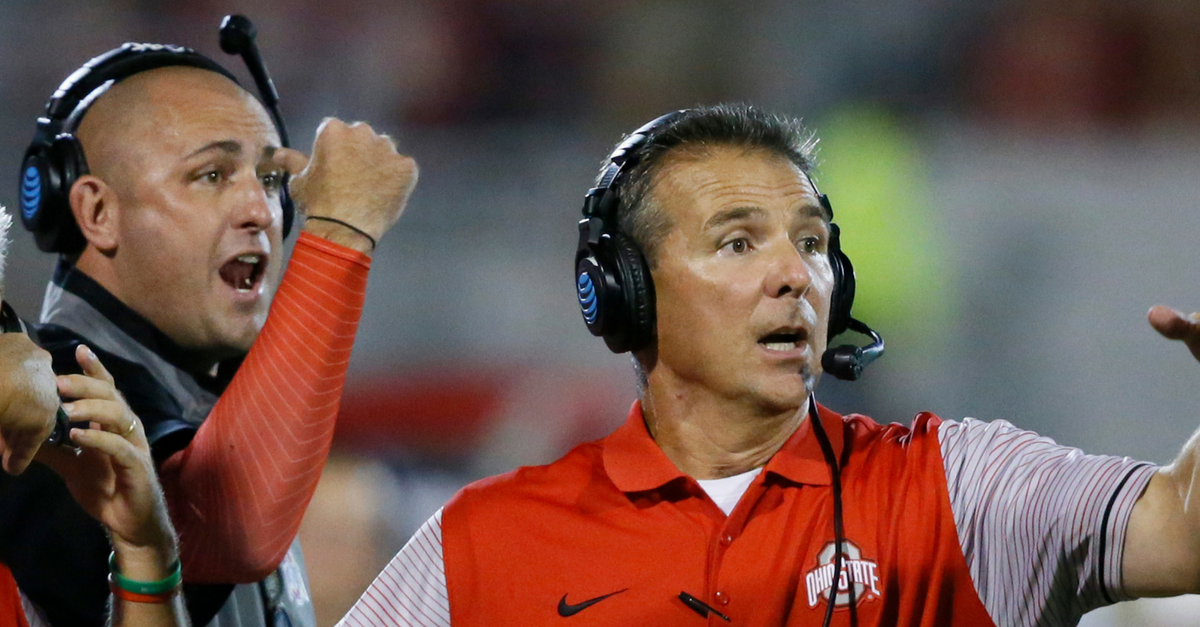 AP Photo/Sue Ogrocki, File
At the end of last season, many thought Ohio State head coach Urban Meyer would ride off into the sunset of retirement after a drama-filled season but with some health issues, never to return to college football again. However, that didn?t last long, as he will join Fox Sports for its new pregame show next season. A new coaching gig could be next.
If there is one thing football fans have learned about Meyer over the years is that anything is possible. No one thought he would return to the sidelines after his stint with the Florida Gators, but he ended up winning the first College Football Playoff national championship with the Ohio State Buckeyes. This, of course, was after a brief television stint with ESPN, and at least one person is willing to put some money down on the 54-year-old coaching again in the near future.
Remember Zach Smith, the disgraced former OSU assistant at the epicenter of last year?s drama? Well, he?s back in the news again, and he has a new podcast called ?Menace2Society? to deliver even more stories.
The latest one? That Urban Meyer will soon be the head football coach of the USC Trojans.
RELATED: FOX Flops With Urban Meyer, Reggie Bush Hires for New Pregame Show
At the moment, head coach Clay Helton is the man in charge of the football program the University of Southern California, and it would be up to athletic director Lynn Swann to make a change. If that happens, the Pac-12 school can certainly look to one man, according to Smith.
After a run with the pregame show with host Rob Stone, and co-stars Reggie Bush, Matt Leinart and Brady Quinn, Smith believes Urban Meyer is going to be the next coach in Los Angeles.
"How about this? A little birdie told me something? I?m from Dublin, Ohio and know hundreds of people in Dublin, Ohio like everyone would that grew up somewhere. Coincidentally, that?s where Urban lives. Pretty much, if you live in Dublin, I probably know someone that either cuts your grass, works with the guy that cuts your grass? I know someone that is around you?

"Someone that I know that works in the United States Postal Service dropped a bomb on me last week. He tells me that Urban Meyer, his address, his house has had certified mail delivered to and sent from to the University of Southern California. I?m talking several letters. Several correspondence. I don?t know that he has communicated with them. It?s a decent source.

?So if you?re asking me to put $1,000 on will he coach again, I would put $1,000 that he will be the head coach at USC in the near future.?

? Former Ohio State Assistant Coach Zach Smith, via Menace2Society
So there you have it. The Rose Bowl game, which the Buckeyes beat the Washington Huskies earlier this year, might not be the last NCAA game Urban Meyer will coach.
It?s crazy to think this saga might have the same script, but then again, anything is possible.