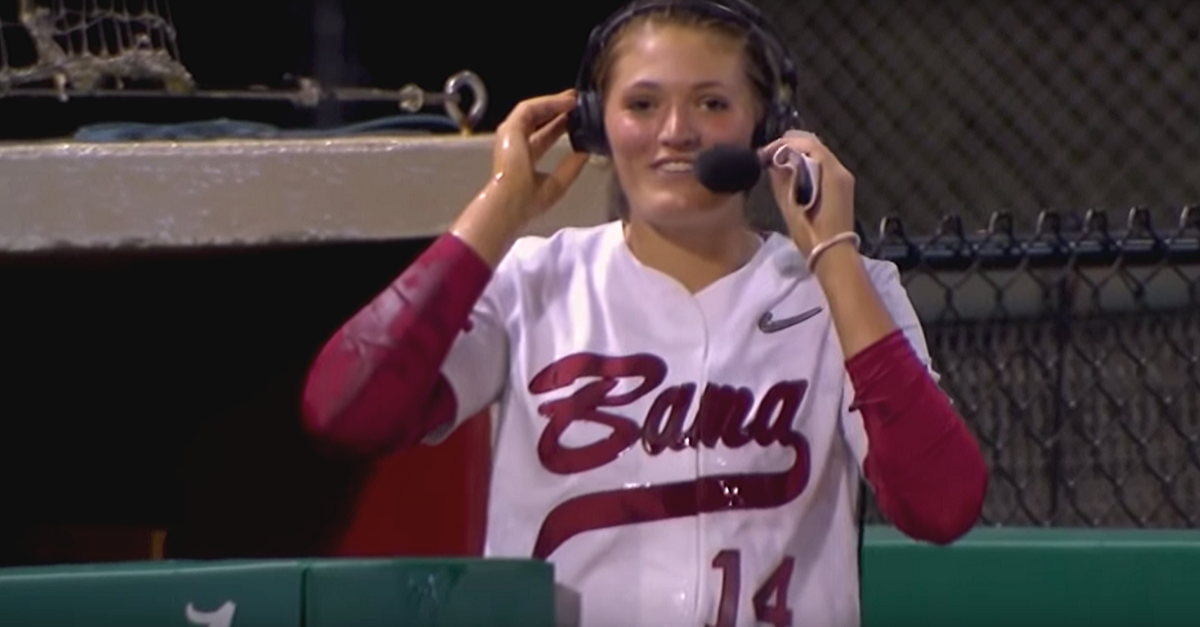 Screenshot from <a href= YouTube
When you hear the name Montana Fouts, you might think the Alabama Crimson Tide sophomore was related to the great San Diego Chargers quarterback Dan Fouts. Just like Fouts (no relation by the way), she's making her own history while becoming a household name in Tuscaloosa. Fouts is a rising star for the University of Alabama softball team that finished the 2019 season with a 60-10 record and advanced to the Women's College World Series.
Fouts, who blossomed into the ace of this staff, was named SEC Freshman of the Year, First-Team All-SEC, and earned NFCA Second-Team All-American honors in her first season. That'll happen when you're the a four-time All-American and three-time Kentucky Gatorade Player of the Year at East Carter High School, and she's legit: Fouts threw 25 no-hitters and 15 perfect games during her prep career.
Alabama's Montana Fouts
Her talent was on display playing in youth softball leagues around the country, which explains why she is so dominant to begin her college softball career. Alabama coach Patrick Murphy first took notice of the Grayson, Kentucky native early on and received a commitment from her as a freshman in high school. Once news got out that Murphy and the Crimson Tide landed Fouts, the rest of the college softball world took notice that the Tide may have found the sport's next big thing.
One of Murphy's former colleagues told him that he may have signed the next Jennie Finch, an Olympic gold medalist who's considered maybe the greatest softball player to ever live.
"She's a kid that absolutely is the hardest-working pitcher we've ever had in 23 years," Murphy told ESPNW. "And she's only been here for six months."
It didn't take long for people to notice how good Fouts is. Despite missing part of the year due to injury, Fouts finished her first season with a 21-6 record and logged 193 strikeouts against 57 walks in 181.2 innings. Leaning on a powerful, low-70s fastball and incredible command of curve and drop balls, her 1.39 ERA ranked 15th in the country.
The USA Softball Collegiate Player of the Year Finalist threw back-to-back complete game shutouts against national powerhouses Arizona and Oklahoma in her final two starts as a true freshman.
Those victories not only proved that Fouts was the real deal, but the Tide were, too. Rarely does a player come around as dominant as Fouts, and it certainly seems as if Alabama has found a game-changing ace who could lead the Tide to the program's second national title.
Her coach thinks that just like Finch, pitcher Montana Fouts name will go down in history as one of the greatest softball players ever.
"She's going to be one of those kids where if you just say 'Montana,' you're going to know who it is."
Heading into 2020, Fouts and the Crimson Tide were tabbed as the preseason No. 1 in D1Softball.com's rankings.