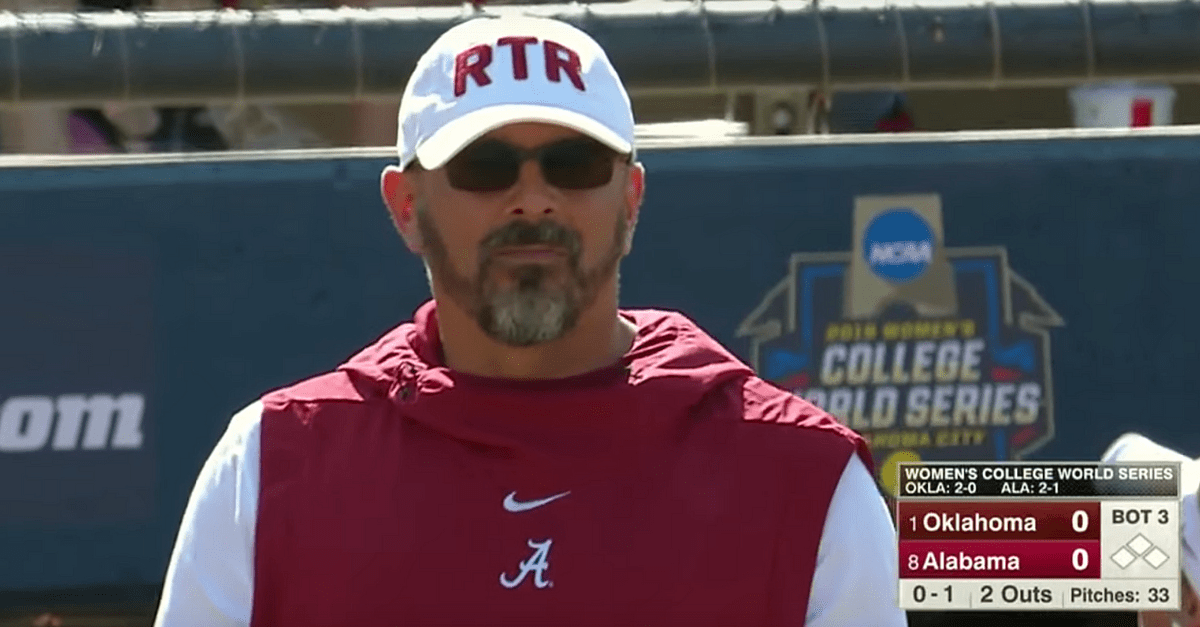 Screenshot from YouTube
We've all had hectic weekends, right? Maybe those busy Saturday afternoons didn't involve being sold a styrofoam birthday cake, but we all know the feeling of being swamped with chores and feeling like anything that can go wrong, does go wrong.
For the Alabama Crimson Tide softball team, the first weekend of June felt like their busiest in a long time, and head coach Patrick Murphy's team proved that, once again, the Tide are one of Division I college softball's elite programs. Despite ending in heartbreak, this 60-win Alabama team put together a run that will go down as one of the university's best postseasons ever.
At the Women's College World Series in Oklahoma City, Alabama started their weekend off with a hard-fought 3-2 loss to the Oklahoma Sooners, ranked as the nation's No. 1 team for most of the year. From that point, the Crimson Tide could not lose another game, or they'd be headed home to Tuscaloosa.
Over a two-day stretch, the Alabama softball team barely had time to sleep as they put together an incredible run that will go down in program history as a model of perseverance and determination in the face of adversity.
Saturday, 5:20 p.m.
Facing their SEC rival in the Florida Gators, Alabama did something that few teams have ever done to UF's star pitcher Kelly Barnhill. The Tide actually made her look human.
Barnhill, who ESPNW once described as "NCAA softball's most statistically dominant pitching presence in a decade," was chased after less than one full inning as Alabama posted six runs in the first. Home runs by Bailey Hemphill, Kaylee Tow and Merris Schroder were just three of 12 hits on the evening as Alabama cruised to a record-setting 15-3 victory.
The Tide continued to rise.
Saturday, 10:38 p.m.
About three hours after their win over Florida, 'Bama faced the No. 6 Arizona Wildcats, a program with eight national titles (second most all-time), in another win-or-go-home game. Taking the mound for Alabama was SEC Freshman of the Year Montana Fouts.
All the freshman did was throw one of the best games of her career against one of college softball's best offensive teams, which boasted five First-Team All-Pac 12 performers in its lineup. (Arizona averaged 6.73 runs per game this year, seventh-most in the NCAA.)
Fouts tossed a complete-game shutout ? three hits, three walks, nine strikeouts ? en route to a 2-0 win over the Wildcats and advanced them on to Sunday and a rematch with a familiar foe.
Sunday, 4:17 p.m.
The next day, Alabama returned to Hall of Fame Stadium to take on the No. 1 team in college softball. The Oklahoma Sooners had lost only once in their previous 47 games and carried a 41-game winning streak all the way to the NCAA Regionals. Again, it was Fouts taking the circle as she squared off with Big 12 Pitcher of the Year Giselle Juarez.
Once again, Fouts dominated.
Fouts threw eight innings of shutout softball, giving up four hits and forcing 12 fly ball outs over 143 pitches. A walk-off, pinch-hit single in the bottom of the eighth inning by Caroline Hardy delivered a 1-0 win for Alabama, setting up a winner-take-all game with a trip to the Women's College World Series final on the line.
Sunday, 7:36 p.m.
Playing their fourth elimination game in two days, Alabama's magic ended in a heart-breaking 7-3 loss to the Sooners on Sunday night.
Krystal Goodman (11-1) tossed five innings, but was pulled in the sixth inning after a two-run home run by Oklahoma's Nicole Mendes ballooned the Sooners lead to 6-3. Reagan Dykes and Skylar Wallace both homered for Alabama, but that wasn't enough to keep their incredible season going.
Alabama finishes the year with a 60-10 record after starting off on a 33-game winning streak. It's just the fourth time in history an Alabama team finished with at least 60 wins.
"They taught me a lot," Patrick Murphy said after the game. "Everybody wanted to keep playing. That's a credit to them. We really looked forward to every practice and everything we did together as a group. It was a lot of fun. This was one of the most fun teams and enjoyable years I've ever had."
Coming in as the No. 8 seed nationally, Alabama more than proved that they belonged after beating three games in Florida, Arizona and Oklahoma that were all seeded higher than they were.
The Crimson Tide return a majority of this roster next season, and ending just one game away from the national championship, you better believe the Crimson Tide will be back ready to roll in 2020.
Oklahoma faces the UCLA Bruins in the three-game championship series starting Monday night.