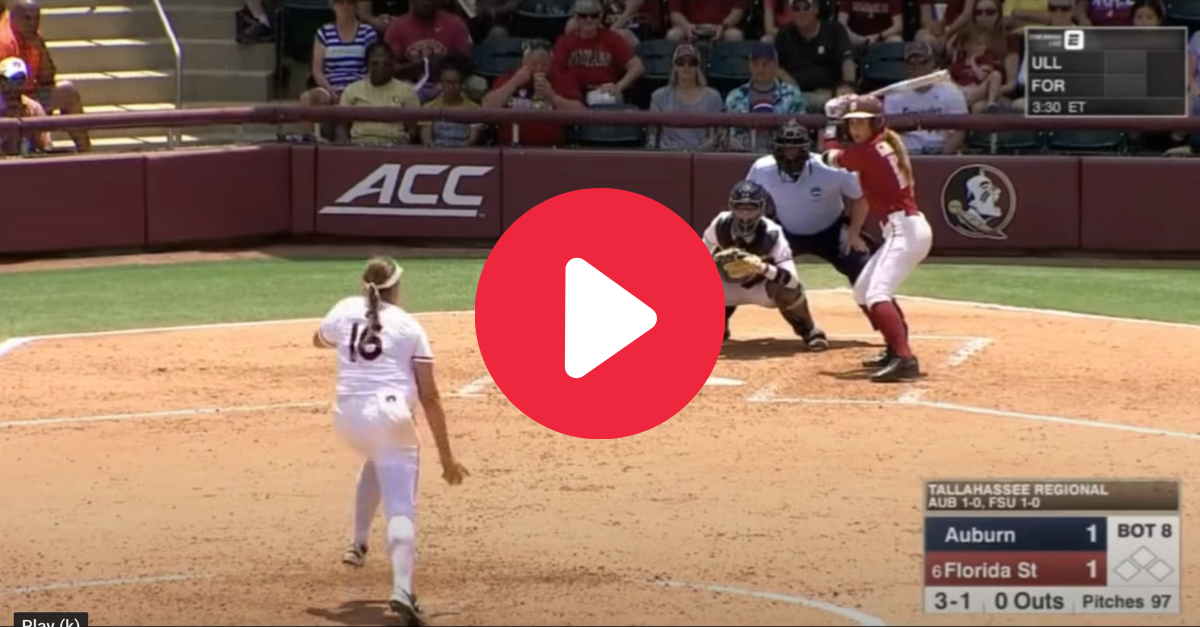 Screenshot from YouTube
The Florida State Seminoles softball team's first national championship season in 2018 was full of unforgettable moments and plays. Head coach Lonni Alameda's squad accomplished the unthinkable when they finished on top at the Women's College World Series in Oklahoma City.
Jessie Warren's incredible diving double play powered their national title run. Elizabeth Mason's three-run walk-off home run against UCLA in the WCWS kept their hopes alive and led to a championship press conference that was interrupted by a huge bug.
The unsung hero of FSU's storybook season, however, was Carsyn Gordon.
Carsyn Gordon's Inside-The-Park HR Walks Off Auburn
RELATED: Jessie Warren?s Double Play Powered FSU?s National Championship
After clinching the ACC Championship game against Pittsburgh, Florida State was pitted against Auburn and Jacksonville State in the NCAA Tallahassee regional. The first round of the NCAA tournament produced some FSU fireworks.
Florida State and Auburn were tied at 1-1 in the eighth inning on ESPN when All-ACC infielder Carsyn Gordon stepped to the plate on JoAnne Graf Field at the Seminole Softball Complex. Just looking to start the inning with a hit, Gordon poked a ball down the right field line.
The Auburn Tigers' right fielder dove for it unsuccessfully, and the ball squirted into the corner. Gordon raced around the bases and slid in safely at home, sending her teammates and fans into a frenzy.
?One swing. It has been a motto of ours for a while now; one swing can change a game," FSU head coach Lonni Alameda said after the game. "Yes, it?s a silly quote sometimes but it?s true if you can stay in it and live it and it was awesome for Carsyn to be able to do that for us."
Gordon's walk-off was just the start of a magical postseason run for the Seminoles. They downed LSU in a heated NCAA Super Regional matchup to cash their ticket to the WCWS. They defeated the Washington Huskies twice in the WCWS Finals to take home FSU softball's first-ever national title.
Gordon went on to hit 15 home runs in 2019, earning 2019 NFCA Southeast All-Region First Team and All-ACC First Team honors. Carsyn Gordon first put her stamp on the program in 2018, and the 'Noles may not win a title that year without her.