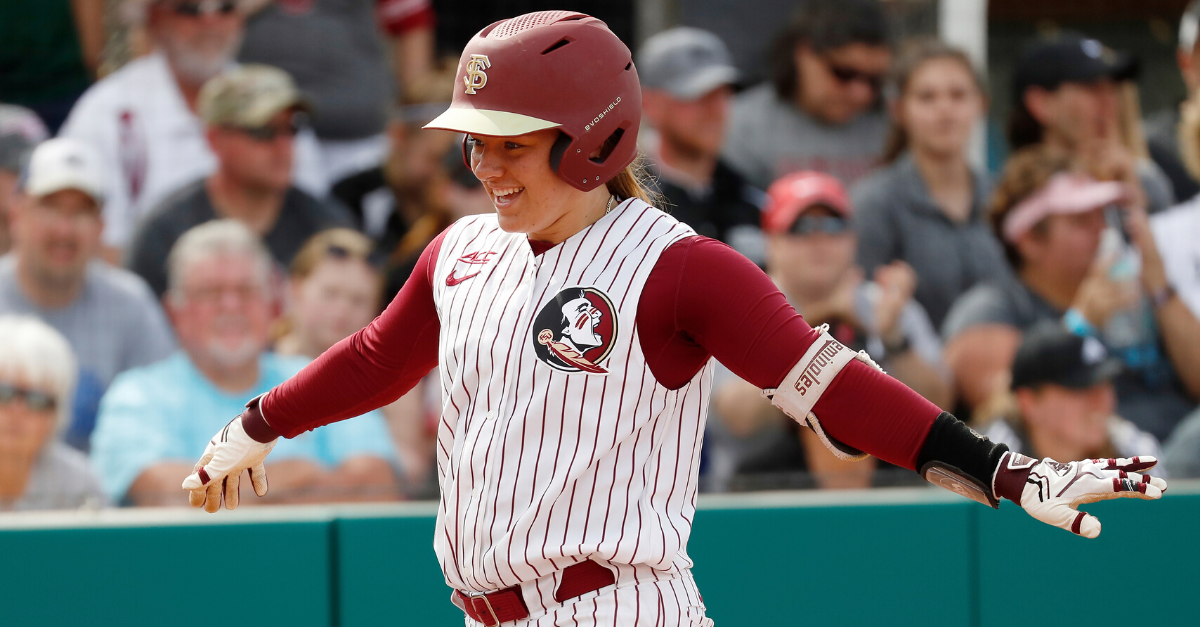 AP Photo/Casey Brooke Lawson
Editor's Update: The 2020 softball season was canceled due to the spread of COVID-19 and coronavirus outbreak. Florida State finished the shortened season with a 17-7 record.
"To play the best, you have to beat the best."
A saying as old as sport itself, right? For most, that means scheduling and playing high-powered teams in order to prove that you belong among the game's elite. When it comes to the world of college softball, that means everyone else measuring up to the Florida State Seminoles.
In 2019, FSU softball captured its sixth-straight ACC Tournament Championship, which was the school's 17th overall. (The next closest ACC program? Georgia Tech has five…)
Despite not being able to defend the program's 2018 NCAA Tournament title last season, the 'Noles finished with a 55-10 record, including going 19-5 in conference play. Virginia Tech and first-year coach Pete D'Amour won the regular season title with a 20-4 record in ACC play, which was the first time since 2012 that FSU wasn't the regular season champion, too.
One of three Seminoles to appear in all 65 games last season, third baseman Sydney Sherrill was named 2019's ACC Defensive Player of the Year. The two-time NFCA All-American is back again as a junior this season, coming off a year when she led FSU in batting average (.405), slugging percentage (.762), home runs (16), and RBIs (60). Alongside Sherrill, All-ACC selections Anna Shelnutt, Elizabeth Mason, and Kathryn Sandercock are back once again.
Plus, FSU signed the No. 1 recruiting class in the country.
Need more proof as to why every college softball powerhouse wants a crack at the 'Noles in 2020?
Florida State will take on five softball teams ranked in the top 10 of the NFCA's final poll last year ? No. 1 UCLA, No. 3 Washington, No. 4 Alabama, No. 7 Florida and No. 8 Minnesota. Also packed into FSU's softball schedule are 14 teams that appeared in the NCAA Tournament.
As FSU shakes off losing to Oklahoma State in the Super Regionals last season, the table is set for another run at the Women's College World Series as head coach Lonni Alameda enters her 12th season at the helm.
"We are very excited about our schedule for 2020," Alameda said, via news release. "It is a mix of numerous Top 20 teams and postseason teams, and it will great to have challenging competition all year long from February through May."
FSU Softball Schedule 2020
JoAnne Graf Classic (Tallahassee, FL)
Feb. 7: North Carolina
Feb. 7: Alabama
Feb. 8: Detroit Mercy
Feb. 8: Alabama
Feb. 9: Detroit Mercy
—
Feb. 12: FLORIDA A&M
St. Pete/Clearwater Elite Invitational (Clearwater, FL)
Feb. 14: Washington
Feb. 14: Minnesota
Feb. 15: Northwestern
Feb. 16: Liberty
Feb. 16: UCLA
—
Feb. 26: UCF
Wooo Pig Classic (Fayetteville, AR)
Feb. 28: Baylor
Feb. 28: Kent State
Feb. 29: Baylor
Feb. 29: Arkansas
Mar. 1: Villanova
—
Mar. 3: HOLY CROSS
THE Spring Games
Mar. 6: Longwood
Mar. 7: Charleston Southern
Mar. 7: Creighton
Mar. 8: Penn
Mar. 8: Detroit Mercy
Fresh From Florida Sunshine Showdown
Mar. 11: at Florida
—
Mar. 13-15: at Duke*
Mar. 17: at Coastal Carolina
Mar. 18: at College of Charleston (double-header)
Mar. 20-22: LOUISVILLE*
Mar. 25: at Mercer (double-header)
Mar. 28-30: GEORGIA TECH*
Apr. 4-6: at Notre Dame*
Apr. 10-12: SYRACUSE*
Apr. 13-14: LOUISIANA
Apr. 17-19: at Clemson*
Fresh From Florida Sunshine Showdown
Apr. 21: FLORIDA
—
Apr. 24-26: VIRGINIA*
May 1-3: at Virginia Tech*
ACC Softball Tournament: Begins May 6 in Louisville, KY
* ? Denotes Atlantic Coast Conference game