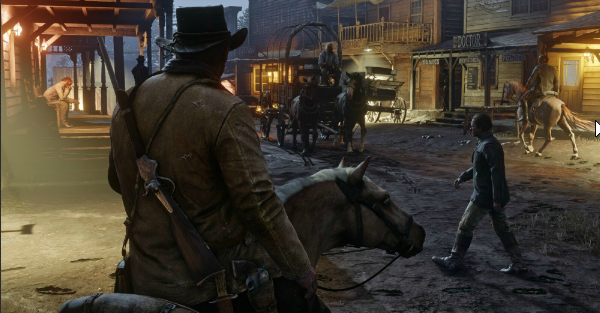 rockstargames.com
Last year Rockstar Games announced the sequel to their open-world, western adventure game Red Dead Redemption, exciting audiences everywhere and signaling an end to the studio's production drought. It had been 3 years since the release of Grand Theft Auto V, and some had begun to believe that we'd never see another release – especially considering the success of GTA Online and the lengthy delay of Red Dead Redemption 2, which originally was expected to launch this fall.
Luckily, these concerns have proved to be groundless; the second trailer for Red Dead Redemption 2 was released this morning over Rockstar's YouTube channel, and if it's any indication of things to come, then the wait has been well worth it. Check it out:
According to the description, players will be taking on the role of outlaw Arthur Morgan who, together with the Van der Linde gang, will "rob, fight and steal their way across the vast and rugged heart of America in order to survive." What's more interesting about Morgan is that, assuming his character is consistent with what we saw in the trailer, then he's a step away from the traditional Rockstar protagonist.
By that we're referring to the "decent guy who reluctantly commits crimes usually to bail himself or his friends out of trouble," all the while driving on the sidewalk and killing countless crowds of innocent people when back in the hands of the player. Morgan, in contrast, seems downright cruel; his line to the young boy regarding his weeping mother isn't something you'd ever hear coming out of the mouth of Niko Bellic or Franklin Clinton. You can tell already that he's capable of being genuinely heartless, in a way that even Trevor Philips might struggle with.
As for other confirmed features, well, there's really quite a lot going on in the trailer. From the shot of the crocodile snatching away an unsuspecting pig, for example, we can guess that there's probably going to be random attacks between wildlife in the world of Red Dead Redemption 2 – which, while seemingly not a big deal, has always meant a lot to players in terms of creating an organic, "living breathing world" to play in. Michael's flip-flops actually "flip-flopping" in one of the early GTA 5 trailers still comes to mind as one of the sillier things the gaming community has gotten excited over.
Other features include the ability to wield a bow and arrow, lassoing horses, and, of course, all the traditional shoot-outs and bank robberies you'd expect out of the Old West. Otherwise, there's really not that much to go off of for now – and that's totally OK. We've got several long months between now and the full release, which means alternate story trailers and gameplay montages can't be too far ahead.
Red Dead Redemption 2 is set to launch for the PlayStation 4 and Xbox One in spring, 2018 (no word yet on any kind of eventual PC port). For more information, tune in to Rockstar's official website or Twitter account, where future updates are bound to be announced.