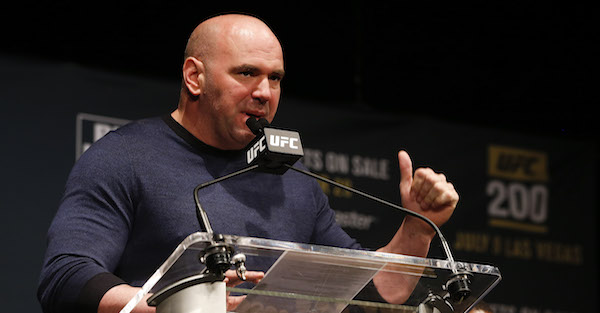 Jeff Zelevansky/Getty Images
NEW YORK, NY - APRIL 27: UFC president Dana White appears during a media availability for UFC 200 at Madison Square Garden on April 27, 2016 in New York City. (Photo by Jeff Zelevansky/Getty Images)
For the longest time, it didn't seem as if the Conor McGregor-Floyd Mayweather fight would ever happen. There were so many details to iron out on both sides, and even UFC president Dana White was pessimistic about the fight happening as recently as a month ago.
But now the fight is on, and the two fighters are scheduled to go at it on Aug. 26.
Related: Conor McGregor, Floyd Mayweather have reportedly agreed to a deal, date for superfight
White revealed more details about the showdown according to Damon Martin of FOX Sports.
McGregor is under an exclusive contract with UFC, so he had to reach terms with White about going outside of that contract to box Mayweather. In all likelihood, McGregor and the UFC will share revenue.
"We didn't start talking on their side until my side was done," White said. "Why should I start negotiating with these guys when I don't even have a deal on my side? Get my [expletive] handled and then go talk to them."
Once White's side was completed, he met with Team Mayweather about more details, including pay-per-view, live gate, and Mayweather's contract with Showtime. White said once he met with Mayweather's manager, Al Haymon, and his business partner, Leonard Ellerbe, the deal was actually easy to complete.
"It was very fair, very smooth and one of the easiest deals I've ever done," White said. "Not to mention the fact that I said it would be the impossible deal, this would never get done, it would be impossible. It was one of the easiest deals I've ever done."
Related: Video emerges from Conor McGregor's boxing training ahead of Floyd Mayweather showdown
McGregor and Mayweather publicly debated who should get more revenue from the fight, but apparently the negotiations behind closed doors were relatively simple. Specific details haven't emerged yet, but the agreement didn't take long.
White said "nobody's bummed out" about the deal. The pay-per-view revenue is expected to reach an all-time high, though the exact cost of the fight hasn't been revealed.
It's a promising sign that both sides were able to reach an agreement that easily. Now fans can turn their attention to all the trash talk between the two fighters between now and Aug. 26.
(h/t FOX Sports)