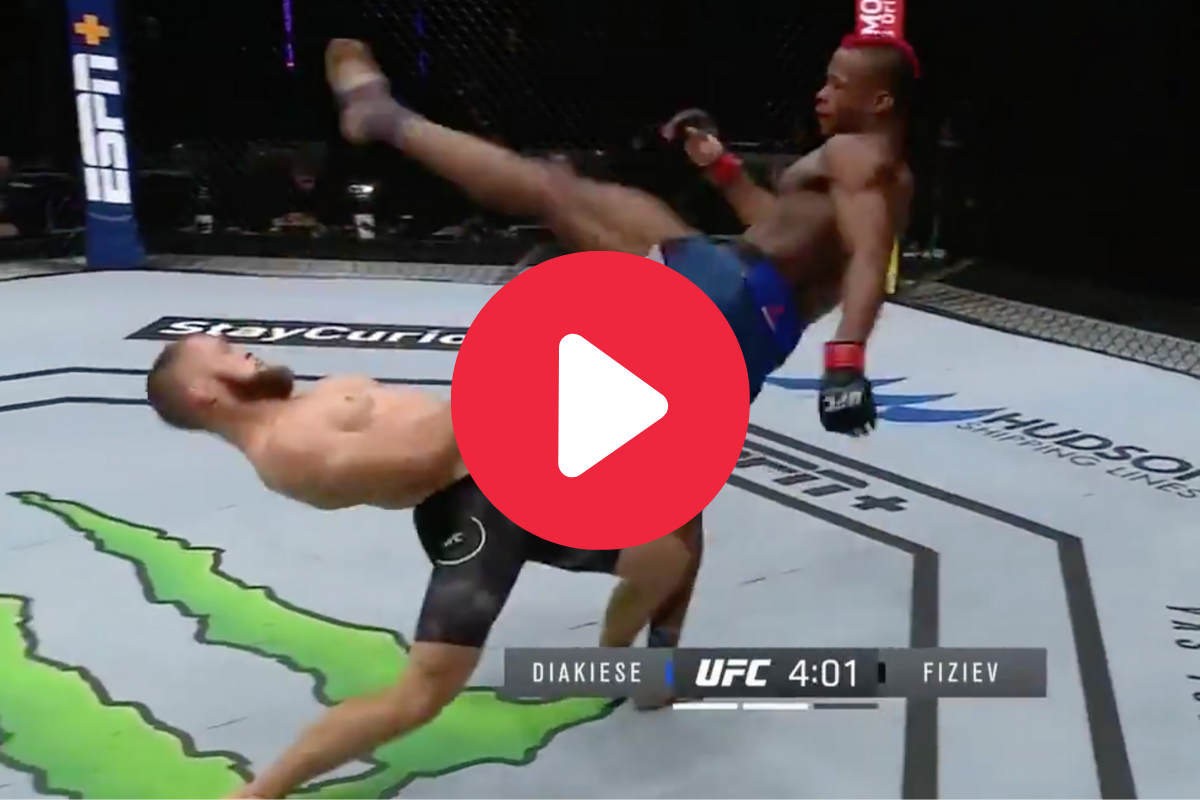 Screenshot from Twitter
Ever since his Ultimate Fighting Championship debut last year, Rafael Fiziev has captured wins and attention with his instinctive mixed martial arts skills. He continues to dominate the lightweight division, too, and put on another impressive show at UFC Fight Island 2.
In a bout with Marc Diakiese at the Flash Forum venue in Abu Dhabi, Fiziev won all three rounds for a unanimous decision victory. The 27-year-old Kyrgyzstani landed 82 strikes out of 128 attempts and escaped his main card fight with yet another strong win.
However, for as many strikes as he landed, his greatest move of the night was actually one he avoided like he was in The Matrix.
Rafael Fiziev Goes Full Matrix vs. Marc Diakiese
RELATED: UFC Fighter?s Lip Explodes From Massive Right Hook
With that Saturday night (or Sunday morning) win over Marc Diakiese, Rafael Fiziev improved to 8-1 overall in UFC, including five knockouts, two decisions and one submission. This one on ESPN?s UFC Fight Night might have been his best yet.
Fiziev definitely got the attention of Dana White and MMA social media. He attacked well with body kicks and used his unreal defensive instincts, including dodging a head kick like he was Neo from The Matrix in the third round.
What?s crazy is that?s not even the first time Fiziev has pulled off that move. He famously did it in a Muay Thai fight back in 2017.
After UFC Fight Island 2 was over, Fiziev and Diakiese were awarded a $50,000 bonus for having the ?Fight of the Night.? His reaction in UFC?s tweet was priceless.
What a night it was for Fiziev, indeed.
UFC Fight Island 2 Main Card Results
Here are the full main card results from July 18, 2020:
Askar Askarov defeated Alexandre Pantoja (Unanimous Decision, Flyweight)
Ariane Lipski defeated Luana Carolina (Submission, Flyweight)
Rafael Fiziev defeated Marc Diakiese (Unanimous Decision, Lightweight)
Jack Hermansson defeated Kelvin Gastelum (Submission, Middleweight)
Deiveson Figueiredo defeated Joseph Benavidez (Submission, Flyweight Title)
Between UFC 251 and Fight Island, UFC is truly standing out during the coronavirus pandemic and COVID-19 outbreak.
This post was originally published on July 20, 2020 but a move like this is always impressive.