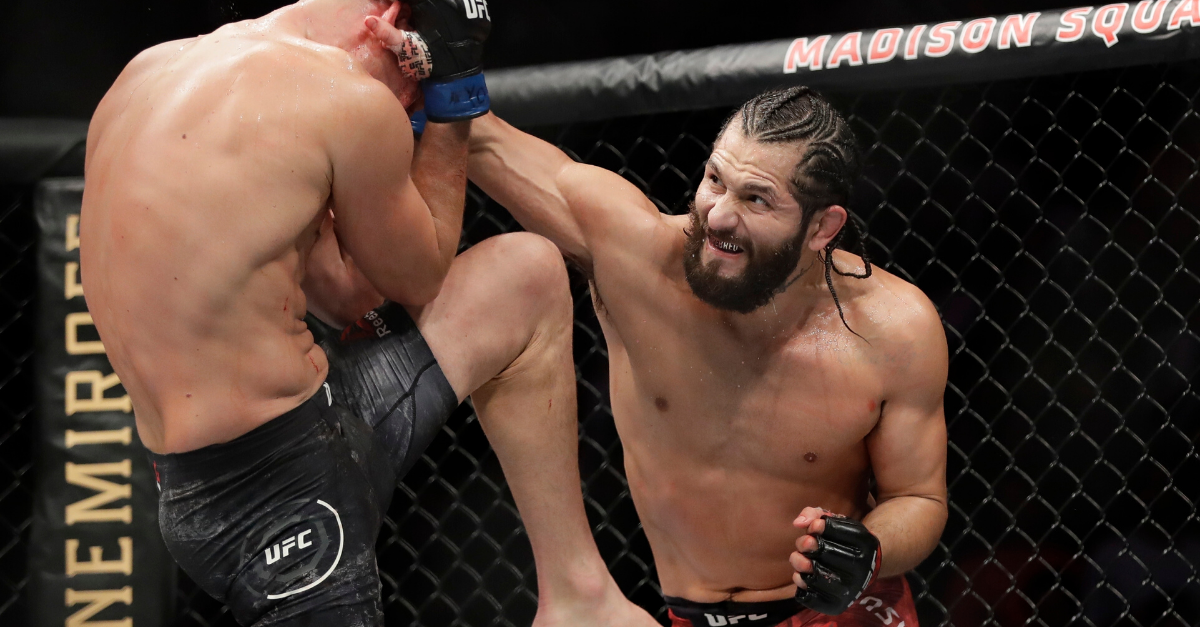 AP Photo/Frank Franklin II
UFC welterweight Jorge Masvidal is a bad motherfucker. That's not hyperbole, either; Masvidal holds the "BMF" title after winning it in a TKO victory over Nate Diaz at UFC 244. If being the first-ever BMF champ wasn't enough, walking badass Dwayne "The Rock" Johnson awarded the mixed martial artist his new belt after the fight.
But don't be fooled; Underneath that hard exterior, behind every flying knee knockout, there is a proud father and son whose career is fueled by his family.
Who Is Jorge Masvidal's Wife?
Masvidal has said on numerous occasions that he prefers to keep his personal life in the shadows. That's especially true when it comes to the woman believed to be the mother of his three children, Iman Kawa.
Though they aren't publicly in relationship, nor are they married, the two have been side-by-side over the years and reportedly share three children; two daughters and a son. Kawa aided Masvidal's career as his personal chef, cooking strict meals for the UFC fighter and even showcasing their relationship back in 2017 on her YouTube channel, Better Than Your Mother's.
Jorge Masvidal's Parents
When he was younger, Masvidal's father went to jail for drug trafficking charges, as Masvidal told ESPN's Ariel Helwani. That stint was a 22-year prison sentence for which he served about 18 years, which came during Masvidal's youth — For the majority of his adolescence, Masvidal regularly visited his dad in prison, where father-son lessons of not making the same mistakes as his dad were instilled.
Jorge "Kalifa" Masvidal defected to the United States at age 14. Today, the Cuban father works with his son and lives a standup life.
On Father's Day in 2019, Masvidal sat down with ESPN and wrote a letter to his dad, thanking him for the lessons and leadership that taught him how to be a father and man. Even cooler, his dad was in the other room listening the whole time.
Little is known about Masvidal's Peruvian mother. The woman who worked harder than most to make a living showed her only son that same work ethic, which he still carries today (Early in Masvidal's career, he spent several months sleeping his car, in gyms, under boxing rings; anywhere he could while he chased his dream.)
He told Ariel Helwani that the two have a "good" relationship.
Jorge Masvidal's MMA Record
Since his professional debut as a kickboxer in the Absolute Fighting Championships back in 2003, Masvidal regularly main events pay-per-view matches with his striking style and never-back-down attitude. The Miami, Florida native, who began street fighting at a young age, has fought for nearly every major MMA promotion, bouncing between lightweight and welterweight divisions in BodogFIGHT, World Victory Road, Strikeforce, and Bellator, among a few others, before his UFC debut in July 2012.
Masvidal earned Fight of the Night bonuses following a unanimous decision loss to Rustam Khabilov (UFC: Fight for the Troops 3) and a knockout victory over Darren Till (UFC Fight Night: Till vs. Masvidal). He's also earned Performance of the Night bonuses four times, including his iconic flying-knee KO of Ben Askren at UFC 239. That five-second fight is the fastest knockout in UFC history.
Masvidal's MMA record is 35-13 (16 KOs) ahead of UFC 251. After Gilbert Burns tested positive for COVID-19 during the coronavirus pandemic, Masvidal was inserted on less than one week notice to fight Kamaru Usman for the UFC Welterweight Championship at Dana White's highly-anticipated "Fight Island" in Abu Dhabi, United Arab Emirates. This is the first time Masvidal steps into the octagon and challenges for a UFC championship. The MMA fighter's BMF title is not on the line, but this figures to be one of the most-watched main events in recent memory.
UFC 251: Kamaru Usman vs. Jorge Masvidal
Ahead of UFC 251, Masvidal was ranked as the No. 3 contender in UFC's welterweight division behind Gilbert Burns and Colby Covington.
Masvidal has stated his desire to move down to the UFC lightweight division, which puts the 35-year-old into the packed rankings that include champion Khabib Nurmagomedov, Justin Gaethje and since-retired Conor McGregor.
Jorge "Gamebred" Masvidal's estimated net worth in 2020 is largely unknown. Several sources estimate it between $1-5 million, while Wealthy Persons believes that number is closer to $14 million, most of which comes from his time in the Ultimate Fighting Championship.