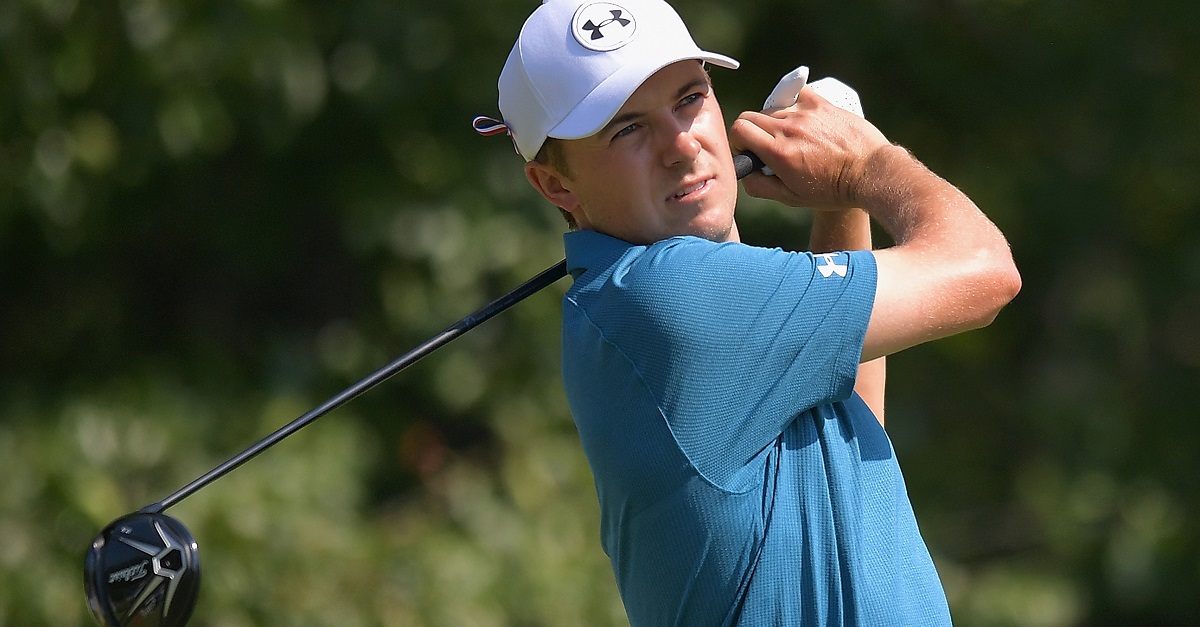 Drew Hallowell/Getty Images
NORTON, MA - SEPTEMBER 04: Jordan Spieth of the United States plays his shot from the fourth tee during the final round of the Dell Technologies Championship at TPC Boston on September 4, 2017 in Norton, Massachusetts. (Photo by Drew Hallowell/Getty Images)
The final 70 players make their way to Conway Farms for the BMW Championship this week. On the line (besides the title, obviously), is one of 30 spots in the Tour Championship field, which comes with a spot in next year's Masters in addition to a few other perks. That is to say, the BMW Championship plays a sizable part in deciding how the rest of this season plays out and how the next season sets up for any given player.
We arrive at Conway Farms in the wake of two strong leaderboards and compelling finishes in the first two playoff events, with Dustin Johnson and Justin Thomas winning the Northern Trust and Dell Technologies titles, respectively. We've been blessed with quality entertainment in the big tournaments this season and, with the field shrinking each playoff week, have no reason to expect a different outcome this week. With that in mind, let's make a few picks and predictions.
Winner: Jordan Spieth
Shocking, right? In all seriousness though, Spieth hasn't finished outside of the top-30 in his last six tournaments, including two victories and two runner-up finishes, the latter coming in the first two playoff stops. He'll also be paired with Johnson and Thomas, the two players who have finished in front of him the last two times he teed it up. As weird as it sounds, I think that's a perfect situation for Spieth. I don't think anyone is questioning his game at this point, but he technically is the underdog in his threesome, and that feels like prime conditions for a masterclass performance that reminds us all of how dang good Spieth can be when he's on.
Top 10 finish: Jon Rahm
I was tempted to pick Paul Casey, who seems to be in the top-10 in every playoff event, but him and his wife welcomed a newborn baby this past week. That's awesome as far as real life is concerned, but I'm thinking Casey's routine is off at the moment and maybe some fatigue will set in. With that in mind, Rahm has finished in the top-5 in both playoff events so far and sits 5th in the FedEx Cup standings. We'll touch more on this next week, but staying in the top-5 is critical for next week at East Lake because it allows you to control your own destiny for the playoff crown. Rahm doesn't want to lose that control, and he's way too talented and in too good of form for me to expect a lesser finish.
Longshot: Zach Johnson
His form is not trending, but Johnson has won and finished T13 in the two stops this tournament has made at Conway Farms. I think that level of comfort means something to a control player like Johnson, who needs a strong showing to make it to East Lake. He's currently 54th in the FedEx Cup standings. We'll see what he can do.
Phil Mickelson and Rory McIlroy are heading home after this week
I touched on this in an earlier post, but I have my doubts about both of these stars playing well enough to jump enough players to make it to East Lake. Additionally, Rory has mixed results here while Mickelson has not finished inside the top-30 in either visits here. Although Phil had a solid finish last week, I just don't buy that there is enough momentum here for either player to make the cut.