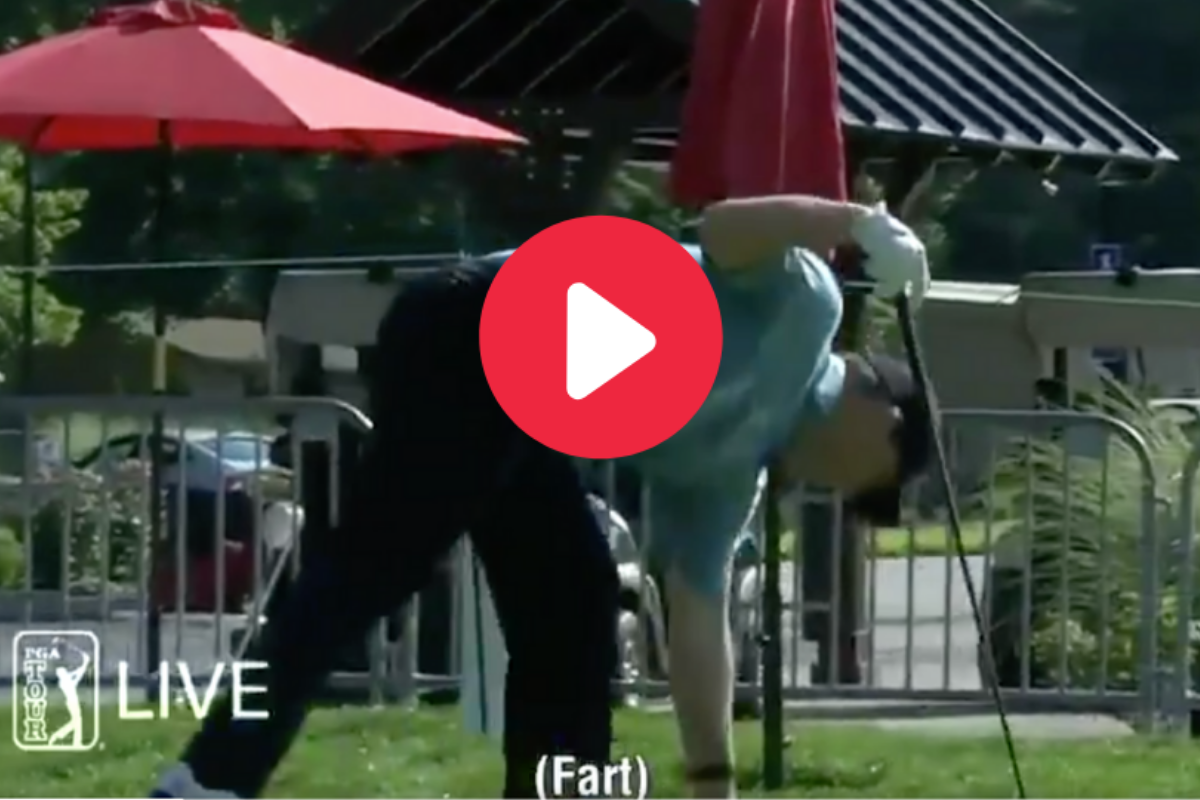 Screenshot from Twitter
Without fans at PGA Tour events, everyone misses out on interesting shenanigans such as flashers or even golfers digging tee shots out of trash cans. Those days will eventually come back, whenever the coronavirus pandemic and COVID-19 outbreak ends, but at least we all have something to watch. That doesn?t mean hilarious moments don?t still happen.
When golfer Ian Poulter and playing partner Greg Chalmers teed off for the final round of the Travelers Championship in Connecticut, neither was in contention. They were one of the first groups out at TPC River Highlands on Sunday. The opening hole turned out to be quite eventful, too.
As soon as Chalmers striped his drive on the first hole, Poulter let out an epic fart that was caught on the tee box microphones and live television. The exchange after that moment and on social media after the round was quite comical as well.
Ian Poulter Farts on Live TV
RELATED: Huge Fart Ripped in Audience Disrupts Televised Snooker Match
For most everyone willing to admit it, farting is a huge sigh of relief. That includes PGA Tour pros on the golf course. However, nobody probably expected to hear Ian Poulter let one rip after Greg Chalmers opening tee shot. That?s what happened, though, and it was hilarious.
?Did you get that?? Poulter asked.

?Stay over there,? Chalmers replied. ?Is that supposed to be more silent than that??
If you didn?t know any better, it seemed like Chalmers was the culprit of passing gas as he was picking up his tee. Poulter admitted to it on social media, though, and the two sent tweets to each other back and forth.
?3 club wind this morning on the first tee. Always beware of the live [microphone],? Poulter wrote.

?I like the (fart) in closed caption. That really confirmed it for me,? Chalmers said.

?The best bit everyone thinks it was you,? Poulter replied.

?Yes I can see how you would find that hilarious,? Chalmers added.

Chalmers made par on the first hole, while Poulter walked away with a birdie.
Although most people, including the announcers, were paying attention to winner Dustin Johnson or top golfers such as Jon Rahm and Phil Mickelson, never forget the time Poulter let one rip on the tee box. They were golden live TV seconds.
This post was originally published on June 29, 2020 but passing gas on a golf course is a timeless treasure.