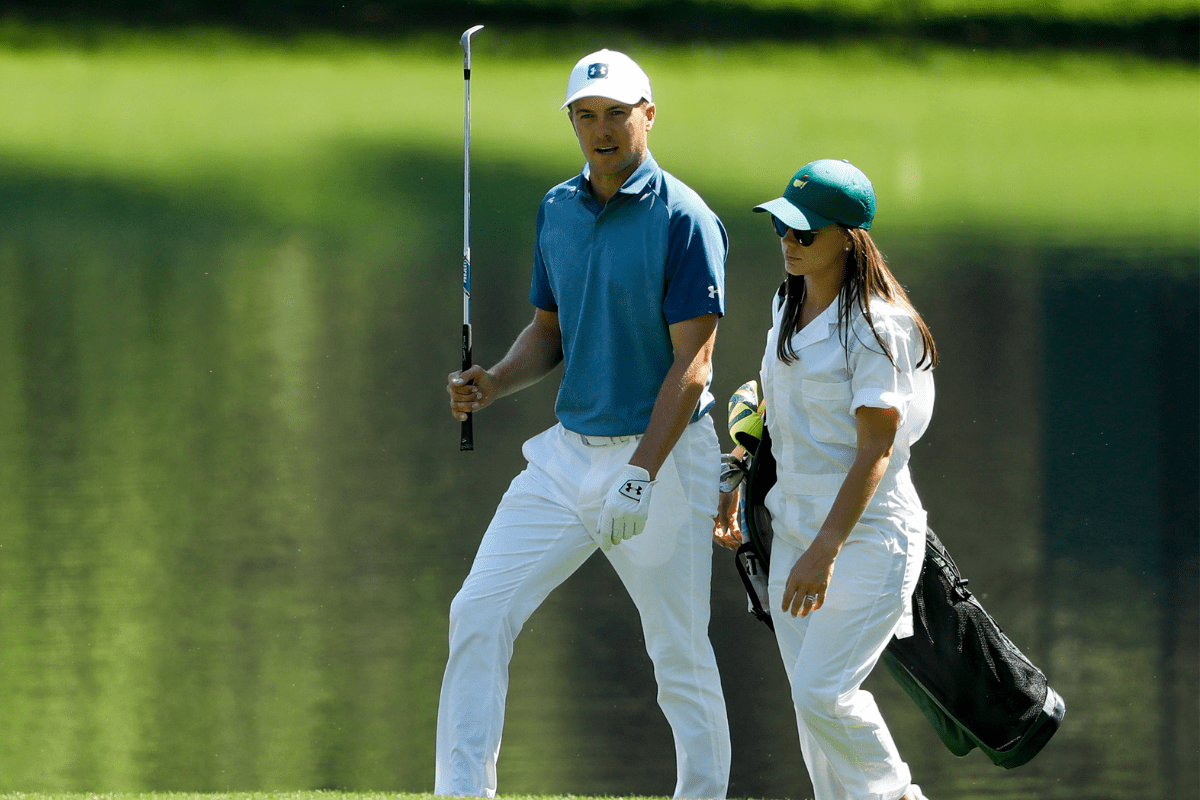 AP Photo/Matt Slocum
Being one of the world's best golfers attracts a ton of attention from the public, something Jordan Spieth can certainly attest to.
After his prolific 2015 season sprung him into golf's spotlight, the Texan has been among the most popular figures in the sport.
While the added publicity has surely made the highs higher, it can also make the lows lower. Of late, it's been all lows on the course for the three-time major winner.
The former world No. 1 is currently ranked No. 52 in the Official World Golf Rankings and has gone without a PGA Tour win since 2017.
While things haven't gone in his favor over the past few years, he's had his wife in his corner all the while.
Jordan Spieth's Wife
RELATED: Who is Bryson DeChambeau's Model Girlfriend?
While many professional golfers meet their significant others while on the tour, that wasn't the case for Jordan Spieth.
The 27-year-old golf star married his high school sweetheart and girlfriend Annie Verret. The pair met at high school in Texas, and stayed together despite attending different colleges –- Spieth enrolled at the University of Texas while Annie studied business at Texas Tech.
The long-time couple got engaged around Christmas 2017 and got married in November 2018. Multiple tour players were at the wedding, including Rickie Fowler, Jason Dufner and Zach Johnson, all of whom posted photos from the event to social media.
Jordan Spieth's wife Annie Verret works as the event coordinator for The First Tee of Greater Dallas, an organization which offers golf lessons to youth, during which they gain leadership skills and life lessons.
While Jordan is extremely popular on social media, boasting 1.5 million followers on Instagram and 1.9 million followers on Twitter, Annie prefers to avoid the spotlight, having her social media accounts set to private.
Still, she features occasionally in some of Spieth's social media posts, often with the happy couple appearing at awards ceremonies or other events.
Jordan Spieth's Professional Career
Jordan Spieth turned pro in 2013 and won his first PGA Tour event that same year. At the John Deere Classic, he became the first teenager (he was 19) to win a PGA Tour event since 1931.
It wasn't until 2015 that Spieth truly became a superstar on the golf course. Spieth started the year with a win at the Valspar Championship in Florida, and then lost a dramatic sudden-death playoff at the Shell Houston Open to J.B. Holmes.
Shortly after, Spieth earned his first major victory at The Masters Tournament at Augusta National Golf Club, defeating Phil Mickelson by four strokes and becoming the second-youngest green jacket winner (behind only Tiger Woods).
Spieth, a two-time Australian Open champion, followed up that performance by winning the U.S. Open two months later, making a birdie on the 18th green to beat Dustin Johnson in the final round by one stroke. He won the 2015 FedEx Cup.
In 2016, Spieth had an infamous meltdown at The Masters, during which he hit two golf balls into the water on the famous Par-3 12th hole to effectively put him out of contention.
Still, he performed well otherwise, winning two events that year, and playing a pivotal role on the United States' Ryder Cup squad.
Spieth won his third major in 2017, The Open Championship. The victory was his most recent of any kind, however, as he's endured a slump and battled injury over the past few years.
From the Charles Schwab Challenge in Fort Worth to the Players Championship at TPC Sawgrass, he is already playing better than he did all of last year against other stars like Jon Rahm and Rory McIlroy.
Golfer Jordan Spieth and caddie Michael Greller are hoping even better days are ahead one fairway and putt at a time.
This post was originally published on November 12, 2020.