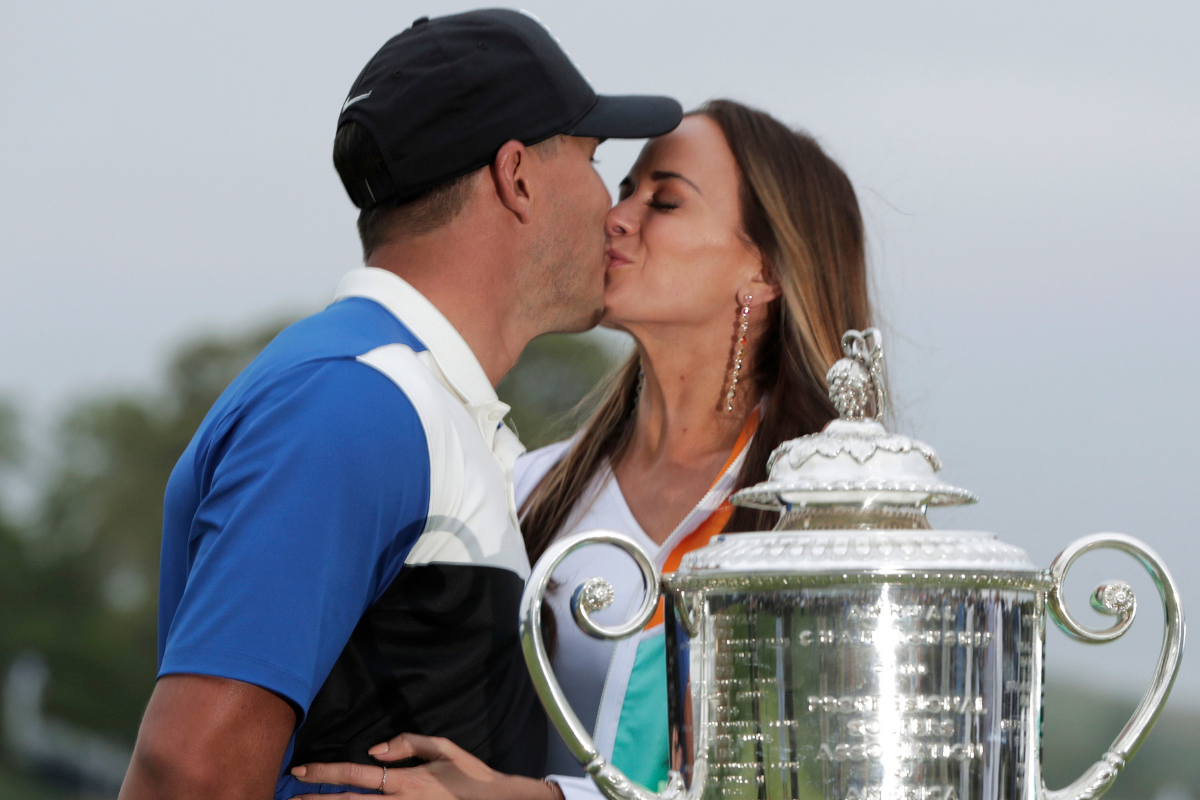 AP Photo/Julio Cortez
Brooks Koepka is a four-time Major winner and one of golf's most recognizable names. He's still trying to recapture the glory of being ranked as the world?s No. 1 golfer, a position he first captured in October 2018 and regained after his victory in the 2019 PGA Championship.
Plagued by injury in 2020, Koepka has fallen to No. 12 on the leaderboards and was forced to withdraw from the FedEx Cup Playoffs, though he's set to return for The Masters.
While Koepka?s hip and knee injuries forced him to the sideline for most of 2020, the professional golfer can consider himself lucky to have had someone to spend his time at home with during the coronavirus quarantine and COVID-19 outbreak.
Koepka had been spending his time rehabbing and recovering with his model girlfriend Jena Sims.
Brooks Koepka's Girlfriend Jena Sims
RELATED: Rory McIlroy Met His Wife When She Saved Him from Missing a Tee Time
Brooks Koepka is dating model and actress Jena Sims. He proposed to her in early March 2021, with both Brooks and Jena rocking some Nike shoes on the beach. He didn't post photos from the proposal on his account (@bkoepka) but he commented on her post saying "Love you Jean."
Sims, 32, has been featured in movies such as Last Vegas, Attack of the 50 Foot Cheerleader, Three-Headed Shark Attack and Sharknado 5: Global Swarming. She?s also had roles in popular TV shows, including One Tree Hill, Dexter, and Entourage.
Koepka and Sims met for the first time at the 2015 Masters at Augusta National Golf Club, where Koepka placed 33rd. They began dating in 2017. Their relationship initially went public when the pair celebrated Koepka?s victory at the 2017 U.S. Open at Erin Hills with a kiss. However, commentator Joe Buck mistook her for Koepka's ex-girlfriend, identifying her as Becky Edwards.
Since then, Sims has accompanied Koepa to events like the ESPYs. She's a sure bet to be cheering him on at tournaments like the Masters Tournament, the U.S. Open, The Open Championship and the PGA Championship.
Sims initially aimed for a career in modeling. She won the 2007 Miss Georgia Teen USA pageant and competed at the 2007 Miss Teen USA Pageant, where she failed to place.
Her love for pageantry held true. Sims now runs a non-profit organization called Pageant of Hope, which hosts beauty pageants for children and teens who ?face serious challenges.?
The 32-year-old grew up in Georgia but moved to Hollywood in order to pursue her career as an actress. She currently resides with Koepka in Jupiter, Florida, when she's not with him on the golf course. Sims frequently posts pics of her and Brooks on social media, particularly Instagram where she has an impressive following of 223,000.
Sims made headlines at the 2019 PGA Championship in New York after Koepka appeared to ignore her during the final round of play. Sims appeared to lean in to kiss Koepka, but the golfer was hyper-focused and completely ignored his girl.
Let's be real, though. The only person getting any attention from Brooks during his run to victory was his caddie. Sims managed to cool rumors of her relationship with Koepka being "rocky" with a clever Instagram post.
Brooks Koepka's Professional Career
Brooks Koepka turned pro in the summer of 2012 after spending four years as a star golfer for Florida State, where he was a three-time All American.
The 30-year-old has 14 professional wins under his belt, seven of which came from the PGA Tour. Koepka has impressed at major championships and is already a four-time major champion, including the 2017 and 2018 U.S. Open and the 2018 and 2019 PGA Championship. His two major victories in 2018 made him the first golfer to win the double in the U.S. Open and PGA Championship since Tiger Woods achieved it in 2000.
Koepka has been involved in some beef with fellow PGA Tour golfer Bryson DeChambeau after he commented on DeChambeau's pace of play. DeChambeau responded by insulting Koepka's abs, or lack thereof, from his photos in the ESPN Body Issue photoshoot.
The four-time major champ clapped back once and for all with an amazing photo of his four major trophies. At the time, DeChambeau had yet to win a major championship. He has since found victory at the U.S. Open in September 2020.
Koepka also had an incident flare up with Dustin Johnson. The two are believed to be close friends who trained together for a couple of years. However, after a Team USA defeat in the 2018 Ryder Cup, things reportedly got heated. Koepka denied any strain in their relationship, suggesting the story was being blown out of proportion by the media, though golf fans certainly were intrigued by the drama.
Brooks' 2020 didn't go how he'd hoped, with his best finish being a second-place showing at the St. Jude Invitational at the TPC Southwind in Memphis. Koepka will look for a strong showing at the 2021 Masters up against the likes of Jordan Spieth, Rickie Fowler and many more.
This post was originally published on April 3, 2021 but has been updated following the couple's engagement news.