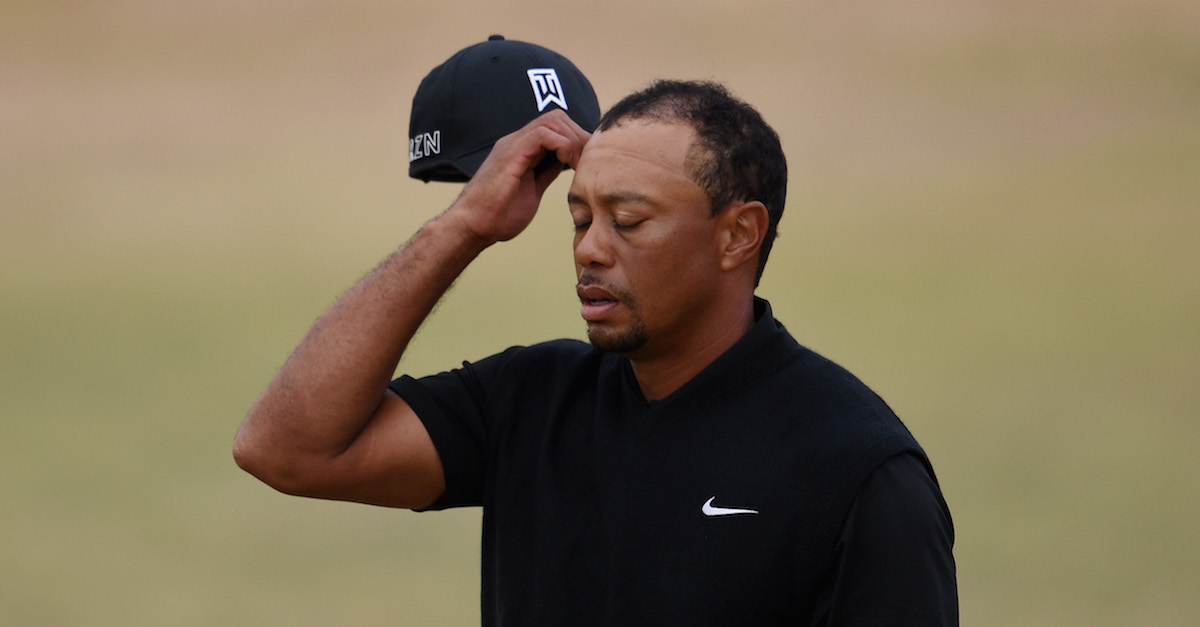 Ross Kinnaird/Getty Images
The meteoric rise and return of legendary golfer Tiger Woods is the best story in sports. In December 2017, Woods fell to 1,199th in the World Golf Rankings after issues at home, a public 2017 arrest, and four back surgeries saw his career spiral out of control. Less than two years later, he won his fifth green jacket at The Masters tournament is back up to No. 6 in the world rankings.
Despite this all-time great comeback, Woods can't seem to escape negative publicity off of the golf course.
Nicholas Immesberger was killed when his 1999 Chevrolet Corvette crashed on December 10, 2018. The 24-year-old bartender at The Woods, a Jupiter, Florida restaurant that Tiger invests in, was reportedly over-served alcoholic beverages for about three hours after his shift at work. When Immesberger's blood was tested following the fatal crash, he had a blood-alcohol level of 0.28, which is more than three times the legal limit.
A wrongful death lawsuit filed by Immesberger's parents named both Tiger and his girlfriend Erica Herman, who is the restaurant's general manager, for their son's death and are seeking "in excess of $15,000."
"The employees and management at The Woods had direct knowledge that Immesberger had a habitual problem with alcohol. In fact, employees and managers knew that Immesberger had attended Alcoholic Anonymous meetings prior to the night of his crash and was attempting to treat his disease. Despite this, the employees and management at The Woods continued to serve Immesberger alcohol while he was working as well as after work, while he sat at the bar."

— Passage from lawsuit, h/t USA Today
According to the New York Daily News, the lawsuit states that Woods should have known that Immesberger "was habitually addicted to the use of any or all alcoholic beverages and/or was a habitual drunkard." The lawsuit also alleges that Woods, Herman and Immesberger were all drinking together at The Woods just a few nights before his death.
How could Woods, who was preparing for the PGA Championship at Bethpage Black, be held accountable when he wasn't even there? Here's this explanation from the USA Today:
"The lawsuit alleged Woods "individually participated in the serving of alcohol," typical language in such lawsuits. Woods could potentially be held liable under Florida law even if he wasn't physically at the venue if a foreseeable risk of injury or death occurs due to over-serving somebody with a known history of alcohol abuse issues."
During a news conference, the attorney for Immesberger's family alleged that Woods' restaurant destroyed video evidence after the crash occurred that showed Immesberger being over-served at the bar between 3 p.m. and 6 p.m. on the day of his death.
This lawsuit figures to take some time to resolve itself, but it comes at a time where Woods is deep into his comeback PGA season and could raise a few unwanted questions about his relationship with the restaurant employee.
UPDATE: On Monday, June 24, Woods' attorney Barry Postman announced that the lawsuit no longer names his client as a defendant in the case. The lawsuit still names The Woods Jupiter, as well as Woods' girlfriend, however.
"The decision was clearly appropriate and reflected the fact that Mr. Woods should not have been included in the lawsuit in the first place because he had nothing to do with Mr. Immesberger's death," Postman said in a statement. "While the situation was tragic, the facts will ultimately show that the cause of Mr. Immesberger's car accident were the many decisions made by Mr. Immesberger on the night of his passing."
This article was originally published on May 14, 2019.