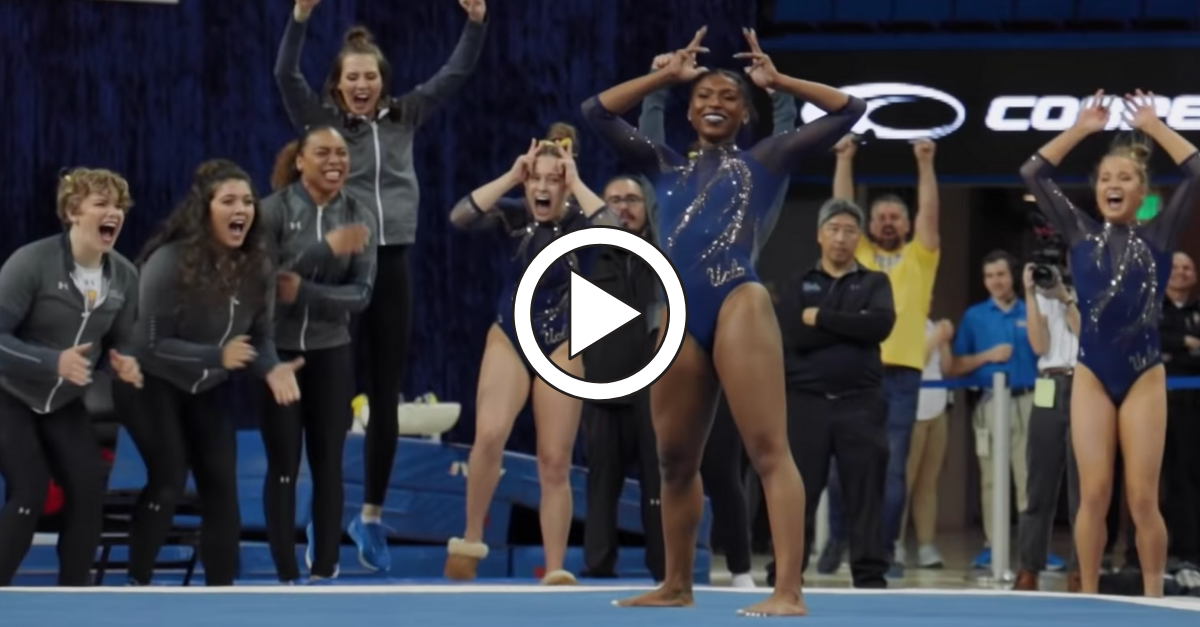 Screenshot from YouTube
A season ago, Katelyn Ohashi broke the Internet with a flawless floor routine. She set the gold standard for viral success, and everyone has been trying to duplicate it ever since. One of her former college teammates followed the recipe and is now making a name for herself in the exact same way.
It's time for the world to meet UCLA gymnast Nia Dennis. She just celebrated her 21st birthday and is living her best life during her junior gymnastics season. She's performed well in the past, but perhaps nothing will hold a candle to the Beyonce-themed floor exercise she performed at Pauley Pavilion in Los Angeles.
Using a medley of Beyonce and Destiny's Child songs "Ego," "Crazy in Love," and "Lose My Breath," the Bruins star instantly became famous with her amazing homecoming performance.
UCLA's Nia Dennis Beyonce Floor Routine
RELATED: Florida Gymnast's Perfect 10 a Preview of 2020 Olympics
Although she didn't receive a perfect score — she received a stellar 9.975 — that hasn't stopped outpouring love and support on social media. The gymnastics routine video shared by UCLA Gymnastics has over nine million views, and she's been called out by celebrities left and right.
From U.S. Senator Kamala Harris to singer Alicia Keys and actress Gabrielle Union, Dennis is getting an incredible reaction like Ohashi did last year. It's also been shared by ESPN, the Pac-12 Network and featured on Good Morning America.
"Look at this unstoppable power and confidence," Alicia Keys wrote in a tweet. "Was just talking about how nothing gives you more power then being yourself! Shine @DennisNia, I'm inspired!!

@DennisNia is ending #BlackHistoryMonth the right way―by showcasing her Black excellence," U.S. Senator Kamala Harris posted. "Beyoncé herself would be proud."
The Queen Bey mashup and performance was truly next level and one of the best performances of the entire NCAA season.