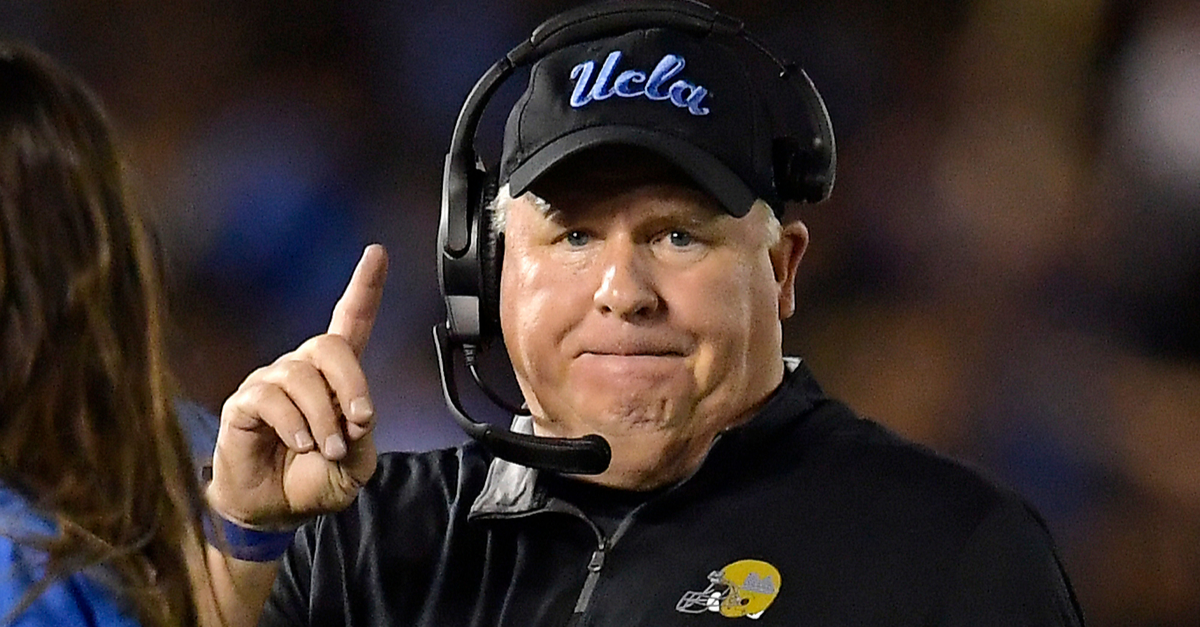 AP Photo/Mark J. Terrill,File
Life comes at you fast, and nobody understands that more than head coach Chip Kelly. Ever since he left the Oregon Ducks program, he has struggled to find great success in the NFL and now with the UCLA Bruins. And in a world where fans get tired of losing rather quickly, there?s no doubt the 55-year-old is on the hot seat once again.
After a struggling 1-5 start to begin the 2019 college football season, one fan is so fed up with Kelly that he?s put him up for sell on Craigslist.
That?s right, Dan Guerrero started a Craigslist ad, ?Selling a Used Chip Kelly? for $9 million, or best offer out in Los Angeles, California.
RELATED: UCLA QB?s Dad Rips Chip Kelly for ?Lousy Coaching? on Twitter
A dominant run at Oregon really paved the way for Chip Kelly to make some noise at the next level. However, he was fired by both the Philadelphia Eagles and San Francisco 49ers before taking over the UCLA football program.
Since then, well, it?s been a struggle. UCLA has losses to Cincinnati, San Diego State, Oklahoma, Arizona, and Oregon State. The lone win to start 2019 came in a 67-63 shootout with Washington State on September 21.
Just check out this advertisement to see how one fan truly thinks about the direction of the program:
?We are selling a used Chip Kelly in broken condition. This antique might still have some value as a fun Christmas present for your ailing, desperate, and gullible football program. It comes pre-loaded with 100 snarky quotes like ?the wishbone was successful too? and 'we?re just trying to have a good Monday.?

?However, after nearly two years, we haven?t gotten the most important parts of it to work. Its previous owners were also dissatisfied with it and we thought it?d need a good home and some TLC. It turns out that it is broken beyond repair, so we are selling AS-IS and for PARTS ONLY. We imagine you can find some workable pieces in here if you are looking for 5-tight-end play designs and are in need of tearing down your roster to its bones.

?While it is not functional, it could make a nice set piece. Putting this on your coffee table for decoration is sure to spark memories of elite offenses and fun playcalls. Do note, though, that although it comes with preloaded quotes, its functionality is so broken that it will refuse to directly answer any of your questions and will almost certainly get dangerously close to insulting you if you try.

?We are selling this for $9M obo. We recognize this is a steep price, but memories and status are priceless, even if functionality is shot.

?Please contact Dan Guerrero for more information.?
UCLA definitely won?t be making the College Football Playoff anytime soon, and a buyout could be imminent, even after just his second year. Judging by UCLA fan posts, next year really might not be a thing.
There is no way somebody is going to buy Chip Kelly on a Craigslist sales ad, but it?s pretty hilarious and clever for one fan to prove his point of disgust.