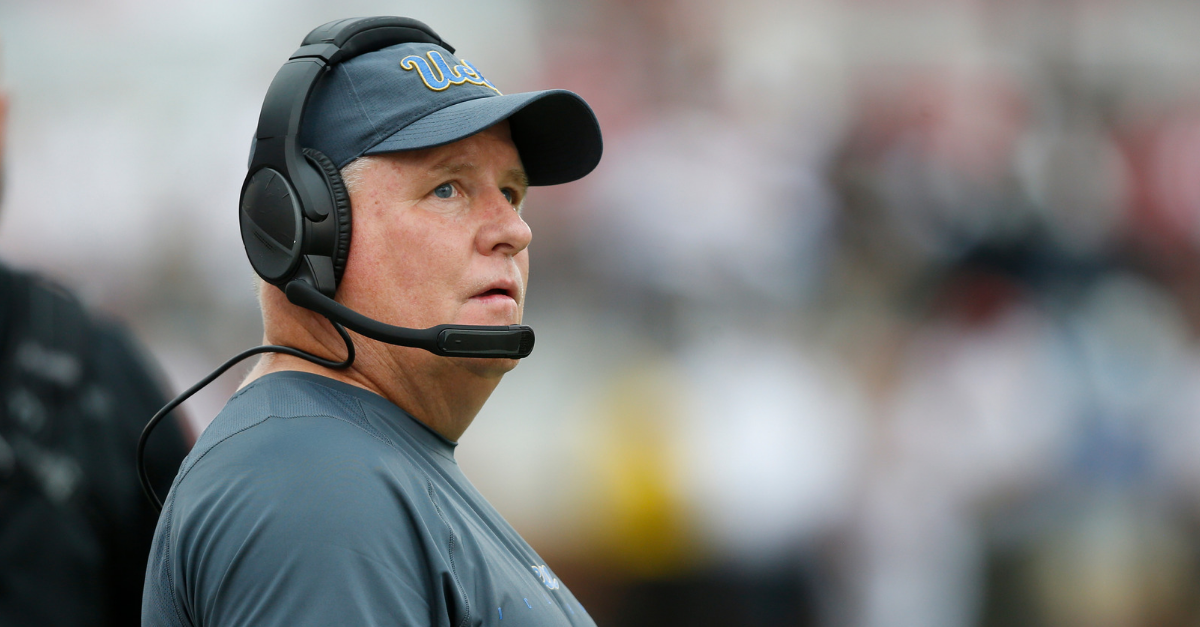 AP Photo/Sue Ogrocki
If a 38-14 home loss to Fresno State wasn?t bad enough, and a 0-3 start wasn?t troubling enough, things just got even more heated in the first month of the Chip Kelly era at UCLA.
After his first career interception, freshman quarterback Dorian Thompson-Robinson got an earful from the first-year Bruins head coach. The signal caller?s father, Michael Robinson, sure didn?t take too kind to the confrontation and blasted Kelly on social media the day after the game.
This is where things are in Los Angeles right now, and it?s not pretty.
Losing at Oklahoma is understandable, but home losses to Cincinnati and Fresno State in the Rose Bowl? No wonder why people are up in arms, including Robinson, who did not hold back.
A 6-foot-1, 205-pound quarterback from Bishop Gorman High School in Las Vegas, Thompson-Robinson completed 10 of 24 passes for 151 yards with one touchdown and two interceptions against Fresno State.
The former four-star prospect is 41-for-75 (54.7 percent) for 522 yards with two touchdowns and two interceptions since taking over at quarterback for Wilton Speight, who suffered a back injury in the season opener against Cincinnati.
Clearly, the dual-threat UCLA quarterback hasn?t been razor sharp for the Bruins in his first collegiate games, and he admits it, but Michael Robinson believes Coach Kelly is the biggest part of the problem and even called Kelly?s time at Oregon, where he was 46-7, a fluke.
?He is speaking on and about the factual? It is all about the coaching, lousy coaching and play calling? Coaching that is so bad that it demands closed practices? Million dollar coach who bares no responsibility? Just random observations from a frustrated dad!? ? Michael Robinson
Kelly agreed to a five-year, $23.3 million contract to return to college football with the Bruins after coaching the Philadelphia Eagles and San Francisco 49ers when he left the Ducks program.
Winning cures all, well, most of the time, but if things keep going down this path and more frustrating tweets surface, it?s going to be a longer season than anyone expected at UCLA.