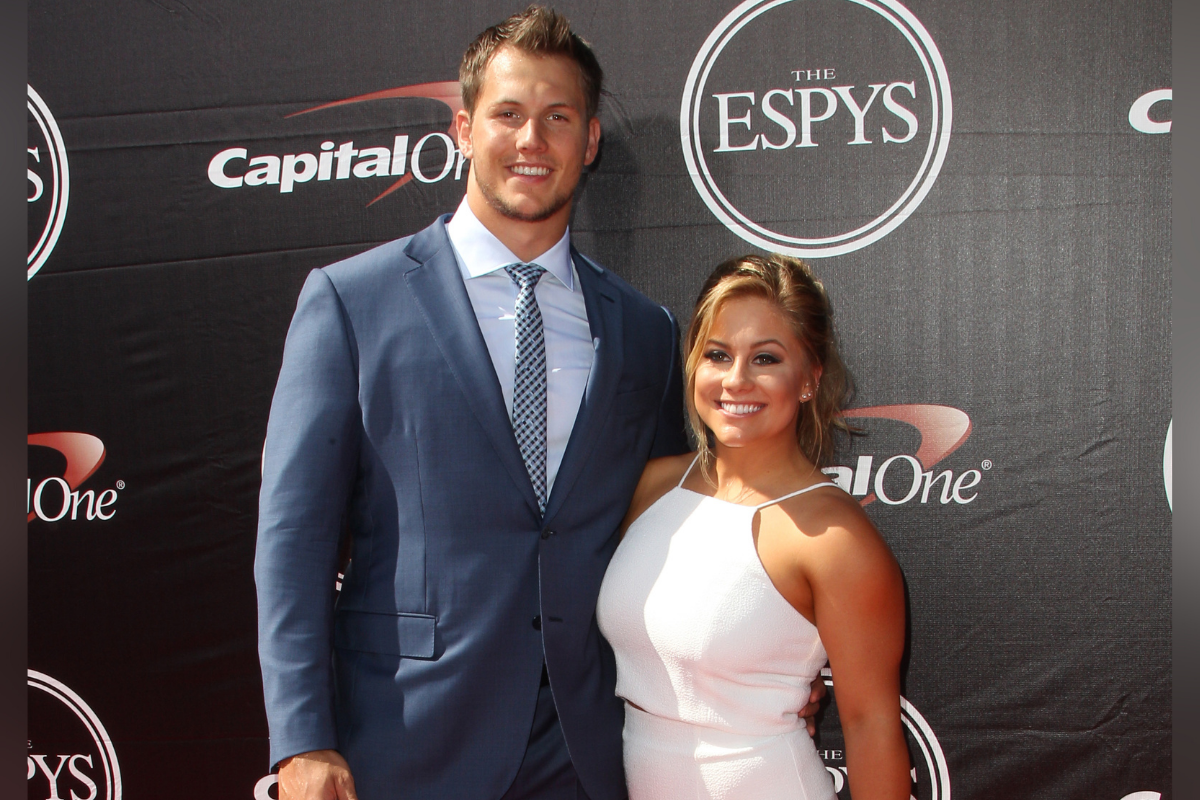 Photo by Paul A. Hebert/Invision/AP
Former Olympic gymnast Shawn Johnson won a gold medal at the 2008 Olympics in Beijing after a stunning routine on the balance beam. At 16, she was instantly a superstar in the eyes of Americans.
Johnson, who last appeared for the United States Olympic team in 2012, has since retired from competing on the international stage. Now, she's enjoying married life alongside her husband Andrew East.
Shawn Johnson's Husband Andrew East
RELATED: Simone Biles Fell in Love With an NFL Player
Shawn Johnson East is married to former Washington Redskins long snapper Andrew East. Andrew played college football at Vanderbilt and went undrafted in 2015 before having multiple stints with NFL teams.
The pair met through East's brother, Guy East, at the 2012 Olympics. Guy was competing as a track cyclist at the time. Shawn had retired a month prior to the Olympic games.
The pair began dating shortly after and got married in 2016. The NFL player proposed to the Olympic gold medalist on the field at a Chicago Cubs game in 2015. She gave fans a glimpse into the moment on her Youtube channel:
The pair welcomed their first child and baby girl, daughter Drew Hazel, in 2019.
The Des Moines, Iowa native posted a picture to social media showing off her baby bump in January 2021, captioning the photo "Here we go again" to announce baby No. 2 was on the way. Their second child is expected to be born in 2021. The East family, which resides in Nashville, Tennessee, will be adding another member. Shawn posted a photo announcing the baby would be a boy.
The additions to their family are particularly heartwarming considering Johnson released a YouTube video revealing she had a miscarriage in 2017.
Shawn Johnson Personal Life
In addition to her Olympic successes on the balance beam and floor exercise routine, Johnson also earned gold on ABC's "Dancing With the Stars." The Olympian and gymnastics star won the championship on the popular television show in 2009.
Additionally, Johnson hosts a podcast alongside her football player husband called "Couple Things With Shawn and Andrew." She and Andrew have their own Youtube Channel called "The East Family" that has more than 1.2 million subscribers.
Shawn Johnson is retired from gymnastics these days, but she has her hands full considering she and Andrew are raising a family.