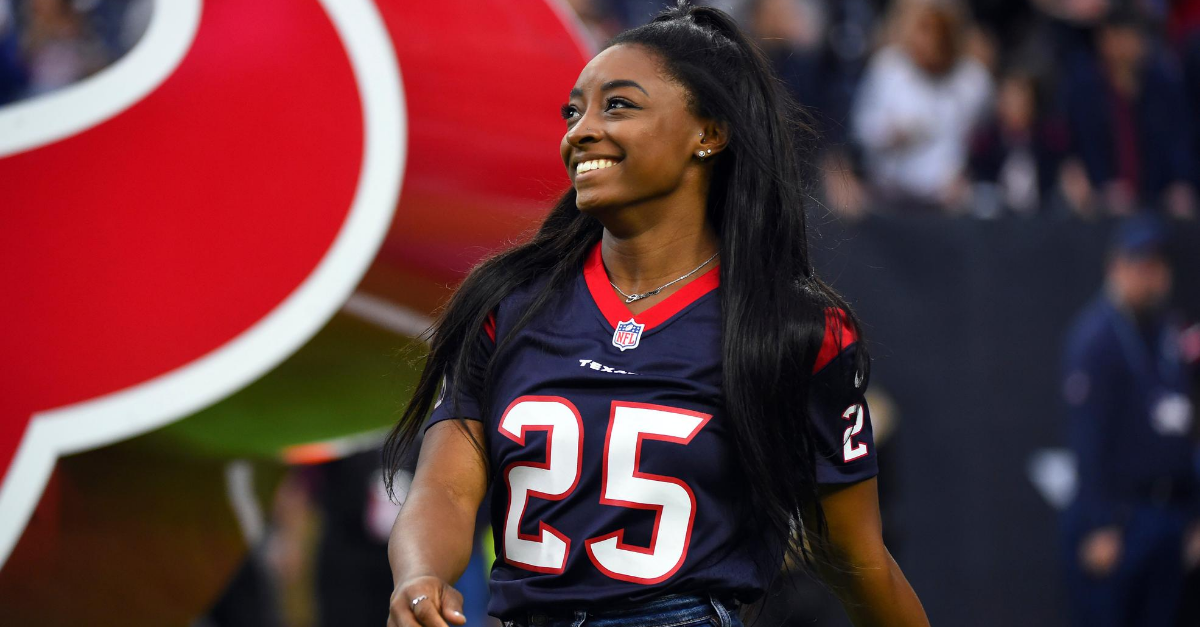 AP Photo/Eric Christian Smith
Olympic gymnast Simone Biles may still only be a 23-year-old athlete, but she's already the most decorated American gymnast of all time. The four-time Olympic gold medalist has won a combined 30 Olympic and World Championship medals, making her the queen of tumbling.
At 19, the 4-foot-8 flipping sensation took the world by storm at the 2016 Summer Olympics in Rio de Janeiro and flipped her way into the record books. Behind a dazzling floor routine and a high-flying vault performance, Biles set an American record for most gold medals in women's gymnastics at one single Olympics.
Biles has proved to be more than just an athlete on the mat. She played a prominent role in taking down former gymnastics doctor Larry Nassar, who she said sexually abused her (as well as more than 200 other athletes), and USA Gymnastics, who she said hid the investigation from her.
The U.S. athlete was training for the 2020 Tokyo Olympics before COVID-19 delayed it until next year. During this time, Biles made some pretty big life choices, including splitting from her boyfriend of three years and starting a relationship with a professional athlete.
Who's Simone Biles' New Boyfriend Jonathan Owens?
RELATED: J.J. Watt Pops the Question, Gets Engaged to Soccer Star Girlfriend
Biles appears to be dating NFL player Jonathan Owens. She posted photos with the Houston Texans safety on her Instagram story celebrating his 25th birthday in July. She then posted what looks to be like an "Instagram official" picture of them on August 3 with the caption, "it's just us."
So who is this Jonathan Owens dude? Owens played his college ball at Missouri Western State, a Division-II school in St. Joseph, Missouri. The 25-year-old is from St. Louis.
Standing 5-foot-10, 210 pounds, Owens went undrafted out of college but signed with the Arizona Cardinals as an undrafted free agent after the 2018 NFL Draft. He was waived by the Cardinals in 2019 and subsequently signed by the Texans. He appeared in one game last year.
Owens appears to have a pretty good sense of humor. She posted a TikTok of them dressed in each other's clothes, and it's hilarious.
Though Biles is the biggest name in U.S. Gymnastics, she doesn't call the likes of Los Angeles or New York City home. She reportedly lives in Houston, which makes her new relationship with the Texans player ideal.
Who Is Biles' Ex-Boyfriend Stacey Ervin Jr?
Biles had been dating Stacey Ervin Jr. for the past three years, and they seemed every bit in love.
Ervin, who is a former Michigan Wolverines gymnast and, according to eonline.com, was the director and head coach of the men's gymnastics program at the World Champions Centre in Spring, Texas, and even spent some time working with WWE, was easily Biles' biggest fan during their relationship.
He went viral in 2019 when a video was posted of him cheering on his Olympian girlfriend while watching her compete on TV during the World Championships. She won five gold medals, so it's safe to say he was ecstatic.
According to PEOPLE magazine, Biles and Ervin went public with their relationship in 2017 when he accompanied her to her induction into the USA Gymnastics Hall of Fame. She also called him the "man of her dreams."
Biles and Ervin first met in 2014 at the P&G Championships, according to PEOPLE's website. That's quite the timeline and considering they've known each other for so long. Maybe she was looking for a ring instead of a medal.
Why Did They Break Up?
Biles confirmed in a cover story for the August issue of Vogue that she and her fellow gymnast boyfriend parted way in early March during the coronavirus pandemic. Fans of hers noticed he didn't wish her a happy birthday on social media on March 14, signaling the two's split after three years of dating.
"It's hard being young and having that long of a relationship and then ending it," the female gymnast told Vogue magazine. "But it was for the best."
Biles then scrubbed him from her Instagram. Now, her feed consists of photos of her sitting poolside in a bikini and supporting Black Lives Matter. You can expect plenty more with her new boyfriend, Mr. Owens.