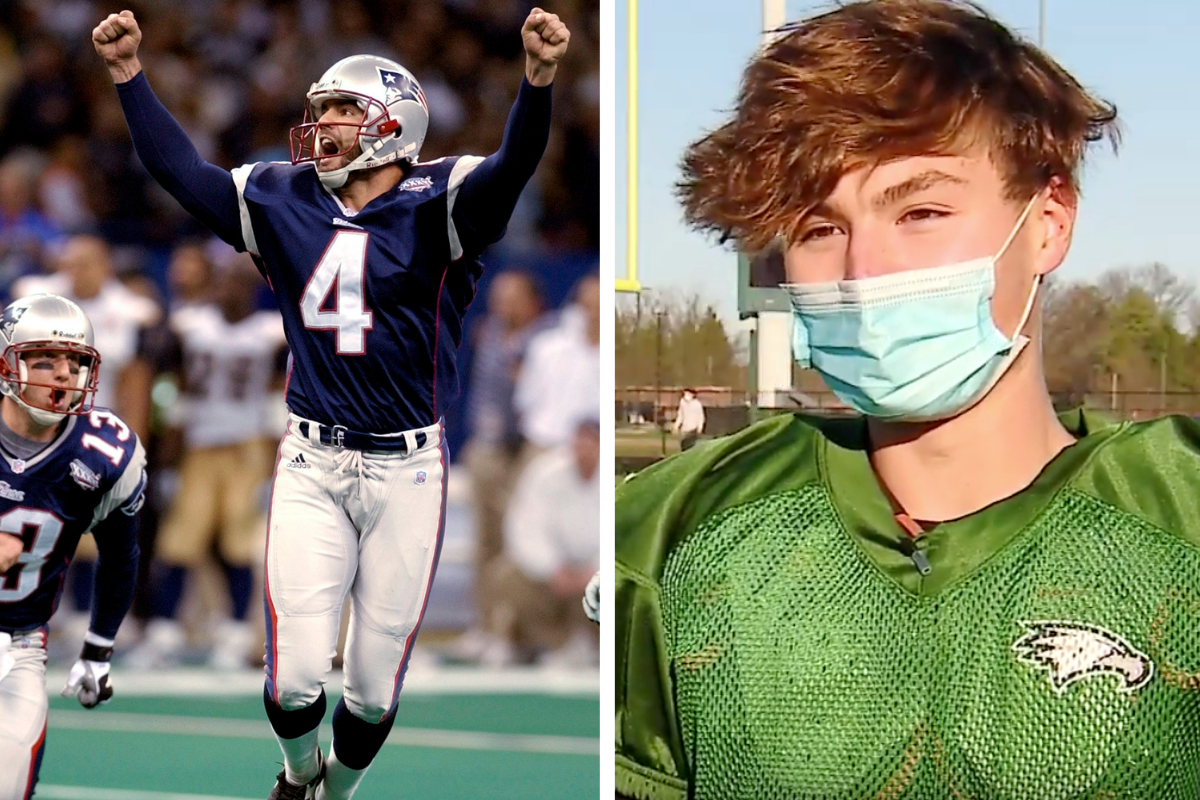 AP Photo/Amy Sancetta (left), Screenshot from YouTube (right)
Adam Vinatieri is one of the greatest kickers in NFL history. Spending his career with the New England Patriots and Indianapolis Colts, he was a four-time Super Bowl champion and will enter the Hall of Fame as soon as he's eligible.
The former kicker was feared for his regular-season consistency as much as his reliability in the playoffs. Who could forget the South Dakota State alum's incredible kick in blizzard conditions against the Oakland Raiders in the 2001 AFC Divisional round? Or his game-winning kick against "The Greatest Show on Turf" St. Louis Rams in Super Bowl XXXVI.
With 599 field goals and 874 extra points, he's the league's all-time leading scorer not to mention the holder of the NFL record for most field goals in the postseason and the leg behind 29 game-winning kicks.
When you're debating National Football League kicker rankings, Vinatieri is most certainly at the top. the three-time First-Team All-Pro member was as vital an asset to a football team as any linebacker, tight end or wide receiver, no matter if he was kicking the point after a touchdown or a clutch kick at Lucas Oil Stadium.
Vinatieri, who is 48, has a son who plays football as well. AJ Vinatieri is starting to make a name for himself at the high school level, and it's clear he has the genes to go even further in his career.
Adam Vinatieri's Son AJ Vinatieri
RELATED: Wes Welker?s First NFL Points Were at Kicker
AJ Vinatieri made the team at Zionsville High School (Zionsville, Ind.), but he was initially just being used as a punter. He worked his way into the placekicker position as his junior year went on, and he's carved out a role with the Eagles.
In November 2020, Zionsville reached the Indiana state playoffs and faced off against their rival, Bishop Dwenger High School. With the game on the line, Vinatieri was called upon to clinch the game with a kick as time expired. Just like his dad, AJ rose to the occasion.
Vinatieri hit a 22-yard field goal to give Zionsville a victory in the regional championship. Eagles head coach Scott Turnquist gave his kicker praise after the game, and it's clear that AJ will be a focal point of the special teams unit in 2021.
Due to his lineage, AJ Vinatieri has a great chance to become a college football player. Teams like Purdue, Florida and Cincinnati have already reached out to the class of 2022 recruit regarding his interest in their programs. He's visited programs like Florida, Michigan and Virginia Tech, according to his Twitter account.
While the idea of an NFL career is still a dream at this point, if Vinatieri gets a chance to shine at the college level, he'll get plenty of opportunities to succeed at the professional level.
And he can tell everyone who he got his leg from.