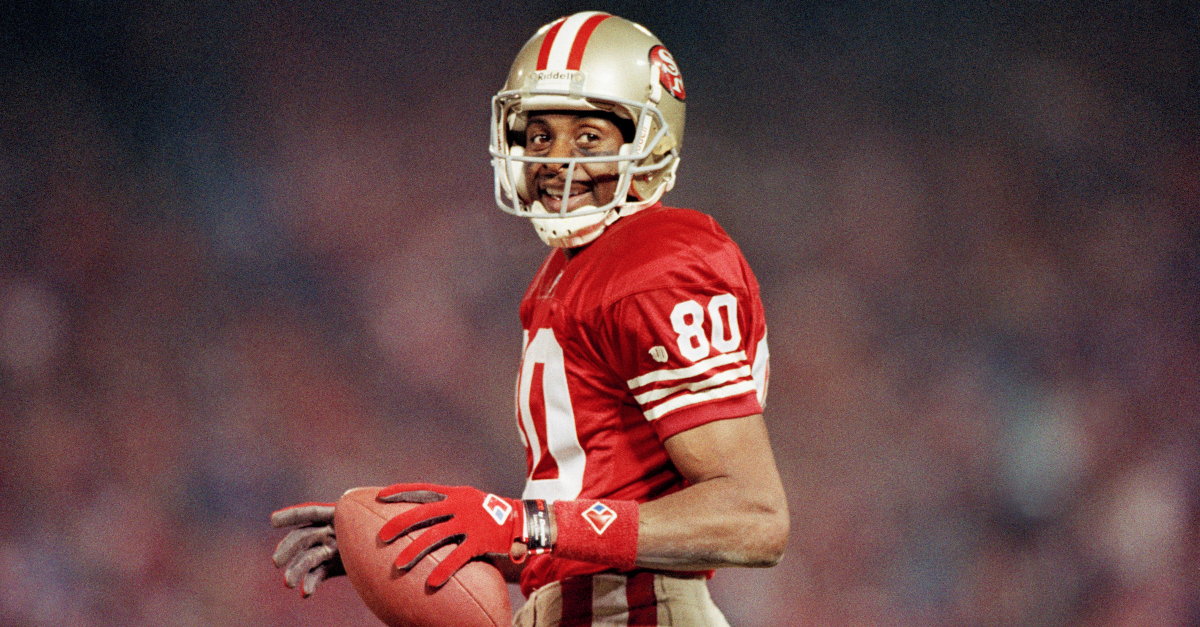 AP Photo/Joe Pugli
By the time I started understanding what football was, I'd just missed the star San Francisco 49ers wide receiver's prime years. It was in the late 1990s, however, that I began gravitating towards my favorite NFL players. Living in Pittsburgh, it was impossible not to love Steelers like Rod Woodson, Greg Lloyd and Kevin Greene, but something about Rice stuck with me. Watching him dominate, even late in his career, was like poetry in motion. He's arguably the greatest football player in NFL history, and there might never be another weapon to come along and break his records.
That's quite the legacy to live up to for Hamilton High School wide receiver Brenden Rice.
The three-star recruit is ranked as the 12th-best player in Arizona for the 2020 recruiting cycle. Listed at 6-foot-2 and 204 pounds, he's almost the identical height and weight of his Pro Football Hall of Fame father. Described as "physical off the line and a big target," Rice sounds like a carbon copy of his dad, and he's being recruiting like the legend he could become, too.
During his sophomore and junior seasons with the Hamilton Huskies, Rice caught 74 passes for 1,288 receiving yards and 18 touchdowns.
Back in June, Rice announced on Twitter the 11 college football teams that he'll focus on for his recruitment during his senior year of high school football in Chandler, Arizona.
Brenden Rice Recruiting
Arizona Wildcats
Arizona State Sun Devils
Colorado Buffaloes
Michigan Wolverines
Nebraska Cornhuskers
Ole Miss Rebels
Oregon Ducks
Texas A&M Aggies
UCLA Bruins
USC Trojans
Washington State Cougars
RELATED: Nation's No. 1 QB Announces His College Decision
Brenden Rice may be the latest descendent of NFL royalty thrust into the public eye, but he's not the first. If he thought this was tough, try having the same exact name as his dad.
Jerry Rice Jr. was a walk-on wide receiver as a member of the UCLA Bruins, catching nine passes for 69 yards during the 2011-12 seasons. He transferred to UNLV for his final year of eligibility, where he caught 11 passes for 86 yards and his only career touchdown. After brief stints as an undrafted free agent with the Baltimore Ravens and Washington Redskins, Rice spent two years with the Montreal Alouettes in the CFL before leaving the game.
Before rewriting the NFL record book himself, Jerry Rice Sr. played college football for Mississippi Valley State University and became a first-round pick in the 1985 NFL Draft. After three Super Bowls, one Super Bowl MVP, an NFL MVP (1987), 13 Pro Bowl selections and 21 seasons playing for the 49ers, Oakland Raiders and Seattle Seahawks, the elder Rice entered both the NFL and College Football Hall of Fames.
For the next offspring of a legend, becoming a great player has nothing to do with his genes. And despite a distant relationship with his biological father, Brenden Rice is motivated to build a legacy all his own.
"With the whole Rice name, and all that, I truly look at myself as another one like everybody else. I have to earn my status. Success is not inherited, it's earned so like, that?s the motto I go by every day," Brenden Rice said in an interview."
Jerry Rice's son has a long football career ahead of him, but there's no reason that the NFL Hall of Fame could allude him when advice from greatest wide receiver to ever play is just a phone call away.
---
UPDATE: Heading into the 2019 Arizona Open Division state playoffs, Rice and his team finished with a 7-2 record. Rice, as expected, did not disappoint for the second-ranked team in the state.
The senior caught 41 passes for 686 yards and nine touchdowns, including three 100-yard games.
On October 15, the Under Armour All-American verbally committed to joining head coach Mel Tucker and the Colorado Buffaloes football program in the Pac-12 Conference.
Jerry Rice's Son Commits to Colorado
This article was originally published June 5, 2019. It was updated with Brenden Rice's college decision.