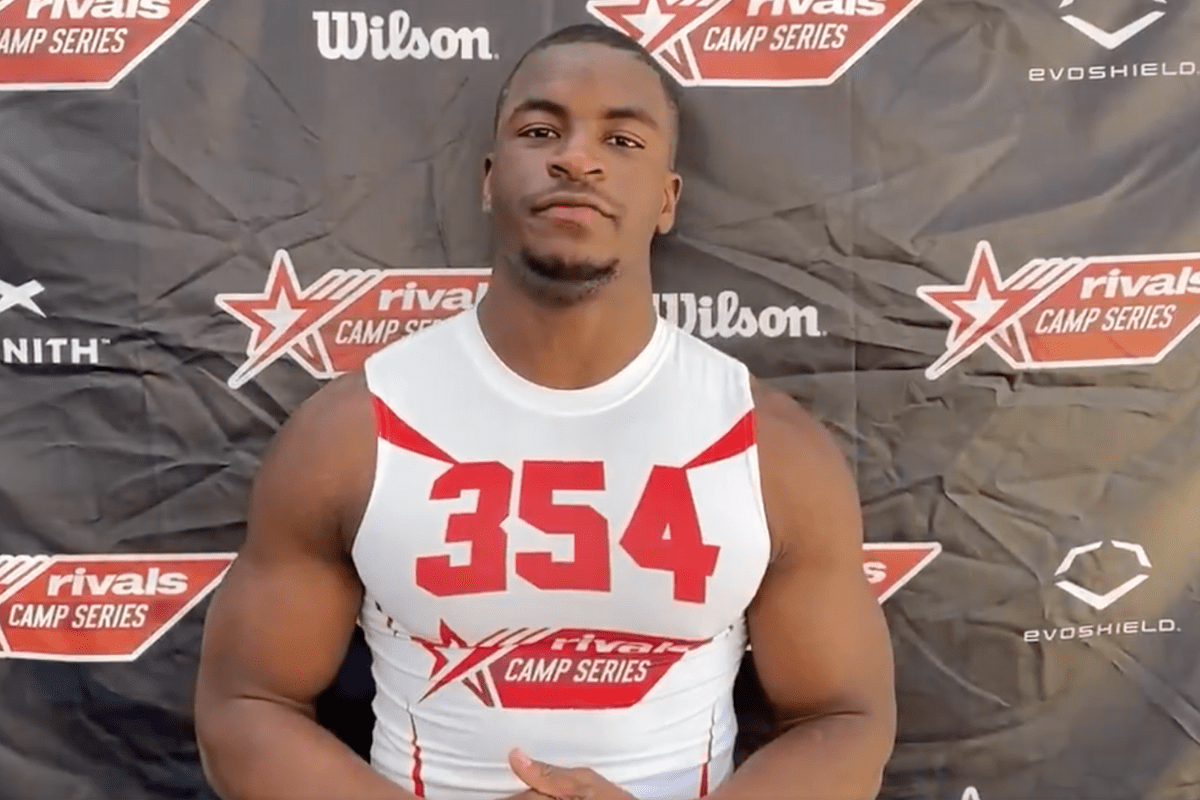 Screenshot from Twitter
Branson Robinson is an absolute stud. The running back from Germantown High School in Madison, Mississippi, is a four-star prospect who relies on a combination of strength and speed to sneak past defenders.
Robinson still has a full year of high school left, but he can already bench press a whopping 415 pounds. In other words, he's a weightlifting machine.
Programs across the country lined up to sign him during the college football recruiting process, and the superstar rusher has made his decision.
4-Star RB Branson Robinson Commits to Georgia
RELATED: Georgia Snags 4-Star RB Away From SEC Rivals
Branson Robinson, the nation's No. 4 running back, made his college decision in the midst of SEC media days. The top running back and top player in the state of Mississippi verbally committed to Kirby Smart's Georgia Bulldogs over CBSSports HQ. He'll be a huge boost to the UGA offense.
The 2022 Georgia football recruiting class is ranked sixth nationally and second in the SEC.
Robinson received offers from the likes of Alabama, Clemson, Georgia, Tennessee, LSU, Auburn, Florida State, Georgia Tech, Michigan, Mississippi State, Ole Miss, Oregon, Penn State, TCU, and USC.
In April 2021, he revealed his top five, which included the Alabama Crimson Tide, Clemson Tigers, Georgia Bulldogs, LSU Tigers, and Tennessee Volunteers.
The Dawgs were the favorites to sign Robinson. UGA has been the home of several standout running backs in recent years, and many of them have gone onto have NFL success.
Branson Robinson Highlights
According to the 247Sports Composite, Robinson is a four-star player. He's already stronger than most of his peers on the field, so if he can continue to look explosive during his senior season, it wouldn't be surprising to see his rating jump up to a five-star designation.
In 2020, Robinson generated nearly 1,200 rushing yards on 121 carries and scored 15 touchdowns. He even reached the end zone once more on a reception.
Naturally, Robinson is a gifted athlete, and he's used his speed to dominate on his high school track team as well. As a sophomore, he ran the 100-meter dash in 11.41 seconds.
Branson Robinson's commitment will soon have him suiting up for a CFP contender.
Not many running backs are as strong as he is, so it will be interesting how that brawn will translate to the NCAA Division I level in Athens.