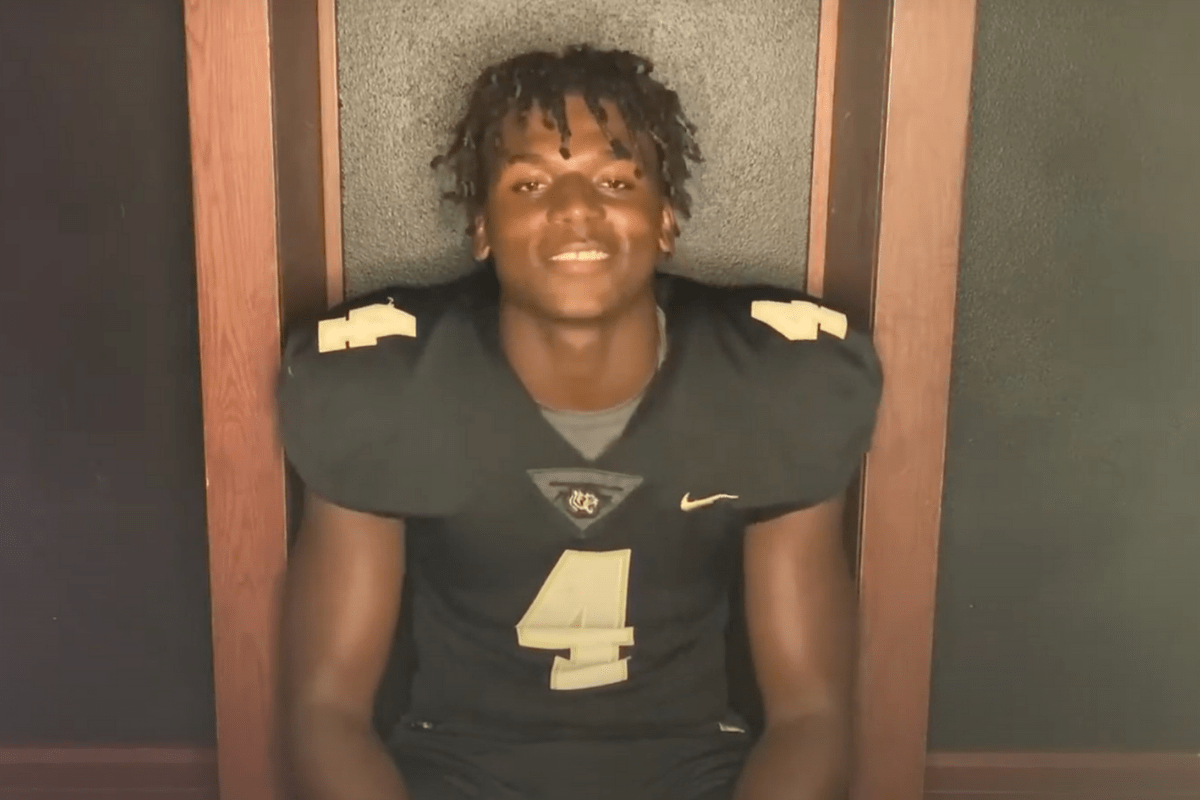 Screenshot from YouTube
College football fans will need remember linebacker Harold Perkins' name.
Perkins has excelled at Cy Park High School in Cypress, Texas, and is considered the nation's top outside linebacker in the 2022 recruiting class, according to the 247Sports Composite.
The five-star recruit still has time to make a decision, but his top suitors are starting to become clearer.
More specifically, will Perkins stay close to home and play for the Texas A&M Aggies?
OLB Harold Perkins Recruiting
RELATED: 315-Pound Tackle, Nephew of Super Bowl Champ, Looking at SEC Powerhouses
Harold Perkins has received plenty of offers from NCAA programs around the country, including Alabama, Arizona, Arkansas, Auburn, Baylor, Florida, Florida State, Georgia, Georgia Tech, Houston, Kansas, LSU, Miami, Mississippi State, Notre Dame, Oklahoma, Oklahoma State, Ole Miss, Oregon, Penn State, SMU, South Carolina, TCU, Tennessee, Texas, Texas Tech, Tulsa, UCF, and USC.
While there are more than 30 scholarships in total, Perkins has been impressed with the pitches from the Alabama Crimson Tide, Florida Gators, LSU Tigers, Oklahoma Sooners, and Texas A&M Aggies. The Texas Longhorns are coming on strong, too.
Perkins has an official visit to College Station lined up in June 2021, so it will be interesting to monitor if he can make more progress and commit to Jimbo Fisher's program.
LB Harold Perkins Highlights
Harold Perkins has taken high school football by storm.
He is one of the leaders of Cypress Park's team, and with one more season left to play, he could get even better.
In 2020, Perkins totaled 47 tackles and three sacks and was a First-Team All-District selection.
Interestingly, Perkins is a fantastic running back as well and scored 14 touchdowns on the ground. Two-way players are not uncommon in high school, but it is rare to see one so dominant at both ends.
Scouts believe Perkins could be a Power 5-caliber rusher if he wanted to, but he will likely stick on the defensive side of the ball as an outside linebacker in college.
Harold Perkins is still young, but that doesn't mean fans can't get excited about his potential. His upside is on par with players who have reached the NFL.
Whether it's the Aggies or another team that lands him, he will be a boost to a Division I defense as soon as he steps on campus.