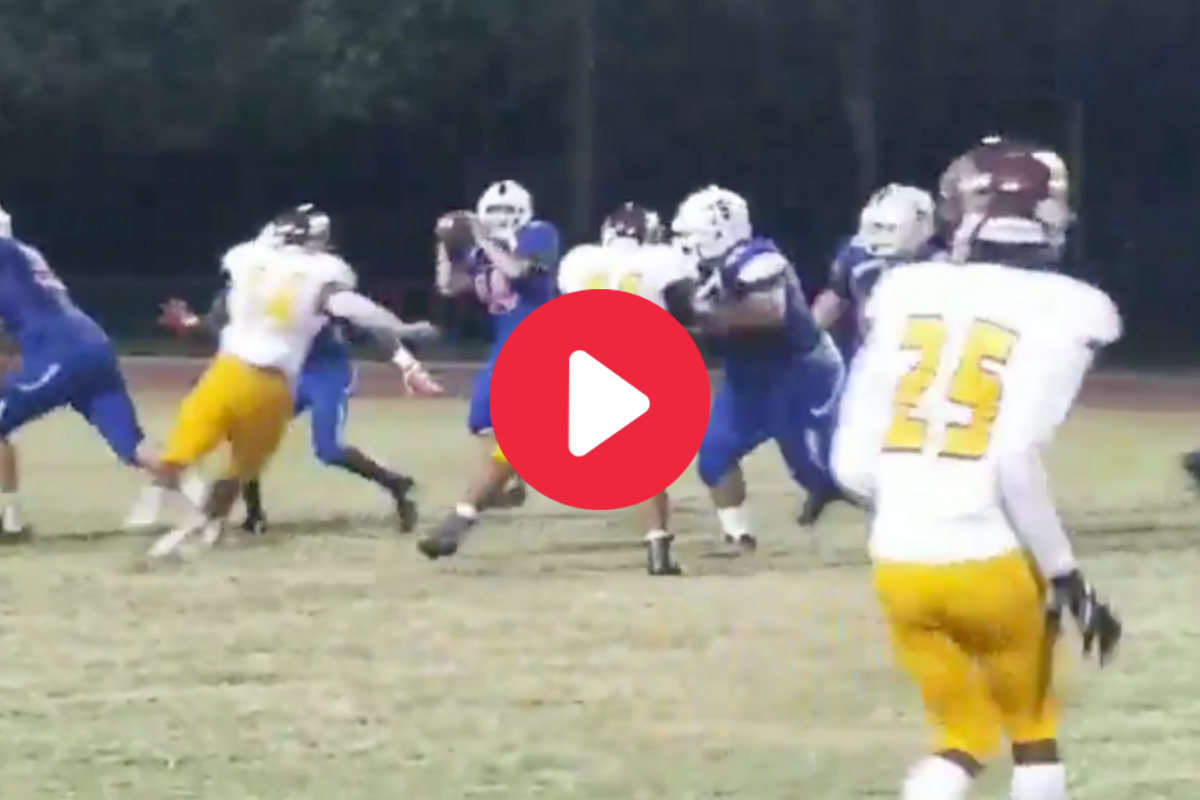 Screenshot from Twitter
High school football, much more than college football and the NFL, provides unique opportunities for all players to shine. Whether it?s a trick play or even on a kickoff, they can create memories that last a lifetime. Nobody made the most of their first moment in the spotlight quite like Hollywood Hills High School quarterback Holly Neher.
Neher, a 16-year-old junior in South Florida, waited patiently for her chance to be a high school quarterback. She played on the Hollywood Hills? girls flag football team for two years before trying out for tackle football in 2017, according to USA Today, and was the only girl on the team.
Needless to say, it didn?t take her long to make Florida high school history.
QB Holly Neher?s 42-Yard Touchdown Pass
RELATED: Female Kicker Obliterates Returner Along His Own Sideline
In the fourth quarter against Hallandale High School that Thursday night, quarterback Holly Neher made her high school football debut. And on her third snap ever for the varsity team, she got the call to throw her first pass attempt to wide receiver Alexander Shelton.
Wouldn?t you know, it resulted in 42-yard touchdown pass.
?#14 QB Holly Neher connects to #1 Alex Shelton for the 45yd TD!! #SpartanPride @usatodayhss @Sentinel_Sports @espn @RISEtoWIN #SCtop10,? the viral tweet read.
Neher wasn?t the first female quarterback in Broward County history. South Plantation?s Erin Dimeglio was the first in 2012, according to the Miami Herald. However, Neher was the first in FHSAA history to throw a touchdown pass in a varsity game.
?I just saw a little bit of orange on my first pass and it went for a touchdown to Alex,? Neher said. ?I was pretty excited.?
Although Hollywood Hills lost the game, 21-7, the 5-foot high school junior finished the game 2-for-4 for 66 yards with one touchdown. She was the star of the night.
?Her touchdown is a testament about how much this team cares about her,? Hollywood Hills head coach Brandon Graham said.
In her first tackle football game, on her first pass ever, Holly Neher made history. Even during the coronavirus pandemic and COVID-19 outbreak in 2020, it doesn?t take much to remind us that high school sports are awesome.
This post was originally published on July 21, 2020.