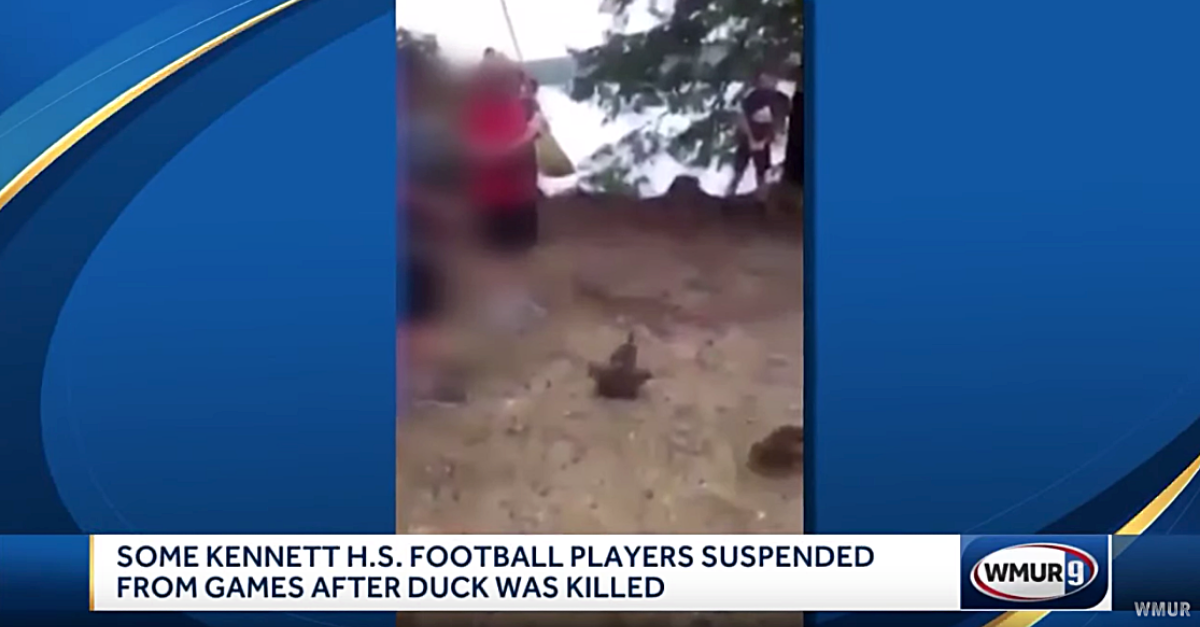 Screenshot from YouTube: WMUR-TV
Kennett High School football players in Moultonborough, New Hampshire were caught on video luring a duck out of the water and beating it with a broomstick, according to WMUR. After beating the duck, one player then "euthanized the duck" by strangling it to death.
The incident occurred during a school-sponsored football camp in mid-August, and the players involved only received minor suspensions and community service, which were deemed an "effective punishment."
"The heinous activity of a duck being hit over the head with a broomstick, I guess, is what ended up happening and essentially one of the other students euthanized the duck. It was maimed pretty badly," superintendent Kevin Richard told WMUR.
According to the Conway Daily Sun, between three and six Kennett Eagles players were given varying punishments from one to three games, but criminal charges will not be pursued by Sgt. Alex Lopashanski of the New Hampshire Fish and Game Department.
"These students are juveniles, so they certainly can't be charged with anything. Their parents would be charged if we charged them and the fine amounts would be minuscule," Maj. David Walsh added.
RELATED: Remember When a Duck Hunting Protestor Got Shot in the Face?
The school received numerous angry phone calls after the viral video flooded social media. But Richard stated that because these kids were adolescents ? none of the boys were high school seniors ? it's being treated as basically a slap on the wrist.
The backlash even created this petition on Change.org in the hopes a harsher punishment will be brought on the players. At the time of publishing, it was just shy of reaching the 1,500 signature goal after only three days.
"You do have very strong opinions both ways and you try to come back to what you think is reasonable and also recognizing that these are adolescents… that make bad choices and this was a grievous mistake"

? District Superintendent Kevin Richard
Kennett High School has not released a statement about the incident that took place on the grounds of Camp Winaukee.
Kids make mistakes. I'm sure you did something dumb just like me, but the fact that there's no responsibility for this being placed on counselors, coaches or adult chaperones for this camp isn't right. Under no circumstances should a sick video like this ever take place, but hopefully there is a lesson in respect that these kids will learn over the next few weeks.