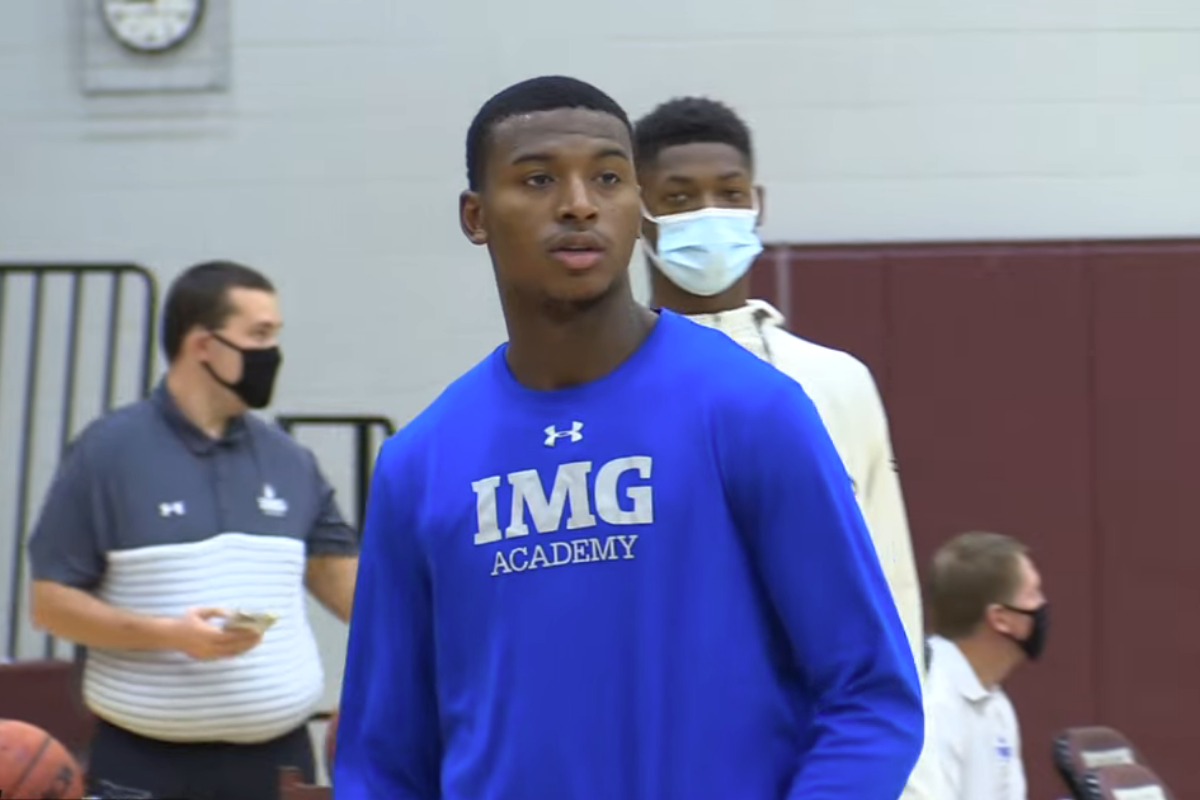 Screenshot from YouTube
Five-star point guard Jaden Bradley was barely old enough to drive when he received the keys to the IMG Academy offense. It was because he was prepared to handle it. Bradley is an athletic, confident guard who plays with a high basketball IQ. It's the reason he's a top prospect in the class of 2022.
After a long recruiting process, the five-star has decided to play his college basketball in the SEC.
Jaden Bradley Highlights
If Bradley cracks the middle of the defense, he opens a plethora of possibilities. From the paint, he can make any pass. The threat of a floater forces defenders to show early and opens the dump off. His ability to hit the mid-range jumper brings help from the wing and creates open 3-point looks.
At 6-foot-3 and 185 pounds, he has a sturdy frame. He finishes with strength at the rim, possessing the ability to hang in the air and maneuver his shot if necessary. In the open floor, Bradley pushes the ball and changes pace to process the best read. The five-star isn't a high-volume perimeter shooter, but he has solid shot mechanics. He doesn't need to shoot at a high clip to be effective.
The point guard's maturity shines through his intelligent playmaking. Bradley plays under control, purposefully evaluating his next move. He rebounds well at his position, too.
Jaden Bradley Recruiting
RELATED: Nation?s No. 2 Recruit Commits to National Championship Contender
After playing his first two seasons at Cannon School in Concord, North Carolina, Bradley transferred to IMG Academy in Bradenton, Florida in June 2020. He's played alongside five-stars Moussa Diabate, Brandon Huntley-Hatfield, and Jarace Walker at IMG.
In his inaugural high school season, he made the MaxPreps Freshman All-American team. He was named the North Carolina Gatorade Player of the Year in 2020.
Bradley is the 18th-ranked recruit in the 2022 basketball recruiting class, according to the 247Sports Composite Rankings. He's the third-ranked point guard.
Before making his commitment, Bradley held scholarship offers from North Carolina, Alabama, Arizona, Auburn, Clemson, DePaul, Florida, Florida State, Gonzaga Kansas, Kentucky, Louisville, Michigan, NC State, Notre Dame, Tennessee, Texas Tech, UCLA, and Wake Forest. 247Sports' Crystal Ball originally predicted he would play college basketball at UNC.
He spoke about receiving the offer from then Tar Heels head coach Roy Williams to Inside Carolina in March 2020:
"(Williams') overall message was that he likes my game. He said he was going to try and come see me during the spring (evaluation periods), but since the Coronavirus happened he couldn't. He said to keep getting better on and off the court throughout the year. I was happy (about the offer). (I'm) extremely blessed to have an opportunity like this. I kind of knew about North Carolina (before they started recruiting me) because I watched a lot of games. I know they have had good point guards throughout the years."
Bradley attended the North Carolina vs. Duke game in Chapel Hill on February 8, 2020. It appears he lost interest in the Tar Heels because they were nowhere to be found on his top five list of Kentucky, Alabama, Florida State, Arizona and Gonzaga.
It doesn't matter anymore because there's only one name left.
Jaden Bradley Commits to Alabama
Jaden Bradley announced his commitment to the Alabama Crimson Tide on September 30. Bradley took an official visit to Tuscaloosa in June and loved what he saw from head coach Nate Oats.
The hoops star is the first commit of Bama's 2022 recruiting class and the second consecutive five-star point guard Oats has landed after signing JD Davison last year.
Bradley has all the tools to succeed at the next level. He's confident, calm, savvy and athletic enough to lead the team deep into the NCAA Tournament. Against Arkansas, Ole Miss or a potential matchup against Baylor in March, Bradley will assuredly be circled on the scouting report.