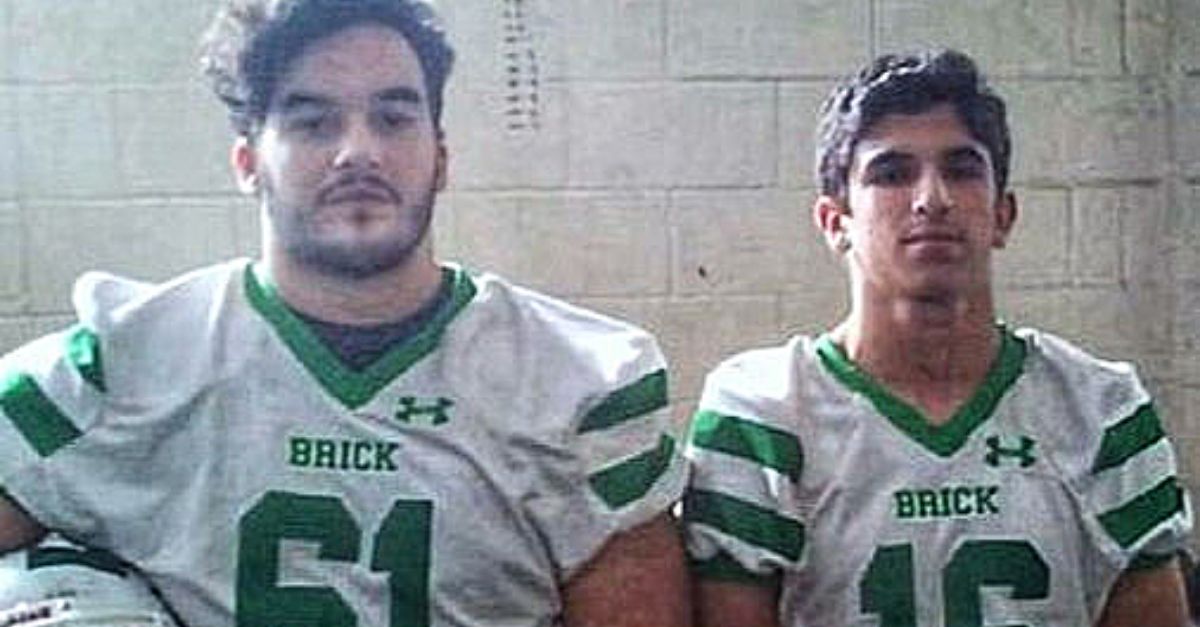 GoFundMe: Giesler Brothers Relief Fund
GoFundMe: Giesler Brothers Relief Fund
Patrick and Tyler Giesler aren't your typical teenage boys. Sure, both were three-sport athletes competing for the Brick Township High School Green Dragons, where Patrick earned six varsity letters and Tyler earned four letters, but that's just about where their similarities to normal, teenage life ends.
An incredible struggle throughout their lives left Patrick and Tyler living in a motel with no close family members to help them, little food, months behind on their rent, and running out of time. Even though they graduated high school, two of the boys' high school football coaches returned to their lives and started a GoFundMe campaign to help them out. As of February 5, the incredible fundraiser collected almost $65,000 as well as numerous donations of furniture, meals, and various gifts to help in less than one week.
When Patrick and Tyler were young, they lost their father. Soon after that, they were abandoned by their biological mother and were raised by their grandmother, Theresa Burke, and great-grandmother, Filomena Santapolo Irons, according to the GoFundMe page. Despite finally being in a stable family home, their struggle was only beginning.
In 2012, Super Storm Sandy made landfall near Brick, New Jersey, which devastated the area. During the storm, the Giesler's family home was destroyed along with all of their belongings. After moving to a rental home, the family lost their great-grandmother, who was using her social security to help support the family. The Giesler brothers and their grandmother ? the boys called her "Mom" ? resorted to living in hotel rooms and even out of the family mini-van.
Despite being in high school, playing three sports, and having a full-time work schedule at a Wendy's restaurant, the pair never missed a workout, practice or game during their four years at Brick High School. In 2017, the boys were nominated for USA Football's Heart of a Giant Award, which honors players from the New York, New Jersey and Connecticut area for their commitment, character and dedication.
RELATED: This High School Team's "Wave of Love" Is Football's Best New Tradition
After graduating from high school, the brothers started taking college classes at Ocean County College when tragedy struck again. Their "mom" died after a battle with cancer, and they were once again alone.
That's when Scott Lloyd and Len Zdanowicz — known as Coach Z — created the GoFundMe campaign to help the boys get out of this difficult time once and for all. Since starting the campaign, the page has raised thousands of dollars, as well as donations from numerous local supporters and people hoping to help in the Giesler's time of need.
Michael's Furniture, a store located in Brick, even donated $3,000 worth of furniture to the cause.
In addition to the furniture donation from Michael's, the GoFundMe page updated the numerous donations that were made to Team Giesler outside of just monetary aid.
? The Trapasso family gave the boys a place to stay "for as long as they need."

? Bill Hart, an owner of Bubbakoo's Burritos, donated beds and meals.

? Seeds of Service helped the boys move using their box truck, attain and fill out paperwork for government assistance, and get other things they needed for the move.

? Nick Arcuri and Mark Jameson donated Uber credits to help the boys with rides.

? Redeemer Fellowship Church is helping to set up a long-term support plan for success in their adult lives.
One woman named Mary Jane made a donation and added, "make sure they have fun, enjoy the movies, and meals, like teenage boys should be doing." At the heart of all of this aid, that's what this is all about. The Giesler boys have been through enough that strangers shouldn't need any more explanation. These young men have done everything just to stay alive from a young age. It's time they get some well-earned help and get to have some fun.
If you're interested, you can donate to the ongoing GoFundMe campaign here.