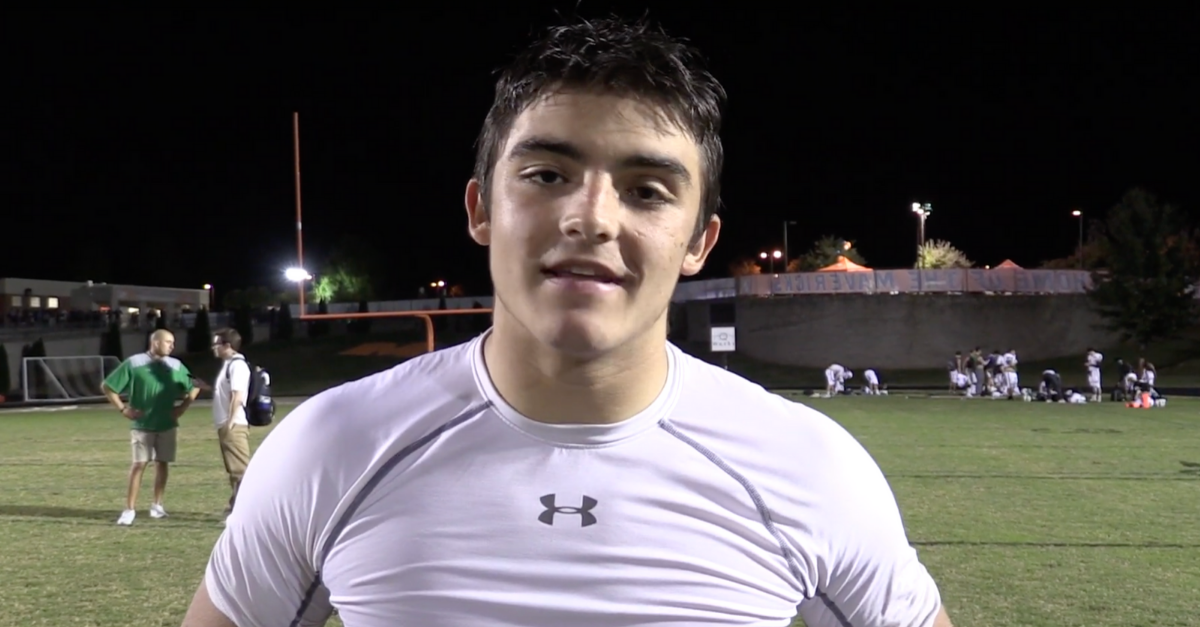 Screenshot from YouTube
As one of the top high school prospects in the 2021 college football recruiting class receives more offers, Will Shipley has the top schools in the country on his radar.
The highest-rated, all-purpose running back in the country definitely has his choice of college football programs as the soon-to-be high school senior prepares a massive commitment.
The tailback out of Matthews, North Carolina, is ranked as a five-star recruit by the 247Sports Composite and a four-star by Rivals and ESPN. He is the top all-purpose back in both 247Sports' and Rivals' rankings, while ESPN has just one player ranked ahead of him.
247Sports lists Shipley as the 24th-best prospect regardless of position in the country and the best football player in the state of North Carolina.
RB Will Shipley Recruiting
RELATED: LSU Lands Superstar Commitment: Decoldest ?ToEvaDoIt? Crawford
The Weddington High School star received the attention from the college programs that you'd expect for a top-tier back. He has at least 25 scholarship offers, including ones from Clemson, Alabama, Notre Dame, Penn State, Georgia, Stanford, Florida, Duke and NC State.
The schools to keep an eye on are Alabama, Clemson, NC State, Ohio State and Notre Dame. Shipley appeared to have really enjoyed a fall visit with the Buckeyes, but he has also had unofficial visits to many of the other schools he received offers from.
Will Shipley Highlights
During his junior season, Shipley put up 2,066 rushing yards, 582 receiving yards, and scored 38 total touchdowns on offense. (He also threw two TDs, for what it's worth.) As a sophomore, Shipley carried the ball 206 times for 1,417 yards and 19 touchdowns, while also catching 28 passes for 393 yards and six more scores.
The ability to not only run the ball, but also catch the ball out of the backfield has made him a highly-touted recruit, which will give him an even better chance at moving towards the NFL in a few years as a three-down back.
---
UPDATE (May 5, 2020): Despite coronavirus and the spread of COVID-19 slowing offseason programs and recruiting, Shipley appeared ready to announce his college decision ahead of the summer.
The all-purpose RB took to Twitter on Tuesday afternoon to announce that he'd be committing to the head coach Dabo Swinney and the Clemson Tigers for the 2021 season.
Five-Star Will Shipley Commits to Clemson
This article was originally published October 31, 2019. It was updated several times tracking Shipley's recruitment and high school football career.