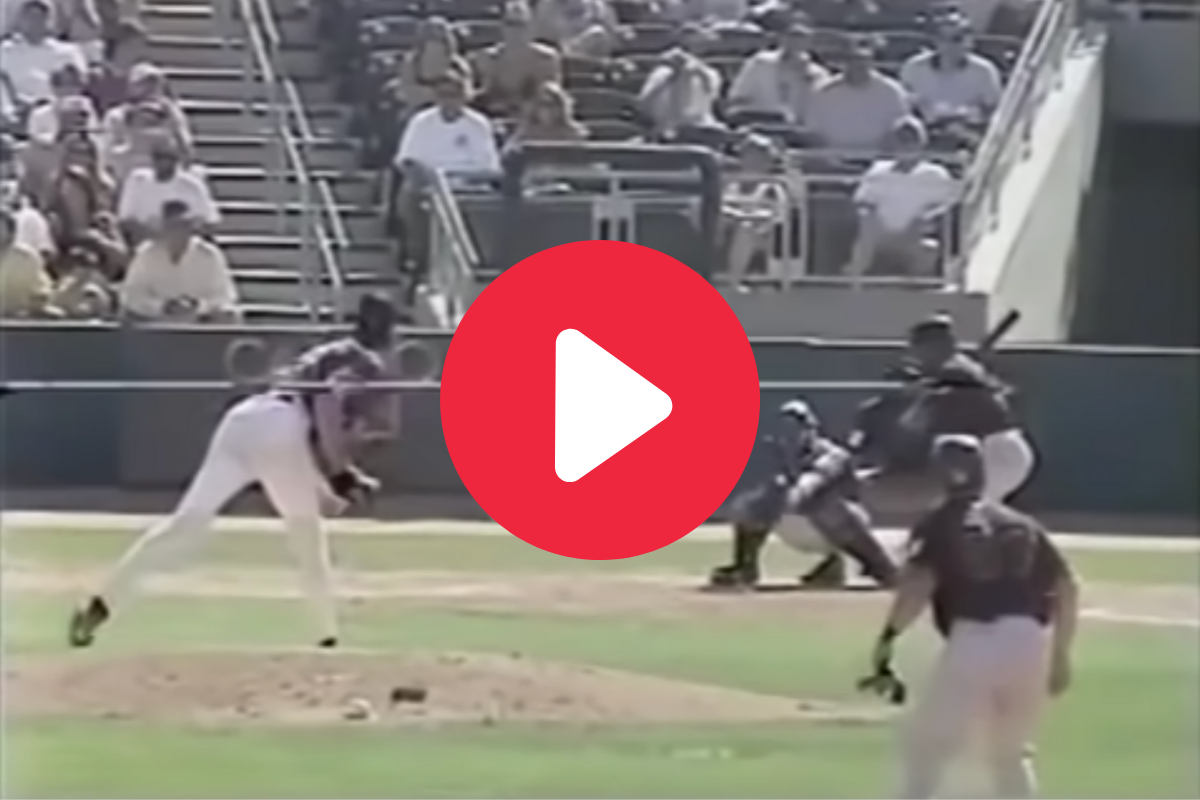 Screenshot from YouTube
There may never be timing that is as perfect as this again.
During a Arizona Diamondback Major League Baseball spring training game in Tucson on Mar. 24, 2001, Hall of Fame pitcher Randy Johnson was tossing out some fastballs. It was the seventh inning of a bout against the San Francisco Giants. Outfielder Calvin Murray, uncle of the athletic Arizona Cardinals quarterback Kyler Murray, stood ready at the plate, locked and loaded. The legendary left-hander went through his usual Hall of Famer wind-up, released the heat and killed a dove.
Didn't see that one coming? Imagine being the bird.
Johnson's World Series-level fastball, rocketing towards catcher Rod Barajas behind home plate, intercepted an interceptor pigeon mid-flight. The now-dead bird (clearly not a Dodgers fan) exploded like the Fourth of July after being struck by an All-Star-like heater, leaving us with one of the weirdest, yet most lasting images in MLB and sports history. Poof!
Randy Johnson Hits Bird With Fastball
RELATED: Mark McGwire?s ?538-Foot? HR Off Randy Johnson is Still Mesmerizing
The umpire ruled a no pitch by fair play rules, but PETA called foul ball. The eccentric animal cruelty promotion group once again flew in the face of common sense when they announced considerations of pressing charges against the Diamondbacks pitcher.
?I was considered a bird killer,? Johnson recalled, via arizonasports.com. ?What became kind of funny, actually became a very serious moment.?
The Big Unit was far from a perfect game that day. But conservationists saying he hit the bird on purpose? Nobody is that good. In the end, Johnson didn't receive any charges for the pitch. He didn't receive any Cy Young Awards for the pitch, either.
Johnson described the incident to Fox Sports Arizona as ?a blur going across home plate and the ball simultaneously hitting that blur. It?s just hard to really put that into perspective. It happened so quick."
The odds of the bird flying so perfectly in between the patch of the pitcher and hitter occurring are almost impossible to explain. The game wasn't even broadcast (the Diamondback's video coordinator caught it on film by chance), but highlight shows from ESPN to FOX Sports now show it annually.
Sure, similar things have happened with still birds being hit with foul balls, but a spontaneous bird in mid-flight connecting with a strikeout in mid-air while surrounded by thousands of people? Yeah, that's not something you are going to see every day.
Not even a Phoenix could rise from the ashes of Randy Johnson's heater.