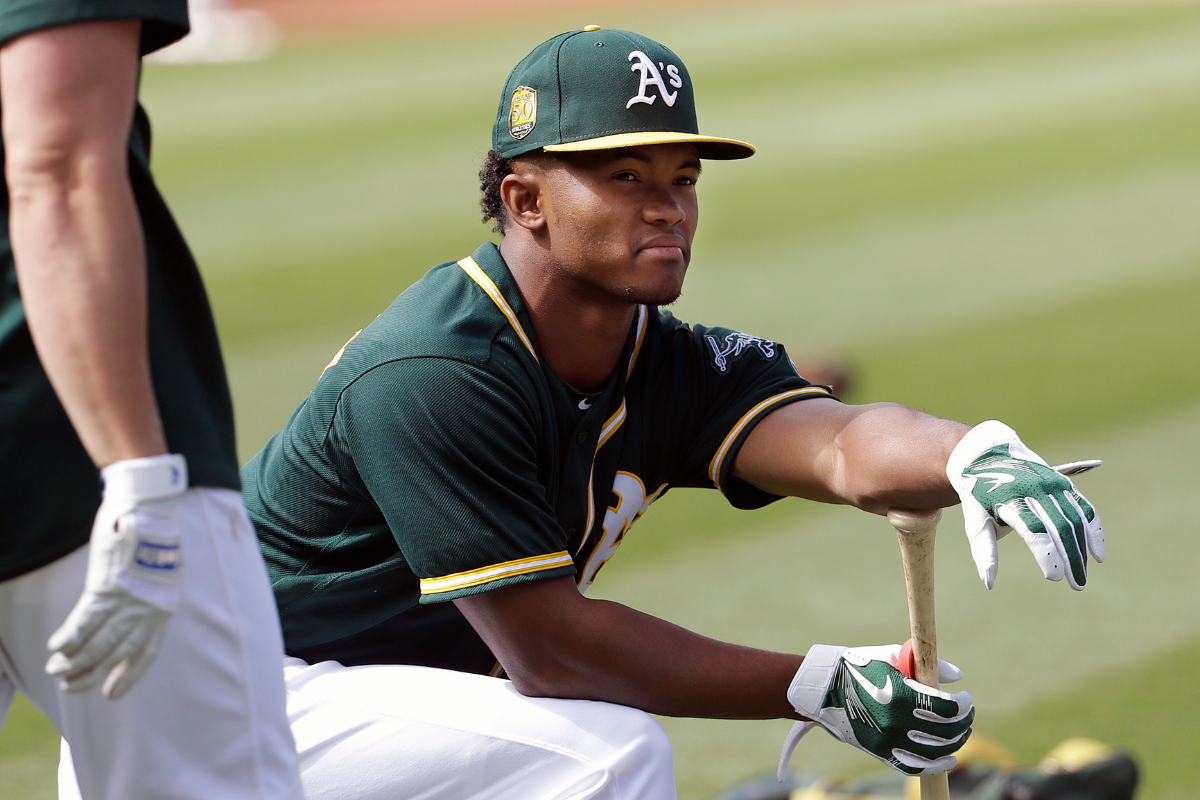 AP Photo/Jeff Chiu, File
Arizona Cardinals starting quarterback Kyler Murray has lived up to the hype of the first overall pick in the NFL thus far. The Cards haven't yet made the playoffs, but Murray has made strides in his game that could make his team contenders in the NFC West for years to come.
While the QB was throwing touchdowns and winning the Heisman Trophy for the Oklahoma Sooners, he also honed his craft on the baseball diamond. Murray was a prolific outfielder, and scouts say he had a chance to make a Major League roster if he wanted to play baseball.
The "what-if?" question surrounding Murray and his decision to forgo his contract with the Oakland Athletics will permanently be attached to him.
Kyler Murray's Baseball Career
RELATED: Kyler Murray's High School Highlights Are Second to None
Murray shined for Allen High School in Texas. As a sophomore, he hit for a .302 batting average and added two home runs, 20 stolen bases and some stellar defense. He found his power stroke over the next two seasons, as he hit nine homers as a junior.
Perhaps this shouldn't be surprising?Murray's uncle, Calvin Murray, played for the San Francisco Giants, Texas Rangers and Chicago Cubs.
Murray committed to Texas A&M as an infielder but took his talents to the University of Oklahoma shortly after that. His superstardom took off on the gridiron. He eventually became a fantastic baseball player in Norman as well.
The outfielder struggled in his first stint with the Sooners' baseball team, only slashing .122/.317/.122. Hard work in the offseason paid off, and as a sophomore, Murray became the prospect that many thought he would. He hit .296 and totaled a .954 OPS, hitting ten home runs and driving in 47 RBIs.
Although he was considered a bit of a project, the Oakland A's made Murray a first-round draft pick in the 2018 MLB Draft. He was fully set to report to the minor leagues and join the team for spring training in 2019, but his MVP-like performance on the football field changed his mind.
Murray won the Heisman Trophy, was selected with the first overall pick in the 2019 NFL Draft, and the rest is history. He slings the ball against the Kansas City Chiefs and Minnesota Vikings instead of the Royals or Twins.
Kyler Murray became the first athlete ever drafted in the first round of both the MLB and NFL drafts. Bo Jackson was drafted by the Kansas City Royals in the fourth round. Thus, Murray recreated one of Bo's iconic posters to pay homage to a legend:
Kyler Murray is an exceptional football player. His time in one of the NCAA's best offenses cemented his status as someone who should have stuck with the sport.
With that in mind, plenty of players have excelled at both football and baseball. Big names, too: Tom Brady, Aaron Rodgers, Patrick Mahomes, Russell Wilson, Deion Sanders and Bo Jackson all played baseball at high levels (though not all can say they played in MLB like Deion and Bo).
It remains to be seen whether or not Murray will take reps in the outfield again, but we wouldn't completely count it out. He still has the desire, and it would make for an incredible story, but it's more likely he plays for the Raiders than the Athletics.