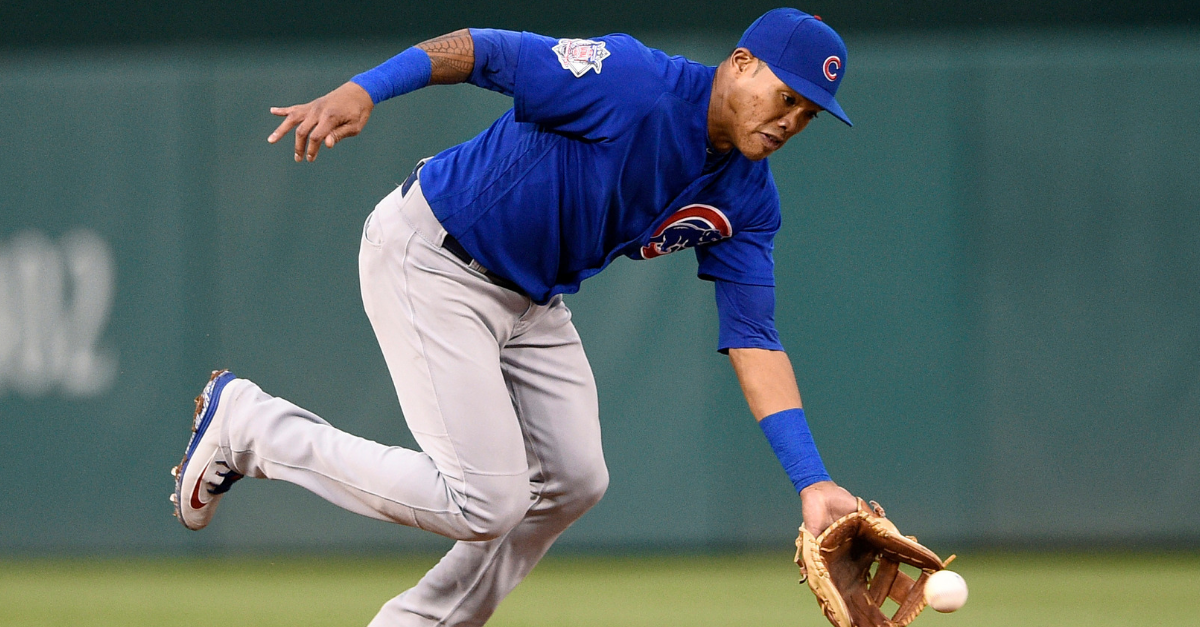 AP Photo/Nick Wass, File
It hasn?t exactly been the greatest week for the Chicago Cubs. Not only did they lose an extra regular-season game to clinch the NL Central division title on Monday, but they also lost the next day in the NL Wild Card Game to end the season. Now, to make matters worse, the organization will be without their starting shortstop for the first part of the 2019 MLB season, if they even welcome him back.
Cubs shortstop Addison Russell was placed on administrative leave September 21 following a blog post from his ex-wife, Melisa Reidy, alleging the 2016 MLB All-Star abused her during their two-and-a-half year marriage. As a result, Major League Baseball Commissioner Rob Manfred announced on Wednesday that Russell has accepted a 40-game suspension without pay for violating the league?s Joint Domestic Violence, Sexual Assault and Child Abuse Policy.
RELATED: This ?Evil? Cubs Fan Might Not Be So Evil After All
The suspension is retroactive to September 21, meaning the games he missed will count toward the punishment, and Russell has agreed to not appeal the suspension and will participate in a ?confidential and comprehensive evaluation and treatment program supervised but the Joint Policy Board.?
?My office has completed its investigation into the allegations that Addison Russell violated Major League Baseball?s Joint Domestic Violence, Sexual Assault and Child Abuse Policy. Having reviewed all fo the available evidence, I have concluded that Mr. Russell violated the Policy and should be subject to discipline in the form of an unpaid suspension that will cover 40 games.? ? Rob Manfred
Russell, a 6-foot, 200-pound infielder who joined the Cubs in 2015, was batting a career-high .250 with five home runs, 38 RBIs and four stolen bases before being placed on leave.
"After gaining a full understanding of the situation I have concluded it's in the best interest of my family to accept MLB's proposed resolution,? Russell said. ?I wish my ex-wife well and hope we can live in peace for the benefit of our child."
The Cubs, who won 95 games in 2018, certainly ended their season on a sour note, losing Game 163 to division rival the Milwaukee Brewers on Monday before losing the one-game Wild Card to the Colorado Rockies at Wrigley Field on Tuesday.
This news didn?t impact those games, but it might impact the club?s future at shortstop.