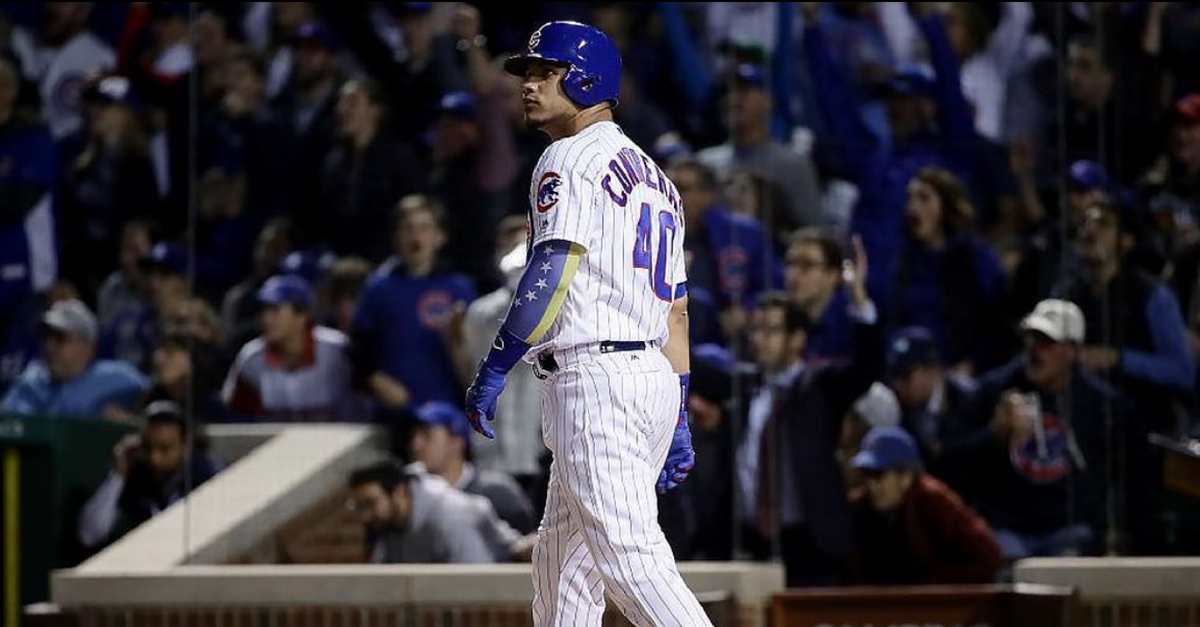 Instagram: @willsoncontreras40
Whether you voted the maximum amount of times, completely forgot, or frankly do not care, it doesn?t matter. The voting on the 2018 Camping World All-Star Ballot is officially over and now all players and fans can do is wait to hear who will start in this year?s Midsummer Classic.
Some of the races for the 89th ASG on July 17 at Nationals Park in Washington, D.C., became rather interesting, though. MLB.com's Matt Kelly reported there were four races going down to the wire in the final few hours.
Unfortunately, there were no creative, player-made campaign videos this season. It looked to be more business than usual, but, hey, there?s nothing wrong with that approach, either.
So in honor of the close races, let?s predict who will be those starters for the American League and National League teams at the 2018 MLB All-Star Game presented by Mastercard, which will be announced on Sunday on ESPN.
National League
Catcher: Willson Contreras (Chicago Cubs) vs. Buster Posey (San Fransisco Giants)
According to Kelly, only about 8,000 votes separated these two catchers with a half day remaining on the ballot. And with each fan allowed to vote five times each day, it?s hard telling just how many times the lead might have changed in the final day of All-Star voting. However, It?s pretty safe to safe both players will play in the game.
The numbers are as close as the ballot, too. Contreras (.284, 7 home runs, 34 RBIs) has slightly better offensive production than Posey (.286, 5 home runs, 27 RBIs) and has a higher WAR, On Base Percentage and Slugging Percentage than the five-time All-Star.
Factor in the current standings and the fact this would be his first ever appearance, let?s fly the W for the Cubbies.
Prediction: Willson Contreras
Second Base: Ozzie Albies (Atlanta Braves) vs. Javier Baez (Chicago Cubs) vs. Scooter Gennett (Cincinnati Reds)
In an interesting plot twist, there is a three-way race for the starting spot and their first All-Star Game appearance. It?s safe to say this one came down to fan base, preference, or style of your favorite second baseman.
Albies has hit the most home runs of the trio (18), while Baez has the most RBIs (61) and stolen bases (15), and Gennett leads the group in batting average (.331) and hits (105).
So pick your poison. All three have been strong this year. And with not a massive margin to overcome and a bigger overall fan base, it?s another W flag.
Prediction: Javier Baez
American League
First Base: Jose Abreu (Chicago White Sox) vs. Yuli Gurriel (Houston Astros)
Abreu has more pop and Gurriel has played a bigger factor for a better team. Additionall, Abreu has been to the ASG before and Gurriel is looking for his first appearance. Both will likely go, but this game is about show and power. Give the nod to veteran first baseman who has smashed at least 25 home runs and driven in 100 RBIs the last four seasons.
Prediction: Jose Abreu
Shortstop: Manny Machado (Baltimore Orioles) vs. Carlos Correa (Houston Astros)
Saving the best race for last here. Machado has had a stellar summer, hitting .308 with 21 hot runs and 59 RBIs, but is also the hottest name on the trade market right now. Meanwhile, Correa has had another solid campaign for the defending world champions. Considering Machado?s name being thrown around everywhere, he will likely get the start in the All-Star Game by vote, and might just anyway if Correa continues to have back stiffness.
Prediction: Manny Machado