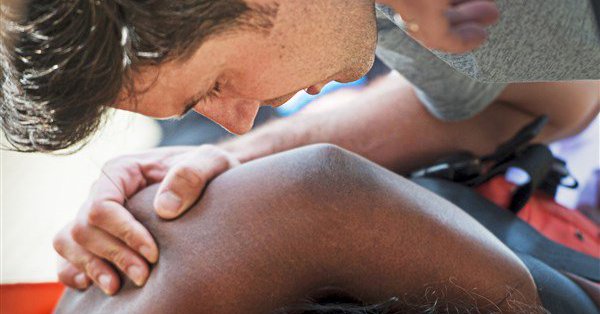 Pittsburgh Post Gazette Twitter
Major League Baseball umpire John Tumpane had the most memorable night of his career on Wednesday night, but it didn't have anything to do with the baseball game he was calling between the Pittsburgh Pirates and the Tampa Bay Rays.
According to the Pittsburgh Post-Gazette, Tumpane was crossing the Roberto Clemente Bridge about 3 p.m. after he had lunch, and he saw a woman climb over the railing and look like she was going to jump off and into the Allegheny River.
Related: MLB umpire's NSFW response to a player got caught on live television
Tumpane, who was the home plate umpire for the game, said the woman's actions caught his attention. He hurried over to the woman and tried to talk to her about coming back on the other side of the bridge. The woman resisted, and Tumpane got someone else's attention and told them to call 911.
Tumpane told the Post-Gazette the woman became more emotional, and she tried to slip away from the grip he had on her. He also said "she dangled both feet off the bridge's edge, putting her full weight in his arms."
"I was thinking, 'God, this has got to be a good ending, not a bad ending,' and held on for dear life," Tumpane said. "She said, 'You don't care about me.' I said, 'I care.' She said, 'I just want to end it right now. I want to be in a better place.' I said, 'You're going to be all right.
Soon after, police arrived and helped secure the woman so she couldn't jump.
When the woman was finally secured, Tumpane prayed for her and asked her for her name so they could possibly reconnect before he leaves town.
"I told her, 'I didn't forget her, and we'd be here, and she's better off on this side than the other side.'" Tumpane recalled. "I just want her to know that."
It was quite the eventful day for Tumpane as he had to call the baseball game afterwards, but it was a very heroic action. Hopefully he wasn't booed at the game at any point.
(h/t Deadspin)