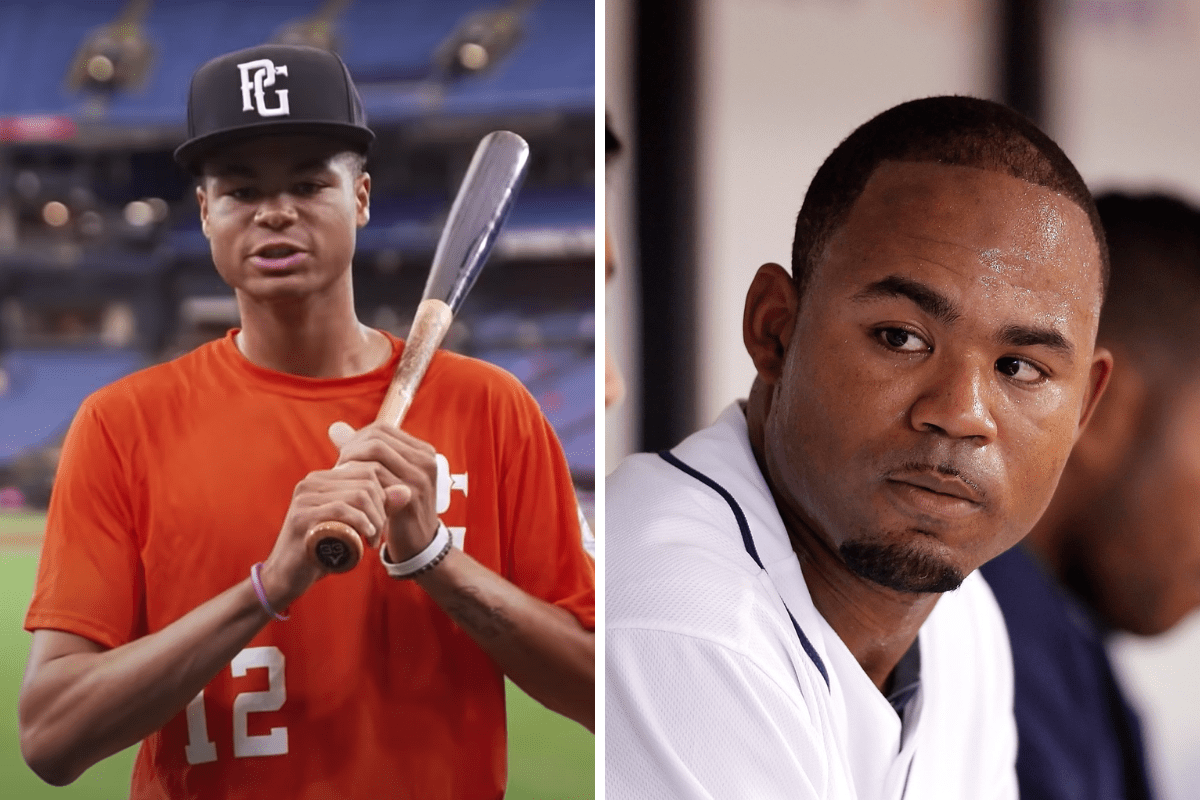 Screenshot from YouTube (left), Photo by J. Meric/Getty Images (right)
At the height of his career, Carl Crawford was a menace to opposing teams.
He led the league in stolen bases in four different seasons from 2003-07 while with the Tampa Bay Devil Rays. Across his 15-year career, the four-time All-Star made more than $179 million in on-field earnings.
Nearly six years after retiring from Major League Baseball, Crawford has a son who is considered one of the top prospects ahead of the 2022 MLB Draft. He's also committed to a college baseball powerhouse.
Carl Crawford's Son Justin Crawford
Justin Crawford is the son of Carl Crawford and Amy Freeman. Back in 2013, Carl and Amy were in a nasty custody war in which he allegedly told her to stay away from Los Angeles while he was playing for the Los Angeles Dodgers. She's also the mother of one of Crawford's daughters.
Justin is almost a spitting image of his father.
At 6-foot-3 and 175 pounds, he has incredible speed like his dad. He ran the 60-yard dash in 6.11 seconds, which is one of the reasons the Las Vegas, Nevada native has been rated so highly by Perfect Game.
As a junior at Bishop Gorman High School, the same school Joey Gallo starred at, Justin hit .525 and helped lead them to a Class 5A Southern Region Championship.
He told the Las Vegas Review-Journal that his experience around MLB growing up has helped him tremendously.
"Having him as a father prepares me for things not everyone can prepare for," Crawford said. "Just growing up in a big league clubhouse and seeing how things work and knowing he's gone through the same things I'm going through has helped make the process a lot easier."
The speedy outfielder can be as good as he wants to be, but first, he'll have to decide if he wants to go straight to the league or take his talents to Baton Rouge.
Justin Crawford is Committed to LSU
Justin was originally committed to the University of Arizona, but he switched that commitment to LSU when former Arizona head coach Jay Johnson got the job at LSU.
But talents like Justin Crawford don't always make it to campus.
CBS Sports ranks him the 40th best prep prospect in this year's draft class, meaning he could be in line for a signing bonus well over $1 million. His father was the 52nd overall pick in 1999 and signed for $1.245 million.
With Justin's speed and a large frame to grow into, it's obvious why LSU would be more than happy to get him on campus.
According to Perfect Game's evaluation, his speed is a "game-changing tool" with "intriguing offensive tools that project very well with added strength."
Whether he takes the SEC by storm or decides to go pro after high school, there's no doubt Justin Crawford's talents — and genes — should take him far.
Related Videos