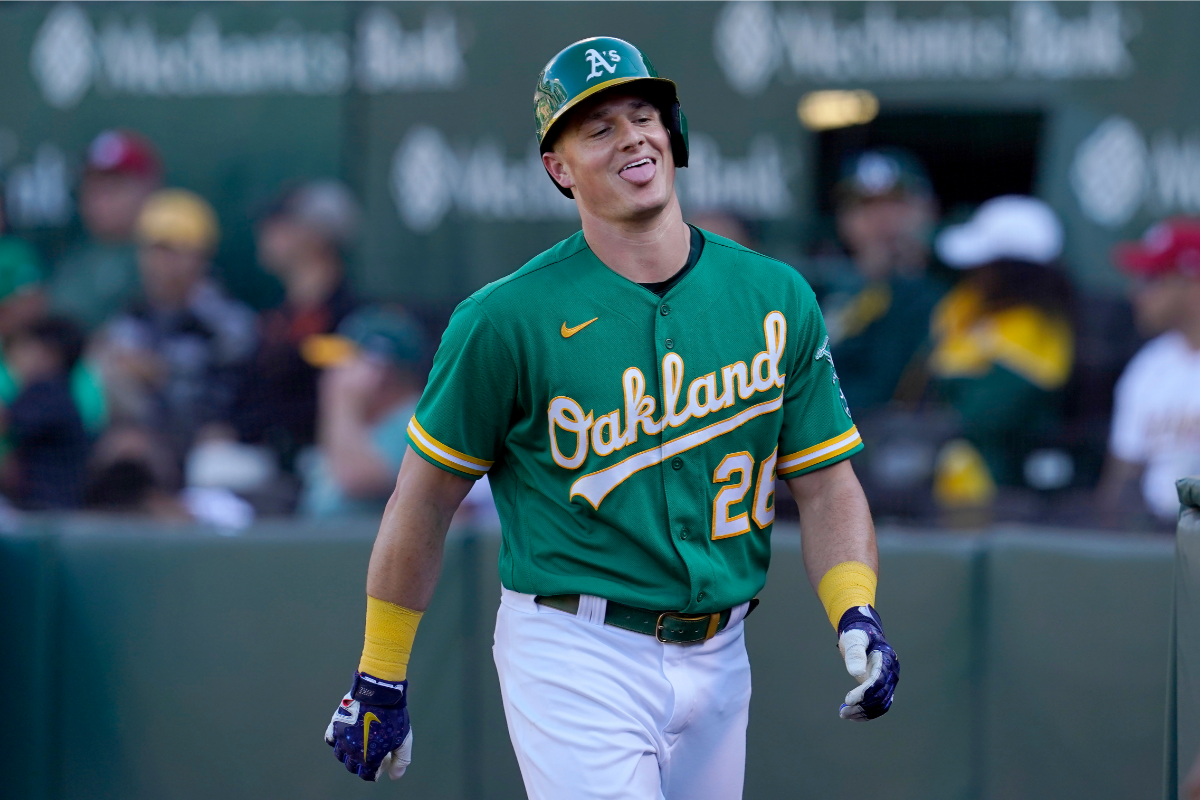 AP Photo/Jeff Chiu
Oakland Athletics third baseman Matt Chapman is one of the best defensive players in baseball, handling the hot corner with his quick reactions and a strong arm. A fan-favorite in Oakland since making his Major League debut in 2017, Chapman figures to be a defensive stalwart for the Athletics for the foreseeable future.
The 28-year-old remains arbitration-eligible through the 2023 season, so A's fans will be hoping to lock him up on a long-term deal in the coming years. No one would be happier to see the two-time Gold Glove award winner remain in Oakland than Matt Chapman's girlfriend, Taylor Coopman.
Matt Chapman's Girlfriend Taylor Coopman
View this post on Instagram
RELATED: Mark McGwire?s Net Worth Shows ?Big Mac? Saved More Than Just Baseball
Matt Chapman has been dating his girlfriend, Taylor Coopman, since at least 2018, when the star baseball player was featured on Coopman's social media for the first time.
Coopman reportedly graduated from Arizona State University with a degree in psychology in 2014. She's since worked as a personal trainer, worked in marketing and worked as an employment recruiter. According to her LinkedIn profile, she's been a flight attendant for Delta Air Lines since 2018.
After years of dating, Chapman proposed to Coopman in October 2020 on Laguna Beach, California. While the date for their impending wedding is unknown, Coopman could soon become the wife of the Platinum Glove Award winner.
Early Life and MLB Career
Matt James Chapman was born and raised inVictorville, California, just outside Los Angeles, to Jim Chapman and Lisa Chapman. He has two siblings, a younger sister Haley Chapman and a brother named Mike.
Chapman played his high school baseball at El Toro High School before playing college baseball for California State University, Fullerton. Chapman spent three years playing for the Cal State Fullerton Titans before declaring for the 2014 MLB Amateur Draft.
The Oakland Athletics drafted Chapman with the 25th overall pick in the 2014 MLB Draft. After impressing in Spring Training, Chapman debuted in the Majors in 2017 against the New York Yankees and has since become a mainstay in the Athletics' lineup.
While Chapman is no slouch at the plate, having hit more than 90 home runs through his first five seasons, it's his glove that sets him apart. In addition to his Gold Glove and Platinum Glove awards, Chapman has also earned the Wilson Defensive Player of the Year Award and the Fielding Bible Award.
Chapman made his first and only All-Star Game in 2019, when he hit 36 home runs and drove in 91 RBIs. Bizarrely, A's teammate Matt Olson, who's dating the lovely Nicole Kidder, put up identical stats to Chapman in 2019 (36 homers and 91 RBIs).
Matt Chapman Net Worth
Being an American professional baseball player typically means you're making a boat-load of money, especially once arbitration years expire.
According to reports, Chapman's estimated net worth is roughly $6 million. That figure should skyrocket when it comes time for Chapman to sign a contract extension, and he and his soon-to-be wife will be living in luxury.