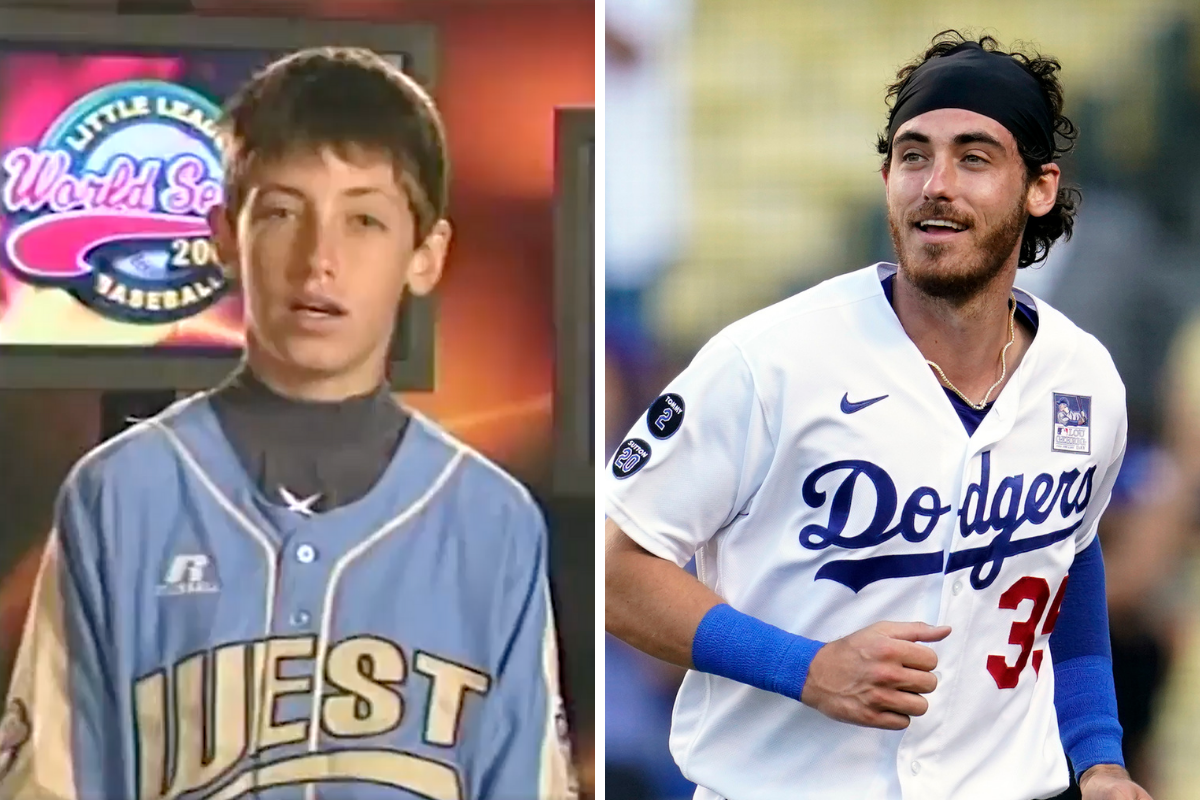 Screenshot from Twitter (left), AP Photo/Marcio Jose Sanchez (right)
Every year, millions of baseball fans across the country tune in to the annual Little League World Series that takes place in Williamsport, Pennsylvania. Everyone from kids to adults to current Major League Baseball players cheer on 12-year-old Little Leaguers living out their dreams and making spectacular catches like this one.
There's truly no place in the World like Williamsport, PA. If you ever played little league baseball there's a good chance you imagined what it would be like to step into the box against some of the best pitchers in the world, only to take them deep, winning the game and bringing a Little League World Series title back to your hometown.
The tournament is an absolute blast as long as dads aren't brawling. Some players, like phenom pitcher Mo'ne Davis and her 70-mph fastball, excel and find themselves on the cover of Sports Illustrated, guests of big-time talk shows and invited to the White House.
While Davis isn't in the MLB (at least not yet), plenty of current and former MLB players first showed off their skills on a national stage at the LLWS. And stars in this year's 2021 LLWS like South Dakota's Gavin Weir could be next to star in MLB.
The 2019 frontrunner for National League MVP, a home run derby champion, a current MLB manager and multiple World Series champions have all graced Howard J. Lamade Stadium's field at some point in the tournament's 74-year history.
There have been plenty others (more than 50 and counting), but here are the 14 MLB players you need to know who tore up the Little League World Series.
14 MLB Stars Who Dominated the Little League World Series
Cody Bellinger, Los Angeles Dodgers
RELATED: What Happened to Danny Almonte and Where is He Now?
The 2017 NL Rookie of the Year was the first to reach 40 home runs in 2019 during his phenomenal third season for the Los Angeles Dodgers at just 23 years old.
But not long ago, this sweet-swinging southpaw was punishing pitchers in the 2007 LLWS for his team from Chandler, Arizona. Though they lost to Georgia in the United States semifinals, Belli helped eliminate Maryland behind a home run and a three-hit game.
Bonus points for going oppo taco!
Michael Conforto, New York Mets (Free Agent in 2022)
A cornerstone in the New York Mets' lineup from 2015 to 2021 and all-star in 2017, Conforto is one of three players to play in all three of the LLWS, College World Series and MLB World Series.
During the 2004 LLWS, Conforto tallied six hits in 10 at-bats as a hitter for his team from Redmond, Washington. One of those six hits was a long ball against the next guy on this list's team, if you can believe that.
Randal Grichuk, Toronto Blue Jays
Yes, Grichuk's team from Lamar, Texas, may have served up a home run to Conforto, but Grichuk was the true star of the 2004 LLWS. He led all players in hits, home runs and RBIs and even played in back-to-back LLWS (2003) for his Southwest team.
Now a member of the Toronto Blue Jays, Grichuk has launched more than 150 home runs and looks a lot like his Little League baseball self.
Todd Frazier, Multiple Teams
Frazier's team from Toms River, New Jersey, actually won the 1998 LLWS. In the championship game against Japan, Frazier went 4-for-4 with a home run — his fourth of the tournament — and was the winning pitcher.
The Todd Father got his start as a third baseman with the Cincinnati Reds, where he won the 2015 MLB Home Run Derby, and went on to play for the White Sox and both the New York Mets and New York Yankees.
The best part of his LLWS experience may have been meeting Yankees legend Derek Jeter. Who would've thought he'd be playing in Yankee Stadium years later?
Scott Kingery, Philadelphia Phillies
Before he was playing all over the field as an infielder and outfielder for the Philadelphia Phillies, Kingery was helping his team from Ahwatukee, Arizona, win games in the 2006 LLWS.
What's even cooler is that Scott's twin brother, Sam, played up the middle alongside his brother. Their team went 2-1 and was eliminated from the tournament, but Kingery returned to Williamsport in 2018 with the Phillies when they played against the Mets in MLB Little League Classic. Also in that game? Frazier and Conforto.
Gary Sheffield, New York Yankees
Every kid's favorite player to emulate at the plate, Sheffield clubbed 500 home runs and won a World Series with the Florida Marlins in 1997 as an outfielder.
Before he was crushing balls in the big leagues for the San Diego Padres, Dodgers, Braves and Yankees, he was pitching for the little league team from Belmont Heights, Florida, in the 1980 LLWS. The Tampa, Florida, native fell just short of winning it all, losing to Chinese Taipei in the LLWS championship game.
Jason Varitek, Boston Red Sox
Varitek is one of those three rare guys to play in the LLWS, CWS and MLB World Series, but you probably know him as a Boston Red Sox icon behind the plate for winning World Series titles in 2004 and 2007.
Thirty years prior, Varitek was trying to win a title in Williamsport for his team from Altamonte Spring, Florida. Though he went 1-for-7 throughout their games, they reached the title game and ultimately lost to South Korea.
Jonathan Schoop, Detroit Tigers
Schoop and the next player on this list were actually teammates on Curacao's championship year in the 2004 LLWS. Like many of these player, Schoop was a two-way guy and even picked up a save during the tournament.
The former Baltimore Oriole posted a 30-homer, 100-RBI season in 2017. The second baseman crushed balls for the Minnesota Twins and now the Detroit Tigers.
Jurickson Profar, San Diego Padres
Once the top prospect in all of baseball for the Texas Rangers, Profar's career has begun with the Oakland Athletics and San Diego Padres.
Profar is very familiar with the LLWS, as is his family. Jurickson played for the Willemstad, Curacao, team in 2004. In 2007 and 2008, his brother Juremi played for the Curacao team that played in the LLWS and is now in the Rangers' minor league system. In 2019, their brother Jurdrick played in Williamsport for their home country. Talk about racking up the frequent flyer miles.
Profar told ESPN that his family and friends all grew up watching Andruw Jones and credits him with the rise in popularity of the sport on the small island nation.
Lance Lynn, Chicago White Sox
Lynn has enjoyed a resurgence on the mound as a starting pitcher for the Texas Rangers and Chicago White Sox following some pretty great years out in St. Louis.
In 1999, he was still throwing heaters but for his team from Brownsburg, Indiana. He gave up a game-winning grand slam during the tournament, but in 2011 with the St. Louis Cardinals became part of an exclusive group of 12 players to take the field in the LLWS and MLB World Series.
Boog Powell, Baltimore Orioles
Powell hit 339 homers over a productive 17-year career in the 1960s and 1970s and won two World Series with the Orioles.
But back in 1954, he was pitching for his team from Lakeland, Florida, in the LLWS. Powell was a workhorse on the bump, and threw in 11 games over the couple weeks leading up to the tournament.
Colby Rasmus, Multiple Teams
Rasmus' team from Phenix City, Alabama, came a game short of winning it all in the 1999 LLWS. They lost to Japan, 5-0, in the title game but at least Rasmus got to play with his brother, Cory, who also played in the MLB.
Colby posted some decent 20-homer seasons with the Cardinals, Blue Jays and Astros and retired in 2018.
Jason Marquis, Multiple Teams
Marquis enjoyed a long, 15-year career including stints for the Atlanta Braves, St. Louis Cardinals, Chicago Cubs and Washington Nationals.
Back in 1991, Marquis was both a slugger and pitcher for the Staten Island, New York, team that took third place after beating Canada. Think he didn't have an impact on his community? Watch that video above.
Kevin Cash, Manager of Tampa Bay Rays
Cash played eight years in the big leagues but is more known for his current role as manager of the Tampa Bay Rays.
In 1989, the second baseman was playing for his team from Tampa, Florida, and he went 2-for-7 in the tournament. Wouldn't it be something if he could navigate his current Tampa team to a world series?
Other Notable MLB players In The LLWS
Yusmeiro Petit (1994 LLWS, Maracaibo, Venezuela)
Michael Saunders (1999 LLWS, Victoria, British Columbia)
Jason Bay (1990 LLWS, Trail, British Columbia)
Derek Bell (1980-81 LLWS, Tampa, Florida)
Lloyd McClendon (1971 LLWS, Gary, Indiana)
Lastings Milledge (1997 LLWS, Bradenton, Florida)
This post was originally published on August 20, 2019.