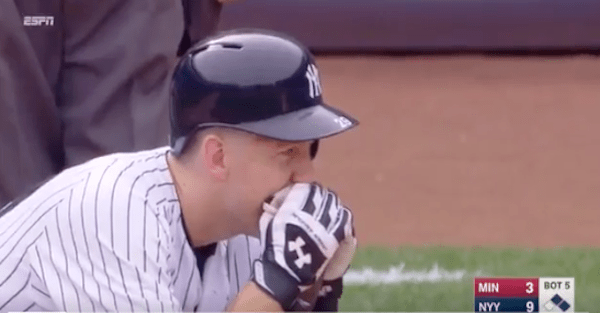 @JordanHeckFF/Twitter
The New York Yankees-Minnesota Twins game was briefly stopped in the fifth inning Wednesday afternoon after a two-year-old child was struck in the mouth by a foul ball, and she remains in the hospital facing a long road to recovery, per the New York Post:
?She?s stable,? the family member, who declined to give his name, said Friday at New York-Presbyterian Morgan Stanley Children?s Hospital, where the girl remained. ?It?s going to be a long process.?
Todd Frazier immediately dropped to a knee after fouling the ball into the stands, and other players quickly followed suit.
Frazier has reached out to the father, who told him she is "doing good" and that they will have some tests in the next couple of days before hopefully getting her out of the hospital.
ESPN updated the condition of the young girl on late Wednesday evening, as the family released information that "she's doing all right", but that it was still too early to know if surgery would be required.
Her father and grandfather spoke briefly with reporters there Wednesday night. When asked whether she would need surgery, the girl's father, who declined to give his name, said: "It's too early to tell."

"She's doing all right. Just keep her in your thoughts," he told WABC-NY.
The game was stopped for several minutes after the foul ball, as the players on the field were clearly shaken as medical personnel attended to the child's injuries.