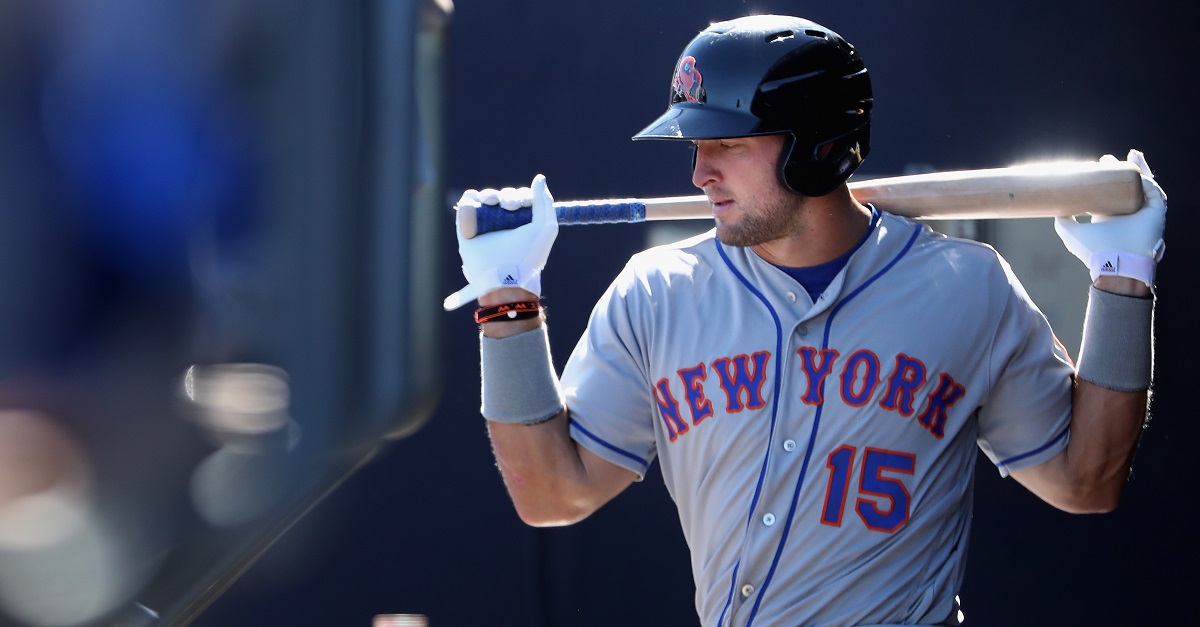 Christian Petersen/Getty Images
PEORIA, AZ - OCTOBER 13: Tim Tebow #15 (New York Mets) of the Scottsdale Scorpions warms up in the dugout during the Arizona Fall League game against the Peoria Javelinas at Peoria Stadium on October 13, 2016 in Peoria, Arizona. (Photo by Christian Petersen/Getty Images)
It's safe to say Tim Tebow is the most recognizable?and perhaps the only?star in minor league baseball. When Tebow and his Columbia Fireflies visit town, it's a pretty big deal for other Single-A teams.
The Fireflies played the Charleston RiverDogs last weekend, and the organization took a few shots at Tebow's fame during the game according to The Post and Courier. The RiverDogs played the Hallelujah Chorus every time he came to the plate, and the mascot wore eye black with "John 3:16" on it, mimicking what Tebow did while he played football at Florida.
Related: Baseball team relentlessly mocked Tim Tebow in the most hilarious way
The mascot also kneeled whenever Tebow made a play, just as Tebow did when he scored touchdowns at Florida and the Denver Broncos.
Well, the RiverDogs' organization was criticized for mocking Tebow, and team president and general manager Dave Echols apologized in a statement for their antics.
"While we believe that our promotions were poking fun at Mr. Tebow?s celebrity status rather than his religion or baseball career," Echols said. "Our intent was not to offend anyone, and for the fact that we did offend, we are sorry."
The mocking of Tebow seemed pretty harmless, but it's still probably a good PR move to apologize just in case.
If they were going to mock anything, all they had to do was look at Tebow's stats in the minor leagues. He's batting .224 with three home runs and 21 RBIs in 60 games this season.
(h/t SEC Country)