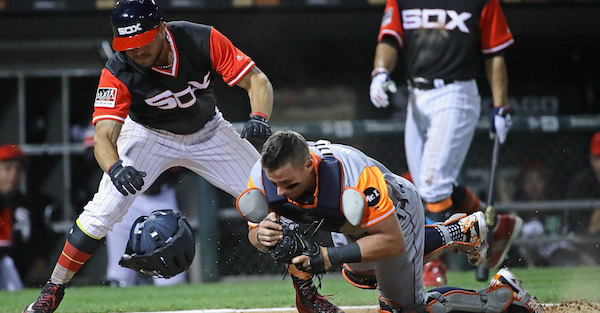 Jonathan Daniel/Getty Images)
CHICAGO, IL - AUGUST 25: Yolmer Sanchez #5 of the Chicago White Sox is tagged out at the plate in a collision with James McCann #34 of the Detroit Tigers in the 7th inning at Guaranteed Rate Field on August 25, 2017 in Chicago, Illinois. (Photo by Jonathan Daniel/Getty Images)
When the New York Yankees and Detroit Tigers cleared their benches — three times — last week, both sides got some shots in.
James McCann was on the wrong end of a fastball from the Yankees' Dellin Betances on Thursday. And then on Friday night, McCann was on the railroad tracks when a train in the shape of Yolmer Sanchez, from the Chicago White Sox, came tumbling through in a collision at home plate.
Take a look at the beating he took on Thursday.
The next time McCann came to the plate after that, he launched a home run. So, he got the last laugh there.
And when he took the hit from Sanchez on Friday, McCann managed to hang onto the ball.
However, now the Tigers are being cautious as McCann is being monitored for signs of a concussion.
McCann recalls the experience of a former Tigers catcher, Alex Avila, who didn't immediately feel the effects of a concussion.
"There is only one thing we are still watching," McCann said. "I remember Alex saying he didn't feel the effects until sometimes two, three or four days later.
One shouldn't mess around when it comes to a head injury. Even though there haven't been any symptoms of a concussion for McCann thus far, it's good to hear Detroit is choosing to be safe rather than sorry here.
[h/t The Detroit News]