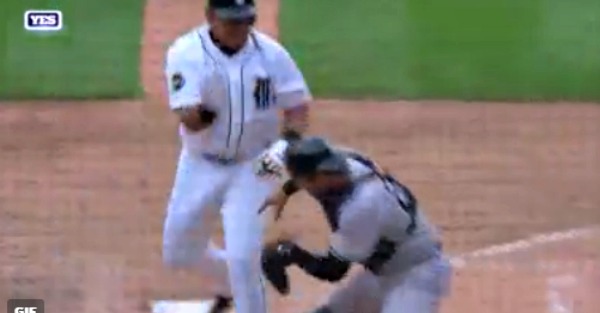 @what_the_sports/Twitter
Thursday afternoon appeared to be relatively harmless in the baseball world but that quickly changed during the game between the Detroit Tigers and New York Yankees. In the sixth inning, the two teams engaged in a bench-clearing brawl that featured former AL MVP Miguel Cabrera throwing haymakers at Yankees catcher Austin Romine.
In the aftermath of the incident, suspensions were always going to be handed down and, on Friday, they arrived from Major League Baseball. Yahoo's Big League Stew brings word of the specifics:
• Tigers first baseman Miguel Cabrera has received a seven-game suspension for inciting the first bench-clearing incident and fighting.
• Yankees catcher Gary Sánchez has received a four-game suspension for fighting, including throwing punches.
• Tigers pitcher Alex Wilson has received a four-game suspension for intentionally throwing a pitch at Todd Frazier of the Yankees while warnings were in place for both sides.
• Yankees catcher Austin Romine has received a two-game suspension for fighting, including throwing punches.
• Tigers manager Brad Ausmus has received a one-game suspension for the intentional actions of Wilson while warnings were in place.
• All five individuals also received undisclosed fines as a part of their discipline.  Others who were fined for their actions during the incidents were Yankees manager Joe Girardi, Yankees bench coach/acting manager Rob Thomson, Yankees outfielder Brett Gardner, Yankees pitcher Tommy Kahnle and Tigers shortstop José Iglesias.  In addition, two members of the Yankees, first baseman Garrett Cooper and outfielder Clint Frazier, received fines for entering the field while being on the disabled list.
It is somewhat wild to see a name like Cabrera getting a seven-game ban but, considering he was the player that elevated the spat into a full-fledged brawl, it makes sense. It would be very interesting to know what kind of fines were actually given to all fo the players involved but, at the end of the incident, the suspensions were going to be the headliner and here they are.
Miguel Cabrera won't be playing for a while and the Tigers are worse for it. For most of the sports world, though, the brawl is certainly more memorable than the Tigers' performance this season.