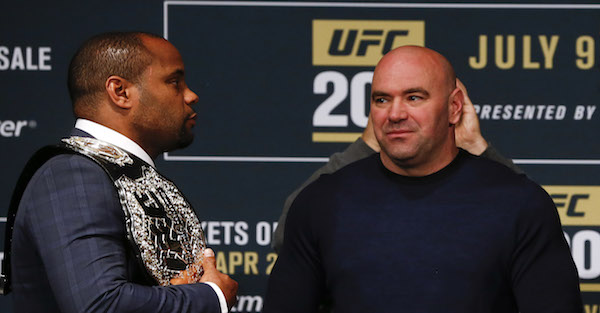 Jeff Zelevansky/Getty Images
NEW YORK, NY - APRIL 27: UFC president Dana White stars between Daniel Cormier (L) and Jon Jones as they square off during a media availability for UFC 200 at Madison Square Garden on April 27, 2016 in New York City. (Photo by Jeff Zelevansky/Getty Images)
Daniel Cormier already has the UFC lightweight title, and he might have his sights set on moving up a class and winning the heavyweight championship.
Cormier is considering returning to the heavyweight division to win the title before his career ends, and he would presumably fight Francis Ngannou. In order to make the jump to another class, he'll have to gain a considerable amount of weight, and it would likely to a while for him to put on the weight in a healthy way.
"I?m not going in there to lose and say I gave it my best shot," Cormier said via MMA Junkie. "If I go in there with Miocic or Ngannou, I?m going to win. That?s just who I am. So that would just be me and my team really coming up with a solid plan on how I?m going to get up to a healthy, strong, 235, 240 pounds to go and fight those dudes."
Related: UFC Champion Daniel Cormier calls out Young Bucks, ROH talent: ?This is actually pathetic?
Cormier has a fight set up with Volkan Oezdimir at UFC 220 in Boston.
Ngannou is fighting Stipe Miocic at the same event for the heavyweight title. So, if Cormier does want to move up in weight classes for a title fight, it likely wouldn't happen for a while.
Cormier's last fight was against Jon Jones, and while Jones technically won the fight, he tested positive for a banned substance. Cormier was reinstated as light heavyweight champion, and he'll defend his crown again against Oezdimir.
It would be a bold move for the 39-year-old, but UFC fans have learned over the years not to doubt Cormier.
(h/t MMA Mania)