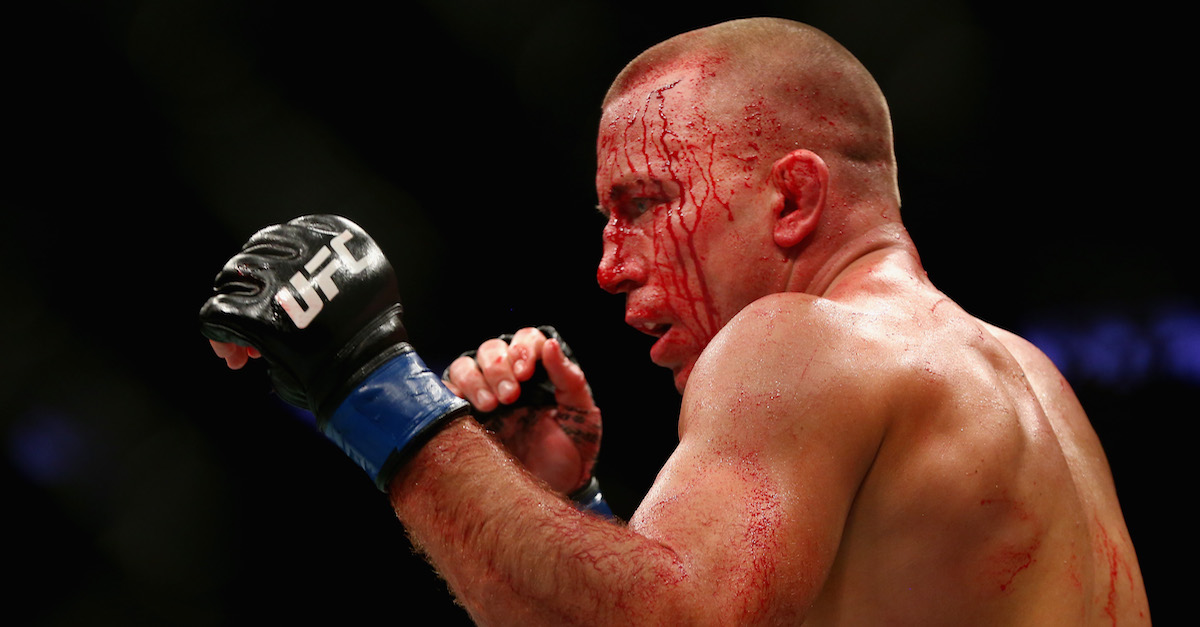 Mike Stobe/Getty Images
NEW YORK, NY - NOVEMBER 04: Georges St-Pierre of Canada fights Michael Bisping of England in their UFC middleweight championship bout during the UFC 217 event at Madison Square Garden on November 4, 2017 in New York City. (Photo by Mike Stobe/Getty Images)
The last time we saw Georges St. Pierre fight, he defeated Michael Bisping at UFC 217 to win the UFC Middleweight Championship.
GSP won't fight at 185 again, at least in the near future.
On Thursday, he surrendered the belt, making Robert Whittaker's bout with Luke Rockhold on February 10 for the title.
Here's a statement via UFC:
"My fight at UFC 217 was one of the greatest nights of my life but I now need to take some time to focus on my health," St-Pierre said about giving up the middleweight title just a month after defeating Michael Bisping to become champion. "Out of respect to the athletes and the sport, I don't want to hold up the division.

"I will be giving up my belt and once I'm healthy I look forward to working with the UFC to determine what's next in my career."
He's suffered from colitis, which could be related to him putting on weight to get up to 185 for the middleweight. His coaches said he was throwing up regularly and nearly pulled out of the fight against Bisping.
He was supposed to defend his title against Robert Whittaker, but he said in an interview with TSN that he likely wouldn't.
"We'll talk about it, but I'm not sure if I compete I will go back at 185," St. Pierre said. "I don't think so."
Related: One of UFC's top rising stars calls out Brock Lesnar: "I'm stronger than him"
The 36-year-old is 26-2, and it seems like he's ready to move back down to 170 and fight as a welterweight again.
"Of course, in terms of weight, if I want to go back to compete at 185, obviously eating, like I did what I did, I learned from my mistakes," GSP said. "I don't think it's a good thing to do, force myself to eat to gain muscle mass. I've always been against performance-enhancing drugs, and I did it the natural way. There is no easy way. I did it the hard way and it was to gain weight and to maintain my muscles mass and it was very hard and it was not healthy."
"I think the body has a natural weight it can perform at its best athletic ability and for me, the weight that I am now is my perfect weight."
Dana White said he won't be thrilled if St. Pierre doesn't fight again at 185 because the two agreed that he would at least defend his title, but it doesn't sound like GSP cares given his current health concerns.
It's never a good idea to be on Dana White's bad side, but it's understandable if GSP doesn't want to gain that much weight again if he's that sick.
(h/t Uproxx)