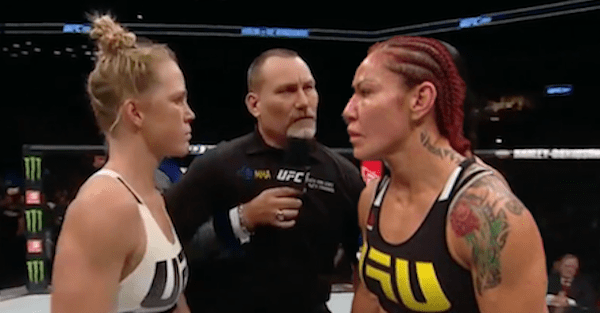 UFC Screenshot
UFC Screenshot
Former UFC Women's Bantamweight Champion Holly Holm was photographed sporting a huge shiner on her left eye following her loss to Cris Cyborg at UFC 219 in Las Vegas on Saturday night.
Ring announcer Bruce Buffer shared a photo of himself with Holm on Instagram hours after the fight, captioning that he was "so honored to call her my friend."
Cyborg defeated Holm by unanimous decision to retain her UFC Featherweight Championship. Holm entered the fifth round with her left eye almost completely swollen shut. Holm threw head kick-punch combos, but couldn't land anything substantial. Cyborg picked apart Holm, evading strikes and landing at will. Holm landed a nasty strike that seemed to have Cyborg hurt late, but couldn't finish her.
The challenger's manager, Lenny Fresquez, confirmed to ESPN that his fighter went to the hospital and received X-rays on her head and arm after the fight and was "pretty sore" the following morning, but added that "she's fine" and "resting in [Las] Vegas."