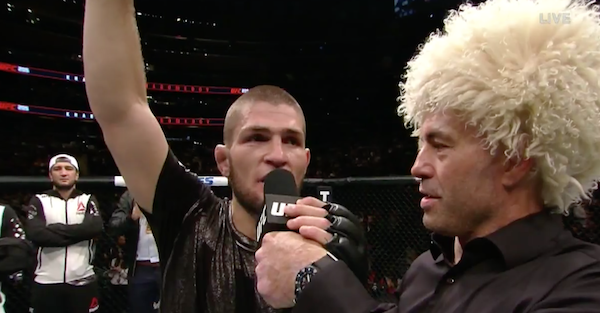 Clippit screenshot
Khabib Nurmagomedov Clippit screenshot
Conor McGregor is the most prominent name in MMA… even if he hasn't been in action for a while. In fact, the reigning UFC lightweight champion has appeared at the 155-pound level exactly once within the organization (a knockout win against Eddie Alvarez to claim the title) and that inactivity has predictably prompted a lot of buzz and demands that he fork over the title in the form of vacation.
With that said, he does not appear excited to do so and, in the wake of Khabib Nurmagomedov dominating Edson Barboza at UFC 219, McGregor hopped on Twitter in furious fashion to respond to some of those calls for him to vacate the title. In short, he was not particularly impressed by the perceived challenger's showing and used a few choice words to describe his thoughts.
On cue, Nurmagomedov responded in kind with a two-word message for McGregor.
And one with an emoji:
McGregor clapped back:
And Nurmagomedov hit him yet again with a shot at his tapping ways:
None of this is particularly surprising, especially on the heels of Nurmagomedov's chirping following the win that propelled him to an impressive 25-0 record.
Nurmagomedov has called McGregor a "chicken", and literally DM'd the champ. His shots at McGregor also come after the champ was forced to tap out in the first of two bouts with Nate Diaz at 170 pounds.
Khabib's weight management issues pulled him from a prior lightweight championship match for the interim title against Tony Ferguson. McGregor could return this summer against Ferguson, and it's hard to argue against Nurmagomedov's case for the next shot at whoever the champion is.
In short, nothing will be fully resolved until the moment when the two men square off in a match so, until then, let the fireworks continue and McGregor is uniquely equipped to provide them.