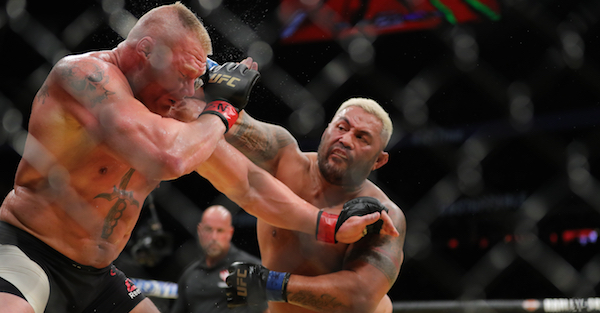 Rey Del Rio/Getty Images
LAS VEGAS, NV - JULY 9: Mark Hunt punches Brock Lesnar during the UFC 200 event at T-Mobile Arena on July 9, 2016 in Las Vegas, Nevada. (Photo by Rey Del Rio/Getty Images)
Mark Hunt has three fights remaining on his UFC contract, but the Super Samoan said he'll be done with the UFC as soon as his contract is finished.
Hunt's next fight is against Curtis Blaydes on Feb. 21 at UFC 221, and he told Submission Radio that he plans to get his next two fights out of the way as quickly as he can.
Related: Floyd Mayweather is apparently serious about getting his face kicked in with the UFC
"We'll get that number nine (Blaydes) and put him away, so hopefully the UFC can give me someone higher instead of giving me someone beneath me," Hunt said. "So, it is what it is. I just gotta keep ticking the boxes and just moving ahead with the career. Three fights left, this will be one of them. I got two left and then see you later."
Hunt indicated that he isn't a fan of how the UFC is operated. He was quite clear following his loss to Brock Lesnar.
"I haven't done nothing wrong," Hunt said. "I just don't like to be treated like (expletive) – even if I'm an employee or whatever and I speak my mind about it. So like I said, three fights left and I'll move on."
Hunt is 13-11-1 in his MMA career, and it's unclear who his next two fights will be against after his bout with Blaydes. But it's safe to assume Hunt's future fights won't be in the UFC. Whatever went on between management and Hunt had to have been bad enough for Hunt to never want to fight for them again.
(h/t MMA Weekly)