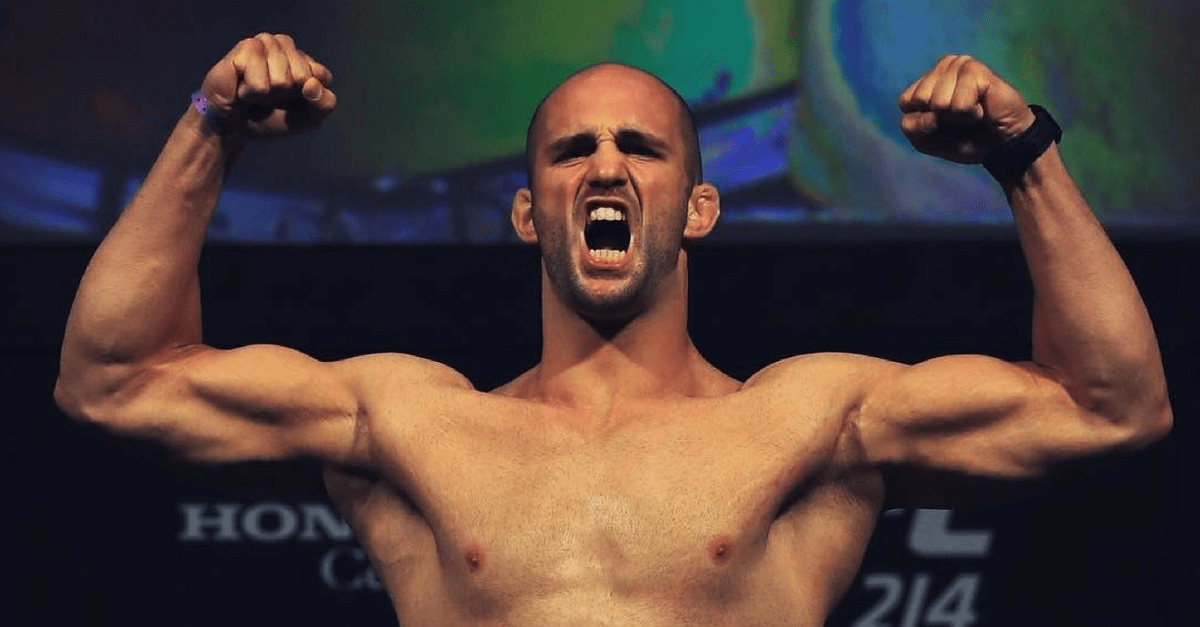 Instagram: @volkan_oezdemir
Instagram: @volkan_oezdemir
UFC 227 at the Staples Center in Los Angeles, California features two title fights as co-main events. The rematch between T.J. Dillashaw and Cody Garbrandt is the highlight of the night; Dillashaw knocked out Garbrandt at UFC 217 to win the UFC Bantamweight Championship. In the other title fight, Henry Cejudo will try to avenge a TKO loss at UFC 197 to Demetrious Johnson. "Mighty Mouse" is defending his Flyweight Championship for the 12th time; it would extend his own record.
Three times, the event's third fight on the main card has been booked with an opponent, only to have bookings fall through. Light heavyweight No. 1 contender Alexander Gustafsson was to fight Luke Rockhold, Yoel Romero and Ovince Saint Preux until each booking fell through. The exact same thing is happening to the fourth fighter booked, Volkan Oezdemir.
Volkan "No Time" Oezdemir (15-2) is withdrawing from the UFC 227 with a broken nose. The UFC and Dana White are looking for a replacement for the Swiss fighter, but have not announced a solution.
I guess no one wants an opportunity to fight Daniel Cormier for the UFC Light Heavyweight Championship?
As the UFC scrambles to fill the void with UFC 227 on the horizon, Gustafsson is stuck in a purgatory at the top of a frustrating light heavyweight division.
With Cormier (21-1) in talks to defend the UFC Heavyweight Championship in early 2019, there's no time for him to defend his other title, the Light Heavyweight Championship. Cormier won by decision over Gustafsson at UFC 192; Gustafsson scored the only knockdown of the fight.
If the UFC can't get a legitimate opponent for "The Mauler," they have to owe Gustafsson a shot at Cormier's light heavyweight title next year.
The rest of the UFC 227 card shakes out like this:
Polyana Viana (10-1) vs. J.J. Aldrich (6-2)
Cub Swanson (25-8) vs. Renato Moicano (12-1-1)
Derek Brunson (18-6) vs. Antonio Carlos Junior (11-2, 1 NC)
Benito Lopez (9-0) vs. Ricky Simon (10-1)
Pedro Munhoz (15-3, 1 NC) vs. Brett Johns (15-1)
Bethe Correia (10-3) vs. Irene Aldana (8-4)
Ricardo Ramos (11-1) vs. Kyung Ho Kang (13-7, 1 NC)
Danielle Taylor (9-3) vs. Weili Zhang (16-1)
Matt Sayles (6-1) vs. Sheymon Moraes (9-1)
Alex Perez (20-4) vs. Jose Torres (8-0)
Marlon Vera (10-5-1) vs. Wuliji Buren (10-5)
UFC Considering Woodley-Till Title Fight at UFC 228
Colby Covington, the interim welterweight champion, is in danger of being stripped of his title, and replaced with No. 2 contender Darren Till.
UFC Welterweight Champion Tyron Woodley is being slated as the potential headliner at UFC 228 in September, but Covington (14-1) hasn't agreed yet after fighting on June 9 at UFC 225.
Woodley (18-3-1) hasn't lost since 2014. He won his welterweight title in a knockout victory over Robbie Lawler back in June 2016. This fight would be his fourth title defense as UFC Welterweight Champion.
Just like the light heavyweight division, the welterweights need to find someone who wants to step up and challenge for the belt.