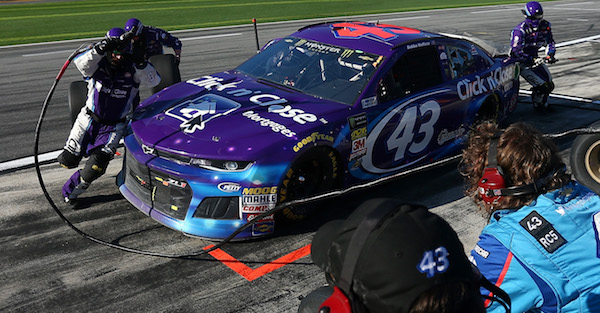 Sarah Crabill/Getty Images
DAYTONA BEACH, FL - FEBRUARY 18: Darrell Wallace Jr., driver of the #43 Click n' Close Chevrolet, pits during the Monster Energy NASCAR Cup Series 60th Annual Daytona 500 at Daytona International Speedway on February 18, 2018 in Daytona Beach, Florida. (Photo by Sarah Crabill/Getty Images)
Bubba Wallace had a very successful season debut at the Daytona 500, and his second place finish was the highest of any African-American in the history of the race.
Wallace's impressive finish came in only his fifth career race, and if Google searches are any indication, NASCAR could have a potential star on its hands.
At 5 p.m., Wallace's sponsor, Click n' Close, received a lot of attention. The popularity for those searches peaked as the race was nearing the conclusion.
Related: Bubba Wallace explains what happened during heated moment with Denny Hamlin after Daytona 500
If sponsors are paying attention, they could use that as an opportunity to flock to Wallace. Fans are interested in him, and that's certainly a positive for NASCAR and for Wallace.
Wallace is only 24, and in a sport filled with talented young drivers, he could have the most star power of any outside of perhaps Chase Elliott.
It will be interesting to see if his popularity continues to rise and if he continues to find success during his rookie season.
Drivers are always looking to secure sponsorships, and Wallace could be in line for some major sponsors in the near future.