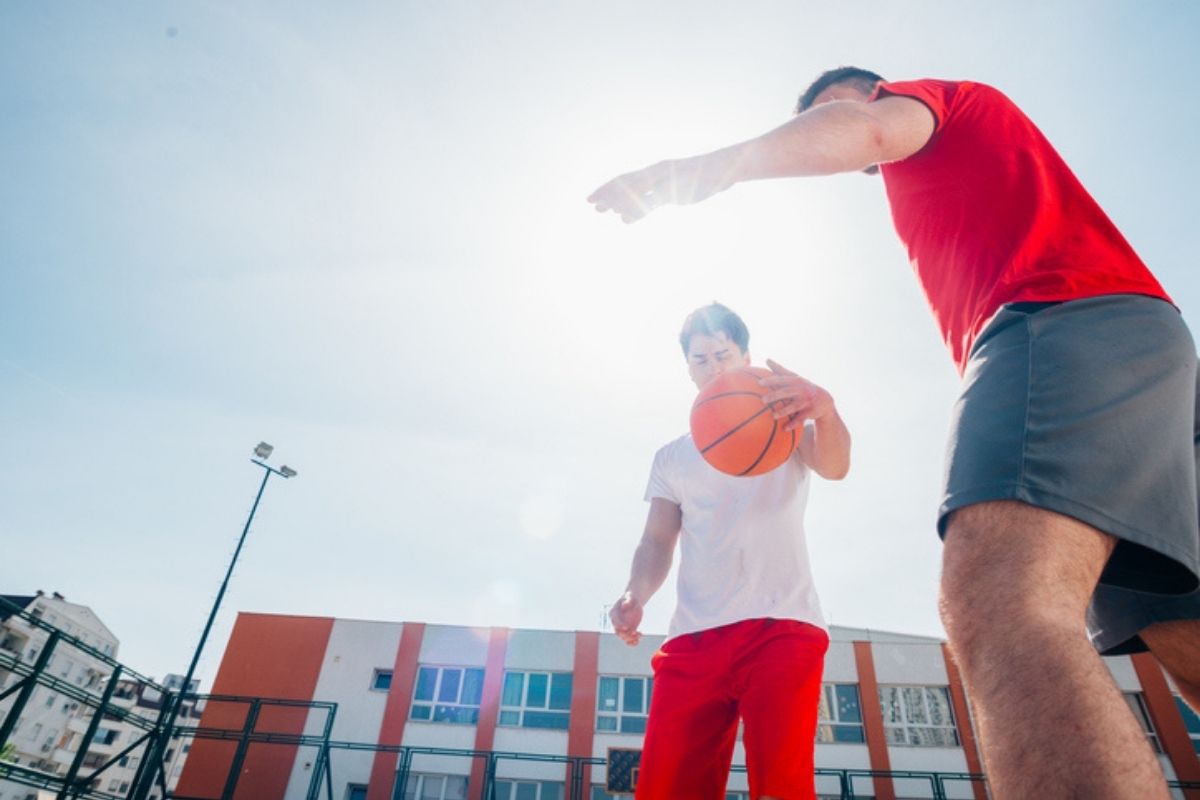 Nike; Amazon
GettyQunicaStudio
Editor's Note: Products featured on FanBuzz are independently selected by our editors. However, when you buy something through our links, we may earn a commission.
Basketball shorts are a staple for men's leisurewear. Whether you're wearing them for a pick-up game, house chores, or running errands, you can't go wrong with a sharp pair of men's basketball shorts from your favorite brand. Nike and Under Armour are some top brands for basketball shorts. They're known for being breathable and stylish. They are worth every penny, so we've compiled some of the best shorts from these brands to make shopping a little easier for you.
What to Wear With Basketball Shorts
If you like to wear stylish basketball shorts as leisurewear, make sure you've got the perfect hoodie and shoes to go with them. Nike has a great selection of hoodies. Not only do their fleece hoodies look great with joggers, but they'll add a bit of flair to your shorts. Also, I'm no expert stylist, but if you want to make your hoodie look a bit more put together, roll up the sleeves one or twice (evenly, of course!). Make sure the drawcord strings aren't messy (make sure they're hanging evenly). It also doesn't hurt to make sure your hoodie is lint-free.
Feeling a bit inspired to make it look like streetwear on a budget? Go through your closet and cut up your favorite crewneck sweater.
Nike Basketball Shorts
Best Classic Shorts
Nike Dri-FIT Icon Men's Basketball Shorts – Nike, $30

You can never go wrong with Nike basketball shorts. Nike's Dri-FIT Icon basketball shorts are made from a breathable knit fabric. The shorts have hand pockets for a few essentials like keys and your phone and can be washed in the washing machine. The sweat-wicking shorts have a loose fit that's easy to move around in. These black shorts are truly a Nike men's staple and will match just about all your workout shirts, tees, and hoodies.
They're made of 100% polyester and are available in sizes XS through 4XL tall. If you wear big & tall sizes, reference the big and tall model. He's wearing a 3XL and is 6'7".
Most Stylish Shorts
Nike Dri-FIT Men's Basketball DNA Shorts – Nike, $44.97

Consider these shorts for a trendy look on the court. The jacquard-knit fabric with a geometric print is inspired by '90s era sports trading card graphics. These shorts are just too cool not to get. These shorts are special since they're made with 100% recycled polyester fibers. (Yes, to sustainability.)
The sweat-wicking shorts have striped knit tape along the hems to match the elastic waistband's stripes. Of course, the embroidered Swoosh is included on the 100% polyester shorts. The roomy shorts are also machine washable and have pockets for your phone, keys, and more.
RELATED: These Best-Selling Indoor Trampolines Are Fun (And Healthy) for the Whole Family
Best Fleece Shorts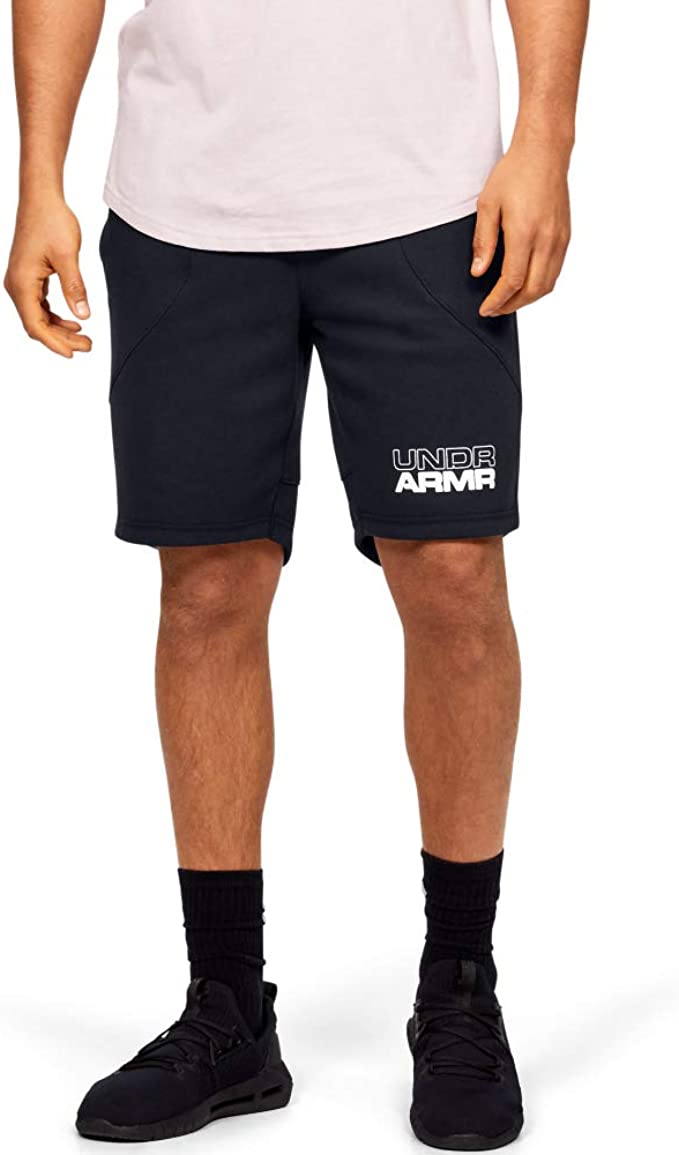 Under Armour Men's Baseline Fleece Basketball Shorts – Amazon, $21.55-$51.06

I love the shaped-hem. The shorter look is fantastic if you want to show off those toned thighs. Fleece shorts are super comfy, especially for lounging around the house. The mid-weight performance cotton construction offers extra warmth, which will come in handy for cooler days. There's an elastic waistband for a stretchy and loose fit.
The open hand pockets are a nice spec.
Best Affordable 5-Pack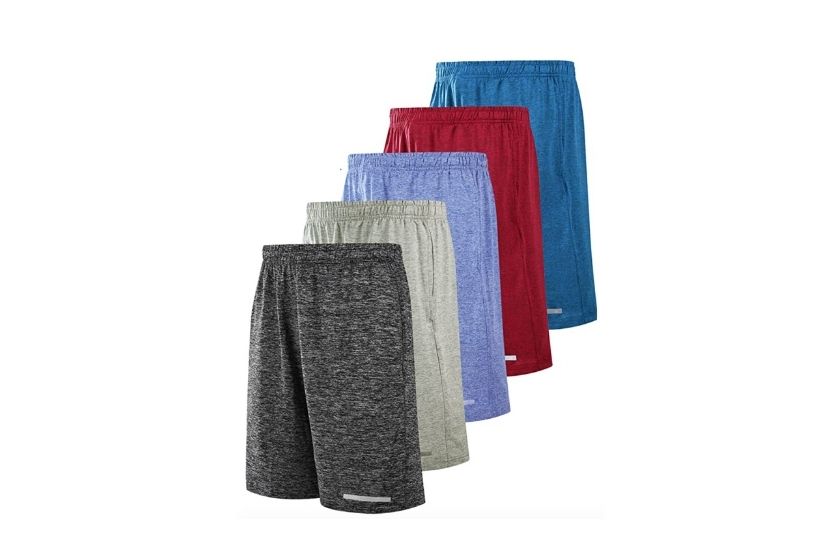 Liberty Imports Pack of 5 Men's Athletic Basketball Shorts – Amazon, $35.95

These athletic shorts are made of 88% polyester and 12% spandex. The made-in-the-USA shorts feature an inner drawcord closure and stretchy elastic waistband so you can adjust to your liking.
They are lightweight and sweat-wicking. They are comfy as well since there's no lining that can often make you feel sweaty. With large side pockets, you'll be able to store your phone and other essentials. After each use, you'll be able to wash them in the washing machine.
For five pairs (all different colors) under $40, this is a steal. While name brands like Nike or adidas basketball shorts may be appealing, these sports shorts are sure to impress you. With over 12,000 positive ratings, many basketball enthusiasts have taken a liking to the budget-friendly shorts.
Best Shorts Under $12

Amazon Essentials Men's Loose-Fit Mesh Basketball Short – Amazon, $11.80

Alright, don't forget about Amazon Essentials. I can attest that their leggings and socks are just as good as my Nike and PUMA clothing. The shorts have an open-hole mesh with a tricot liner for breathability. XXL is the largest size available. The moisture-wicking shorts have a drawstring closure for a stretchy feel and feature an open-hole mesh with a tricot liner for excellent breathability. The machine-washable polyester shorts offer all-day comfort for an affordable price.
Be sure to check out Nike for training shorts, performance shorts, and running shorts.
This post was originally published on June 5, 2020.
Related Videos