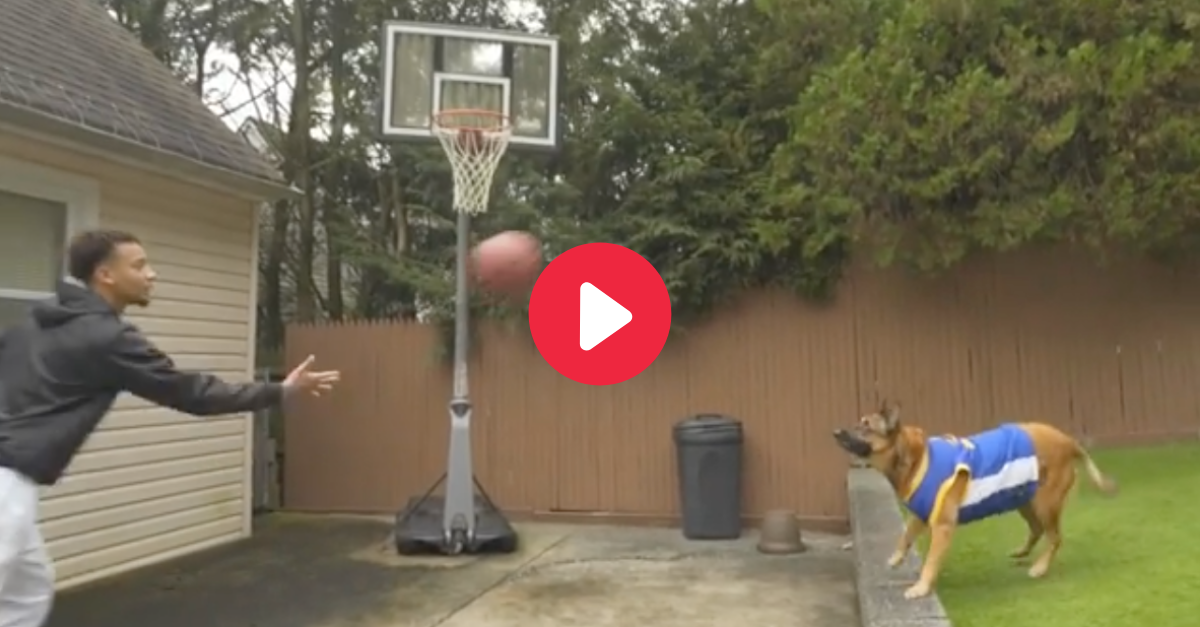 Instagram: maxwellpearce1
Instagram: maxwellpearce1
It's simple things that make sports so much more fun and brings them closer to home. Sometimes, it's a surprise announcement that saves a season. Other times, it's quirky coaches giving out syrup shots for pancakes blocks. Everywhere you look, sports give us unique twists and turns, and you can't help but smile along the way.
This holds especially true when dogs are involved. Some dogs become Internet famous when they run onto the field during games, but not every good boy can do what Max Pierce's friend Koa can when you toss him a basketball. Throw in the fact that this dog is sporting a Golden State Warriors jersey, and you have a recipe for best video you'll see all week.
Max Pearce was an ESPN College Slam Dunk Contest Semifinalist in 2018. He has more than 64,000 followers on his Instagram page that showcases his insane leaping ability with a basketball is his hand, as well as promotes his startup educational organization, Flynance.
Pearce had the help of a very good boy on his latest dunk attempt that's going viral across the internet.
No, Koa isn't famous golden retriever Air Bud, but he might be even cooler because these two basketball stars have their own handshake and everything to go along with this perfectly placed alley-oop.
Maybe this Warriors jersey is dishing out some superpowers?
RELATED: Ranking the 10 Greatest Georgia Bulldog Mascots of All-Time
Word to the wise: get yourself a dog and put him or her in a sports jersey, and you have the makings of a mega-star.
Aside from catching dog-tossed alley-oops, Pearce attended Purchase College where he played basketball and founded Flynance, a startup company focused on offering student-athletes educational programs to help them better succeed in life after athletics. Pearce's platform, and national fame as a high-flying dunker, helped him see that he has an opportunity to impact student-athletes in need of guidance.
"The Flynance Group aims to create a robust, hands-on program that focuses equally on professional development and athletic progression. We understand that most camps and programs solely focus on athletics or only focus on academics. Flynance plans to integrate the two through a self-built curriculum that will be implemented in summer camps and after-school programs." — Maxwell Pearce, via Westchester Magazine
With the help of Koa, Pearce is grabbing headlines across the Internet, and putting his business, and basketball skills, firmly on the map.
There is no official word yet if Koa will be receiving his deal to be the sixth man off the bench for the Golden State Warriors this season.